When I started kitesurfing I bought many things that I didn't really need but thought I would really need for my kitesurf life and kitesurf holidays. After almost a decade, here is the gadgets and kiteboard accessories that were really worth getting and I am using most. 
[This article may cointain Affiliate links. This means that if you decide to purchase some of these resources, I earn a small commission at no additional cost for you. I only recommend selected products that I'm convinced about and that I would buy (or already did buy) myself. This is helping me to keep investing as much time and passion as I do for this blog] 

PART 1: Kitesurf Gadgets during  your kitesurf travels / what to pack for your kitesurf holiday
1. Waterproof case for your car key or phone
Ok I know this is not the most spectacular one but you will probably use this every single session 😉 I actually have both a case for the car key, the Aquapac Keymaster (or apartment key that is for example always with a remote control for most apartments in Cape Town) and for the iPhone, the Aquapac Waterproof Phone Case, (for downwinders so you have a phone with you in case something goes wrong or to snap a pic after your awesome session)
2. Kite Compression Bags
When you travel with your kite gear and probably several kites every kilo counts. This is why I usually only bring one kite backpack (I weighed them, mine is around 1 kg) and put the other two kites in those ultralight compression bags from Decathlon. This way they are still protected and I almost save 2 kg of luggage. Other brands also have more pricey compression bag like this one from Mystic.
3. Wetsuit Changing Mat or Dry Bag
If you are using a (rental) car at the kite spot, I'd recommend the wetsuit changing mat which you can also use as a dry bag. Or you use one of those big IKEA bags 😉
A Dry Bag is super useful for different stuff, whether you're on a kite trip on a boat and want to take your phone to the island or store your wetsuit in there after your session without making everything else wet. This one is super lightweight and the 20l version fits my wetsuit as well.
4. How to get into your wetsuit easier: Wet Ease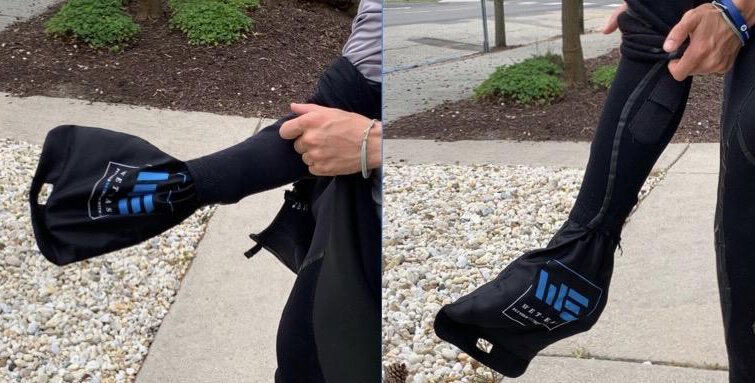 You know this saying or the meme "I do yoga to get in and out of my wetsuit"?
The struggle is real especially if you want to get into a long wetsuit or are a bit sweaty. Which is why this small accessory makes your life so much easier, specifically getting into your dry or wet wetsuit! Get it here.
5. Inflatable Roof Rack
I don't know about you but I  usually rent the smallest/cheapest cars and then have trouble fitting all our stuff in.
The inflatable roof rack is an awesome little tool you can take with you on your travels. I was surprised how well it worked and how small it folded and light it is! 
6. Kite Poncho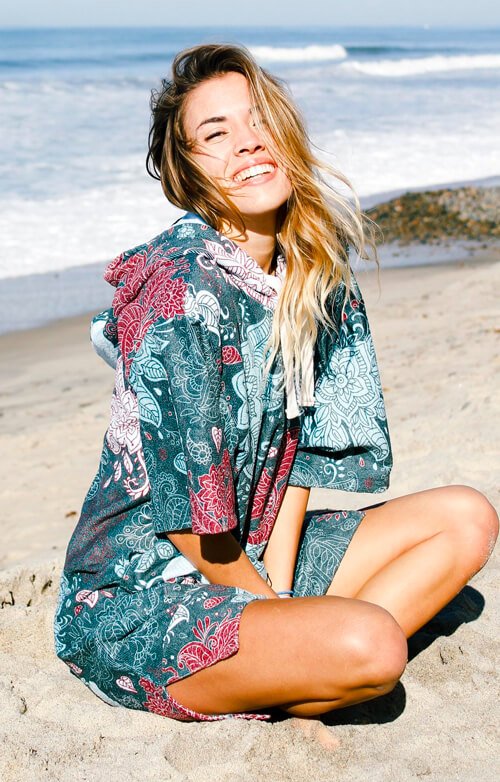 A Poncho is the best thing to snuggle yourself into after your session, change out of your wetsuit/bikini or on colder days if you forgot your hoodie.
I love the fluffy ones from Vivida with beautiful prints (image on the left) and have used mine for years now. (Get 10% off when using the discount code "WAKEUPSTOKED10")
If your luggage and weight is very limited and/or you are flying to a warmer kite spot you can consider getting a lightweight one that is made out of this microfibre material that the travel towels also have – which is of course not as comfy but packs much smaller. I have a lightweight one from ION and really like it (there are various models just make sure it is the one from lightweight material as they has the regular ponchos as well).
7. GoPro to capture the magic of your sessions
Super smooth videos with the new stabilization – finally!
I was always a big fan of using the GoPro to take pictures – however, the result of the videos was always disappointing since it was super shaky when kiting. Finally with the GoPro Hero 7 black there is a very smooth video stabilization in the camera – which makes the big difference (see a comparison video here)!
The footage is so much better and even though I had a pretty new GoPro 5 I had to sell it and get the GoPro 7, the difference is really striking, especially if you use it while kitesurfing! Get the GoPro Hero 7 black here
The best ways/angles to film your kite session with GoPro Mounts
After a lot of trial and error, these are my personal favorites are:

8. Measure your jump height
Measure how high you
jump
and join a big community of kitesurfers worldwide with
WOO
. The App has a super fun game factor and motivates you to keep jumping even more and see your position on the leader board by the end of the day. It shows you for example that when you jump over 8 Meter a badge that you could have just jumped the great wall of china. You can also earn badges (e.g. 7 jumps in one sessions over 7 meters). Super fun to make your sessions more interesting.
9. Learn new tricks with the Duotone Academy App (free)
Ok this is not really a gadget but downloading the Duotone Academy App while you still have good wifi back home makes life much easier 😉 Plus you can download tricks for offline watching in the airplane or whenever your wifi signal is too weak.
10. Kite Bikinis that actually stay on
Vivida: eco-friendly bikinis made from reused plastic bottles, some of them even reversible (10% off with code WAKEUPSTOKED10)
Sensi Bikinis: eco-friendly and made in the US, (get 10 USD off on your order using this link)
Zealous: sustainable bikinis (get 10% off with code WAKEUPSTOKED)

 Find the full article on
kitesurf bikinis here
.

11. Surf Ears for people with sensitive ears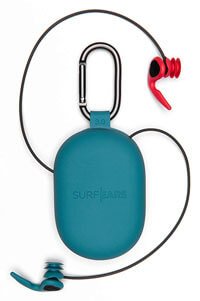 It honestly took me always ten years and a horrible ear infection last summer to finally start wearing Surf Ears for every kite session. If you get ear infections easily, are sensitive to cold water or cold wind or often have water stuck in your ears because of Surfer's Ear (which will more and more likely end up in an ear infection) I can recommend you get the Surf Ears. They have multiple sizes which fit all kinds of ears and even in hard crashes they will stay with you as they are hanging on a leash.
12. Stylish kite wear
Add some style to your kite holiday wardrobe with these "Kite Eat Sleep Repeat" Shirts or check out the full collection of lifestyle wear and home accessories for kitesurfers, surfers and ocean lovers.
13. Loosen up those sore muscles
> For Hardcore Kiters: Travel Massage Gun – Om Go
You kite all day every day? The moment the wind picks up you are on the water? Whenever we have those perfect windy days, the muscles get sorer and sorer. There is not enough time to recover (luckily!) and usually while traveling it's not easy to find a good sports massage that really gets you the relief you need.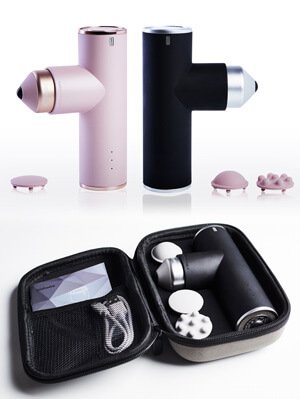 I started to fall in love with this travel-friendly massage gun, the Om Go (and you get 10% off with code wakeupstoked)
Super light (only 460g)
Small (78x150mm)
Silent (< 45 dB )
Powerful with a stylish design but most of all providing so much relief for my muscles after long windy days
Comes with 4 different top parts (depending on the body part you use it with)
Chargeable via USB C
Everything is packed in a compact travel case so you are ready to take it anywhere with you.


Get 10% off the Om Go with discount code wakeupstoked. If you are ordering within the EU their shipping cost is only 6 Euros, within Germany shipping is free.
> For starters
Not comparable at all with a Massage Gun but this is what I used the years before I had discovered the Om Go: Blackroll Duoball. I prefer the small version with 8 cm since it doesn't take so much space.
How to use it: It's super light, helps you to massage the deeper lying muscles and you can apply it very punctual as well. Love to use it for my neck and back after I crashed a few times in kitesurfing but also to just stand on them and massage your feet feels amazing.
The low-budget DIY version: If you don't mind a bit more improvisation and weight, you can try the DIY version: put two tennis balls in a sock and there you go! A bit softer so it doesn't work as good as the Blackroll ones but a cheap and easy alternative!
14. Mosquito Stick
The . best . investment . I . ever . made. These things break easily (I already bought the third stick now) but they are lifesavers!  If you are, like me, the person most likely to be attacked by mosquitos while everyone else is chilling around you and end up with an insane amount of itchy bites, this little thing is golden! In Europe you can get the brand I bought, called bite away, for the US you can check this link which seems like the same.
How does it work? Basically you point it at the mosquito bite and press the button, which heats up the bite locally to 51 degrees Celsius and destroys the itchy feeling. It stings when you use it for those 3 seconds but then the itching is gone (ok some nasty ones you have to use it twice or three times but that is the exception). It's also supposed to help after bee/hornet/jellyfish stings but I have never tried it for those purposes yet – luckily!
15. Sunscreen and Zinc Sticks
I know it's not a cool gadget but your skin will thank you. Choose an (ideally eco-friendly, reef-safe) sunscreen with SPF 50. I highly recommend not getting anything lower because you easily sunburn, the water washes away the sunscreen in no time and studies show that you usually don't apply enough sunscreen so that SPF 50 might in the end be a SPF 30 if you apply less.
For sensitive faces like mine consider using a zinc stick on your cheeks/nose on top of your sunscreen.
Eco-friendly sunscreen

by Suntribe: I try to change to eco-friendly sunscreen to protect myself from bad additives and more importantly protect the environment. I'll be honest: as with all eco-friendly mineral sunscreens you turn out to be whiter than with the chemical sunscreens 😉 But still worth it. They have "normal" sunscreen, zinc sticks and zinc paste [Get 10% off by using this link and enter code "miriam&suntribe"]

Zinc Sticks

by Suntribe [Get 10% off by using this link and enter code "miriam&suntribe"]
Compact Sunscreen SPF 50

(for girls, I wear gold/02) The most water-resistant toned sunscreen I've ever found from La Roche Posay. Suited more for girls since it looks a bit like Makeup.
16. Digital Travel Luggage Scale
Ok if you travel and pack like me you will need the luggage scale already when packing for your trip. Realistically, if you make the most of every last gram and tend to overpack, it makes sense to bring the luggage scale with you on a trip to avoid bad surprises 😂
Just a few tips if you don't pick the one I linked:
make sure the display of the weight is on top, not on the sides of the device, as you won't be able to read the weight clearly if lifting it on your own.
make sure that the scale can at least handle 40 kg.
hooks are not really practical, I prefer the buckles that you can close around a handle.
17. A proper screwdriver
This is coming from the girl that has been using cheap screwdrivers from discounters and breaking her screws from screwing and unscrewing with shitty screwdrivers. Get a proper screwdriver.
18. Big Kite Pump
If you have a little bit of extra space and tend to use bigger kites (or are just lazy haha) it is so much more comfy and quick to have a big pump. Just saying 😉
If you are buying another brand than your kite brand, make sure you have the right adapter – or right hose.
19. Great Travel Debit Cards (for foreign currencies) to save money
Free MasterCard, it uses the Interbank Exchange Rate which saves you money. Available in Europe, Australia, UK and US.

Free MasterCard, it uses the Interbank Exchange Rate which saves you money, super modern App and system, you can send and spend money globally without any fees. Available in Europe, Australia, UK not in the US yet! 
Use all your different credit cards in one! Since I have 4 different credit cards for different purposes but don't always want to carry all of them with me I absolutely love Curve! Use this link to get 5£ after you made your first purchase.
Small side note: If you are paying in foreign currencies – they also have a good exchange rate but not as good as Revolut or N26 when I tested it – so I simply change the currency to the country I'm in and then it will be converted directly by Revolut or N26. To use different cards you simply tap the card you want to use in the app and it will automatically be paid with this one. If you chose the wrong card you can also
Why do you need two different credit cards when traveling?
It depends on how much you travel but if you do long trips or travel full-time as a digital nomad I would definitely recommend getting both.
20. Carseat Cover
This is more if you are with your own car doing a road trip and don't want to change. No salty stains on your car seat and no sitting down having forgotten that you wetted the car seat with you wetsuit before 😂 Then a carseat cover is worth a million bucks 😉
PART 2: Kitesurf Gadgets before/after your kitesurf travels
1. Wetsuit Shampoo
Your wetsuit and your nose will thank you 😂 if you use wetsuit shampoo at least after every trip.
2. Kite World Guide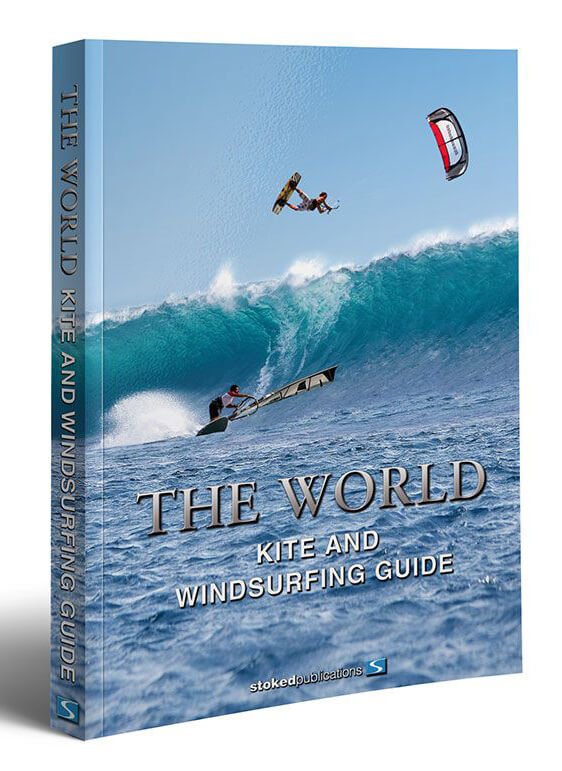 This was probably one of the first purchases I made when
becoming a kitesurfer
😉 Introducing almost 100 regions in nine continental chapters, it features over 1,250 of the world's best spots. The world is a playground and this is the place where you can see all your
bucket list destinations
in a great overview and detail. You can either get 
The World Kite and Windsurfing Guide
 or
The Kite and Windsurfing Guide Europe.
3. Tricktionary – learn new jumps and tricks

If you're looking for a gift for a kitesurfer that is
progressing
to his first jumps, this is the ultimate inspiration! The
Tricktionary
is kind of a kitesurfing manual, providing you with tons of inspiration on tricks in
three categories
:
Superbasics for advanced kiteboarders
of all levels and styles,
Airstyle
(old school, hooked in tricks) and
Newschool
(wake style, unhooked moves).
Get the Tricktionary here
4. Kitesurf World Map with over 500 kite spots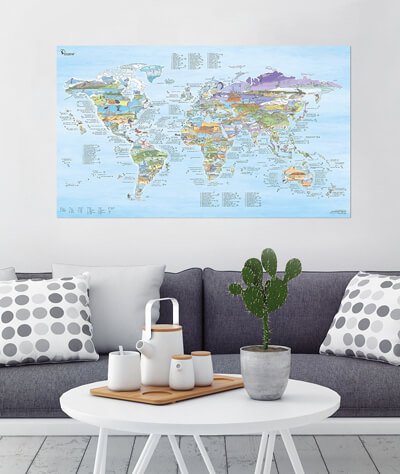 What do you do the moment you come home from a kite trip? Dream about the next one! This Kitesurf Map features over 500 kite spots (including snowkiting kite spots) and has additional info for every spot for the level of the rider (beginner/intermediate/advanced), riding preferences (flatwater, chop, waves), wind direction, wind speed (e.g. light, moderate, strong) and water temperature! Start dreaming and planning with these seriously awesome maps. Free Worldwide Shipping. 
Get 10% off on all maps when using code "WAKEUPSTOKED" at checkout. Get the map here
Btw they have tons of different maps for all kinds of activities e.g. Surf Map, Scuba Diving Map, Climbing Map, Mountain Bike Trail Map or also "regular" Travel Maps and Minimalist maps – the 10% magic code "WAKEUPSTOKED" applies for those as well!

5. Keep working on that balance: Balance Board or Slackline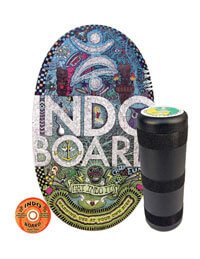 These two toys are great to train the muscles you usually need for balance in kitesurfing. My personal favorite is the Indo Balance Board (since I can use it in my apartment) but many also love the Slackline which needs a bit more space and can be hung in-between two trees in any park/outdoor space.
6. Kite Up your home to keep the kitesurf spirit alive
If you want to add more kitesurf/beach vibes into your home also check out my designs on redbubble 🙂