Whether you're a woman who's thinking of getting into kitesurfing or you've already been ripping on the water and made your first metres or even jumps: here is a big list of anything you need in the life of a kitegirl – to get you started, keep you motivated and let you connect with other awesome kite women!

It doesn't matter how you look, it matters how you feel!
Ladies and girls, I just want to say one thing that blocked me immensely when first starting kitesurfing: the thought of getting into a wetsuit that feels like a full-body-condom and being judged. And the thought of making a complete fool of myself when smashing at water starts or when learning my first jumps.
Luckily I was with in an environment that was very supportive and made me quickly get over that first reluctant feeling. So I would love to create that environment for you, in case you don't have it where you learn or kitesurf – and give you some hints, bits of inspirations and role models on your way!
Because you are awesome, it doesn't matter how you look or how many times you smash your face on the water – we've all been there! That's how we learn and progress! It's part of the game so don't beat yourself up about it, simply keep going!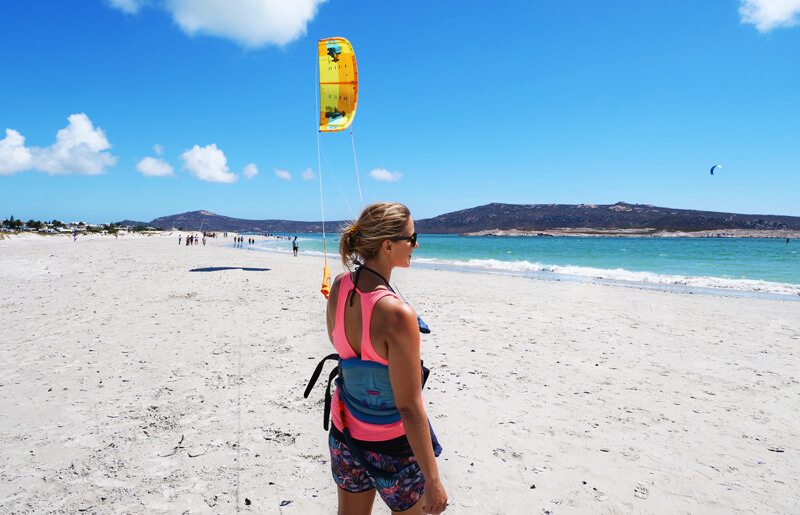 ---
Am I suited to learn kiteboarding?
Am I not too big/small/heavy/light/unathletic/old/young for that? NO, you're not is the short answer! Here is the long answer which will tackle each and every one of that beliefs and tell you why it's only a myth 😉
♥ 10 wrong kitesurf myths that stop you from learning it ♥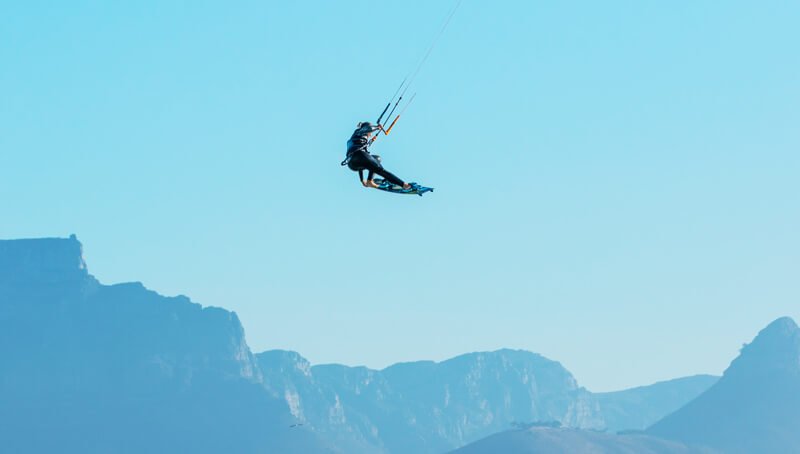 ---
How, when and where do I start kiteboarding?
Since this is a huuuge topic I dedicated a very extensive article just for that! It will make learning kitesurfing and your first experiences on the water so much nicer, your progress quicker and you'll definitely have more fun!
♥ Kitesurf FAQ – The ultimate guide to learn kitesurfing ♥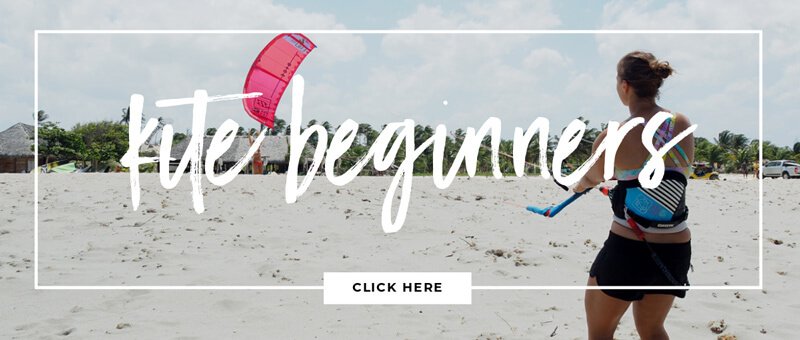 ---
I did my first kitesurf course, how do I progress now?

Congrats on making it! You've done your first metres on the water or can already stay upwind in any condition! Wohooo way to go girl, so proud of you! Now let's take you through the next steps!
Here is a step by step guide on what small tweaks and tricks you can learn to progress to your turns and first jumps! ♥ From Zero to Hero ♥
If you already know your first jumps, here is how to progress further and push your riding to the next level
♥ How to progress your kitesurfing to the next level ♥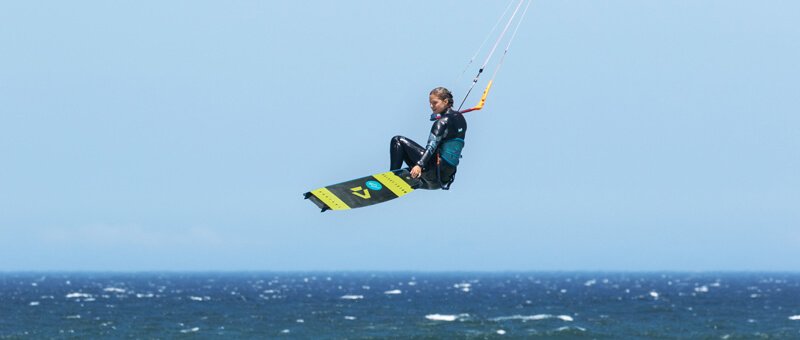 ---
The best kite bikinis that survive every crash
After some trying and definite fails I really dug deep into that bikini issue. While I personally like to kite with a kite bikini top and then put on some boardshorts (simply because I don't feel so confident in bikini bottoms only 😉 ) there are tons of awesome brands – most founded by passionate kitesurfers and surfers – with bikinis that actually stay on!
♥ The best kitesurf bikinis – that actually stay on ♥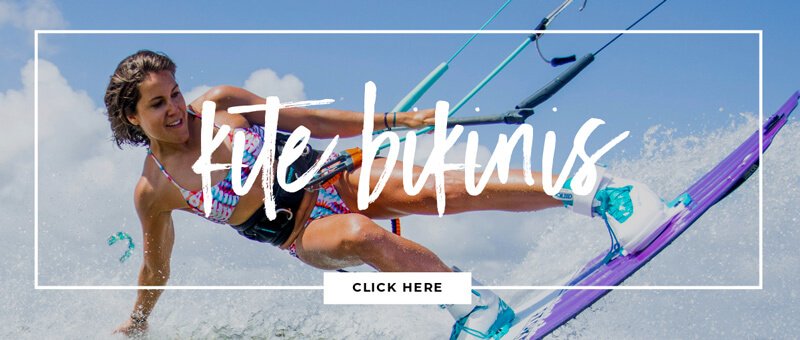 ---
Tips for kitesurfing women: sun protection
I get this question asked by almost any woman I kite with 😉 I naturally have quite a dark and easily tanned skin but always used to get sunburns on my nose and cheeks anyway! So these are my personal favorites:
The cheapest sun protection is the one you eat! All the dark, leafy greens as well as lycopene-rich foods (like e.g. tomatoes). More foods that boost sun protection here. (Please note that you should still use sunscreen, but this is an important base)
Sun protection to drink: Green Tea is a great antioxidant to protect your body from inside out. What I do after I drink my loose organic Jasmine Green Tea is keeping the loose tea leaves with a bit of tea in an espresso cup and apply it on my face and body. (Please note that you should still use sunscreen, but this is an important base)
Never go lower than SPF 50: I am quite tanned and still use 50. The reason is that most of us apply too little sunscreen so if you apply SPF 20 too little it's a big problem, with SPF 50 you at least have a bit more protection. Plus with the sweat and saltwater everything gets washed off super quickly so simply always go for nothing lower than SPF 50!
For the face: I've tried to many different sunscreens and everything washed off way too quickly, no matter how water resistant. The only thing that actually sticks is this Compact Sunscreen SPF 50 by La Roche Posay. Still, I will always apply some Zinc additionally on my most sensitive areas (nose and cheeks) e.g. Sunzapper or EQ
For the body: I'll try as much as I can by wearing a long lycra or maybe even a long leggings since that is the easiest way of protecting yourself. I've found that kids sunscreens are the ones with the least additives and "bad stuff" inside of the sunscreen but here you'll have to experiment a bit 😉
For the lips: don't forget your poor lips 😉 Either apply some Zinc Stick here as well or get an extra lip sun protection (which is what I always do).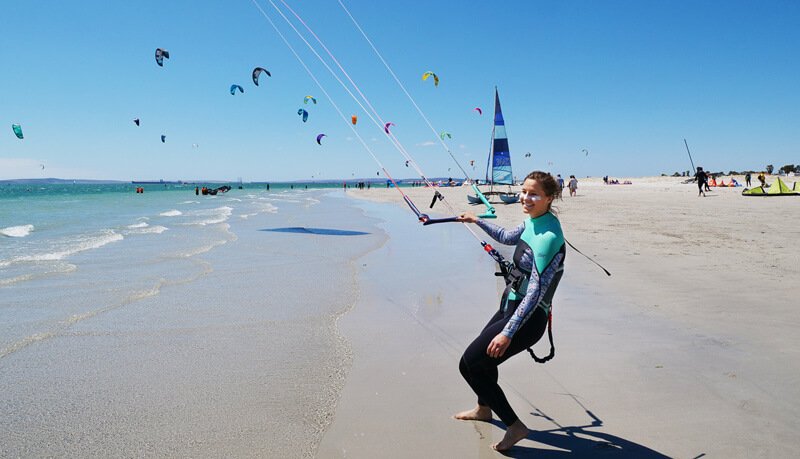 ---
Facebook kite groups for women
---
Saltwater-inspired blogs for badass kite women by badass women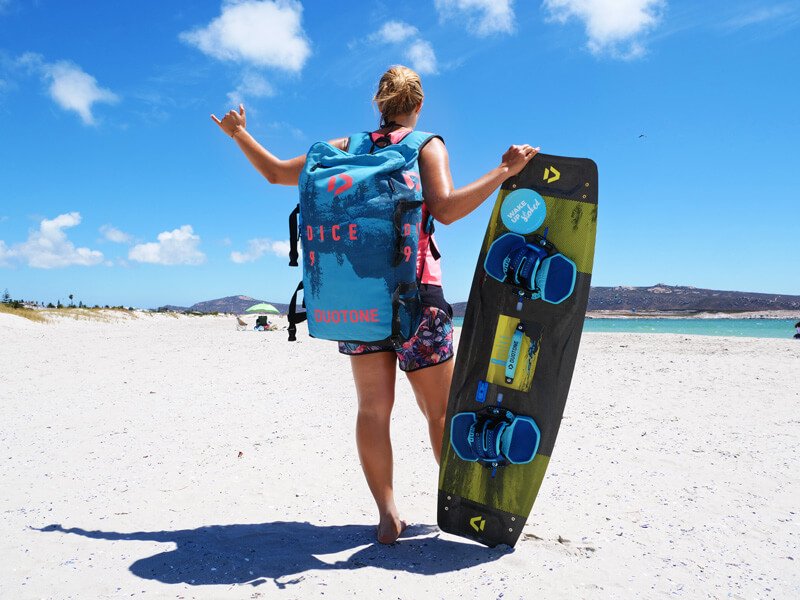 ---
Kiteboards specifically tailored to women's needs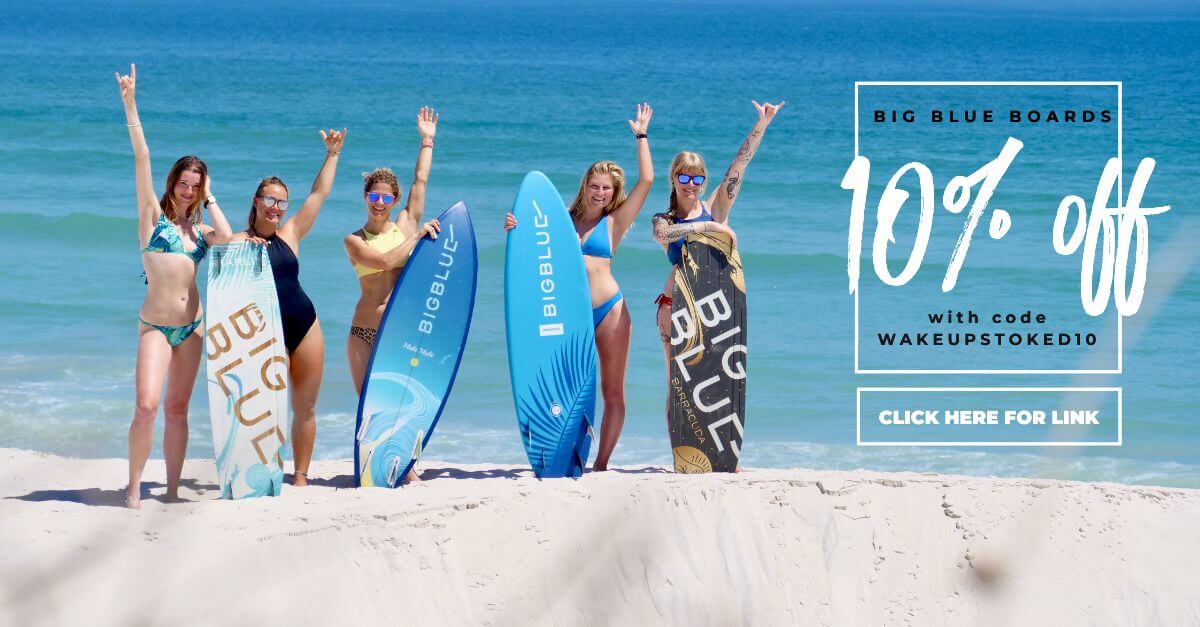 BIG BLUE Boards is the first kiteboard brand for women only. By creating women-only kite gear they empower kite women around the world. The brand has grown its board portfolio to beginner twin tips, advanced twin tips (with Carbon), directionals as well as rashguards/wetsuits.
Get 10% off by using this link and entering the Code WAKEUPSTOKED10.
---
Kite videos by kitesurf women who rip
This is a small selection of videos by kitesurfing women that inspires me or makes me smile:
Summer Drive by Hannah Whiteley
PHA+PGlmcmFtZSBsb2FkaW5nPSJsYXp5IiBzcmM9Imh0dHBzOi8vd3d3LnlvdXR1YmUtbm9jb29raWUuY29tL2VtYmVkL0JsaHBhQ2FIYnFvIiB3aWR0aD0iNTYwIiBoZWlnaHQ9IjMxNSIgZnJhbWVib3JkZXI9IjAiIGFsbG93ZnVsbHNjcmVlbj0iYWxsb3dmdWxsc2NyZWVuIj48L2lmcmFtZT48L3A+
Angely Bouillot – fearless Big Air Queen
Angely Bouillot is the most badass kitesurfer I've ever seen and is simply fearless! This was her entry video for King of the Air 2019:
PHA+PGlmcmFtZSBsb2FkaW5nPSJsYXp5IiBzcmM9Imh0dHBzOi8vd3d3LnlvdXR1YmUtbm9jb29raWUuY29tL2VtYmVkL3ZOMEptRGc5dlFrIiB3aWR0aD0iNTYwIiBoZWlnaHQ9IjMxNSIgZnJhbWVib3JkZXI9IjAiIGFsbG93ZnVsbHNjcmVlbj0iYWxsb3dmdWxsc2NyZWVuIj48L2lmcmFtZT48L3A+
Wake Up Stoked – Miriam in Cape Town 2019
PHA+PGlmcmFtZSBsb2FkaW5nPSJsYXp5IiBzcmM9Imh0dHBzOi8vd3d3LnlvdXR1YmUtbm9jb29raWUuY29tL2VtYmVkL3lHQTNUN3Bqb2ZnIiB3aWR0aD0iNTYwIiBoZWlnaHQ9IjMxNSIgZnJhbWVib3JkZXI9IjAiIGFsbG93ZnVsbHNjcmVlbj0iYWxsb3dmdWxsc2NyZWVuIj48L2lmcmFtZT48L3A+
Express Yourself – Bruna Kajiya
PHA+PGlmcmFtZSBsb2FkaW5nPSJsYXp5IiBzcmM9Imh0dHBzOi8vd3d3LnlvdXR1YmUtbm9jb29raWUuY29tL2VtYmVkL3pLYU0zaEFSd0dzIiB3aWR0aD0iNTYwIiBoZWlnaHQ9IjMxNSIgZnJhbWVib3JkZXI9IjAiIGFsbG93ZnVsbHNjcmVlbj0iYWxsb3dmdWxsc2NyZWVuIj48L2lmcmFtZT48L3A+
Girls in Kiteboarding – the 10%
Even though the movie is already a few years old (and I'm sure we have a much higher percentage of women shredding nowadays), some of the messages in there are still very much up to date!
PHA+PGlmcmFtZSBsb2FkaW5nPSJsYXp5IiBzcmM9Imh0dHBzOi8vd3d3LnlvdXR1YmUtbm9jb29raWUuY29tL2VtYmVkL0w3WjdhcTFyNURNIiB3aWR0aD0iNTYwIiBoZWlnaHQ9IjMxNSIgZnJhbWVib3JkZXI9IjAiIGFsbG93ZnVsbHNjcmVlbj0iYWxsb3dmdWxsc2NyZWVuIj48L2lmcmFtZT48L3A+
Inspiring kite women and their stories
Fuller Figured Female Fights to Fly – Maddie's Story
I've found Maddie through a thread on facebook and she simply rocked my heart, which is why I had to to a full interview with her – which blew my mind and touched me deeply!
♥ Fuller Figured Female Fights to Fly ♥
Project 65+ : 14 women aged 65 to 76 living life to the fullest and kiteboarding
This is also a beautiful project that inspired and still inspires me so much, but just watch for yourself:
PGlmcmFtZSBsb2FkaW5nPSJsYXp5IiBzcmM9Imh0dHBzOi8vcGxheWVyLnZpbWVvLmNvbS92aWRlby8yNzAwNzA2MjciIHdpZHRoPSI2NDAiIGhlaWdodD0iMzYwIiBmcmFtZWJvcmRlcj0iMCIgYWxsb3dmdWxsc2NyZWVuPSJhbGxvd2Z1bGxzY3JlZW4iPjwvaWZyYW1lPjwvcD4=
Kitesurfing as a paraplegic woman?
During my stay in Limnos a complete kite camp for paraplegic people wanting to learn kitesurfing was held – and I was simply astonished! I wish I would have interviewed them back then but unfortunately I didn't – so I found this interview with Amanda who learnt kitesurfing.
" "Life became a journey of confronting adversity, and through sheer frustration my pivotal moment came when I realized I could turn 'why me' into 'why not me'".
Today, Amanda Boxtel challenges everything. She can swim, snow ski and water-ski, so why not kitesurf? After adapting standard gear and learning a few basic wind rules, the special athlete started riding. " (Extract from the article on surfertoday.com)
---
Best kitesurf spots for kitesurfing combined with yoga and a healthy lifestyle
At these spots I've felt very welcome as a woman as well as loved the combination of kitesurfing and the availability of yoga lessons and healthy lifestyle in general (so this is less for the party animals amongst you 😉 )
Cabarete, Dominican Republic
Cabarete is the place where it all started for me: learning kitesurfing, booking a one-way-ticket back to that spot and unexpectedly staying there for a year, enjoying island life and transitioning from kitesurfing and partying into kitesurfing, yoga and a healthier lifestyle. Cabarete has so many great yoga teachers and yummy healthy restaurants (as well as more and more options in the supermarket) as well as a great vibe for solo travelers. Plus Cabarete is one of the spots where you'll see a lot of (local as well as foreign) female kitesurfers rocking the water!
→ Full Spot Guide for Kitesurfing in Cabarete
Tarifa, Spain
Last time I've been here a few years ago I came for the partying 😉 This time my focus has changed! There is some nice yogastudios as well as gyms in Tarifa. The one I tried was aerofitness and the gym owner Sole is spreading good vibes with her powerful, energetic and happy mood. She gives all kinds of classes from Aeroyoga, Ashtanga, Yin to fitness classes like HIIT, TRX, Bodypump.
Tarifa also has tons of healthy food places and biomarkets, making it easy to live a healthy lifestyle (favorites: Surla, Grow Cafe, Andrea's Brunch, Mic Moc)
Cape Town & Langebaan, South Africa
While conditions can be quite harsh in Cape Town (so it's more for the advanced riders) I love the combination of different yoga studios, healthy restaurants, organic stores and kitesurfing all in the are of Blouberg/Big Bay – let alone going to the city. Langebaan is an option if you want flatwater – however only Windtown is offering yoga lessons there for now. Plus you'll probably get highly impressed by the female pro kitesurfers shredding and visiting Cape Town during the windy season!
→ Full Spot Guide for Kitesurfing in Cape Town
La Ventana, Baja California, Mexico
La Ventana unexpectedly conquered my heart – while it's a small place it has a big offer of yoga classes as well as a weekly Farmers Market and Mexican food which at least CAN be healthy depending on what you chose 😉 I loved the laid back vibe, days usually start with morning yoga or mountain biking and end in kitesurfing.
→ Full Spot Guide for Kitesurfing in La Ventana
---
Best kite spots for kitesurfing combined with partying
I feel ya! You want to triple the stoke by not only kitesurfing your heart out but also partying your heart out! Here is some kitesurf spots that combine the best out of both worlds:
Cabarete, Dominican Republic
As the wind is usually showing up around noon (in the summer) or after 2 pm (winter) it's the perfect destination to combine partying and kitesurfing! There is only a few clubs and more bars but still, if you like to dance to Bachata and Reggaeton you will probably enjoy yourself a lot here! (And if you read the paragraph before – yes, Cabarete is also ideal if you want to do some yoga and enjoy some yummy healthy food, this spot has it all!)
→ Full Spot Guide for Kitesurfing in Cabarete
Tarifa, Spain
While I'm personally not the biggest fan of the conditions in Tarifa – the lifestyle here is just super nice and unique! There is lots of bars and you can combine your kite holiday with great nights out!
Jericoacaora, Brazil
One of the few spots in Brazil (besides Cumbuco) where you can properly go out and kitesurf your heart out! The best thing is that during the season the wind is on every day, so you can sleep out without a worry and then kite whenever you feel ready for it! It just gets very crazy here (people- and price-wise) after Christmas and during New Year so I wouldn't recommend coming during this time!
→ Full Spot Guide for Kitesurfing in Jericoacaora
El Gouna, Egypt
If you haven't been to El Gouna yet, you're probably surprised that an Egyptian spot is on this list. But yes, you're reading correctly as El Gouna is not a typically Egyptian spot! There are some nice bars and restaurants in El Gouna "downtown" and the Marina. So unless you come during Ramadan (which you should avoid as lots of restaurants and all the bars close) you can party, kite, repeat! (Side note: there is a lot of All Inclusive hotels around though so it's not like a local vibe)
→ Full Spot Guide for Kitesurfing in El Gouna
Cape Town, South Africa
While there is not a lot of options to party where you kitesurf in the Blouberg area – you can make the 30-min-drive to town and find plenty of bars and clubs. So it might not be ideal for you if you want to go out every night but it is a great option if you don't mind the drive to the city.
→ Full Spot Guide for Kitesurfing in Cape Town
---
She Flies: Community for women in Extreme Sports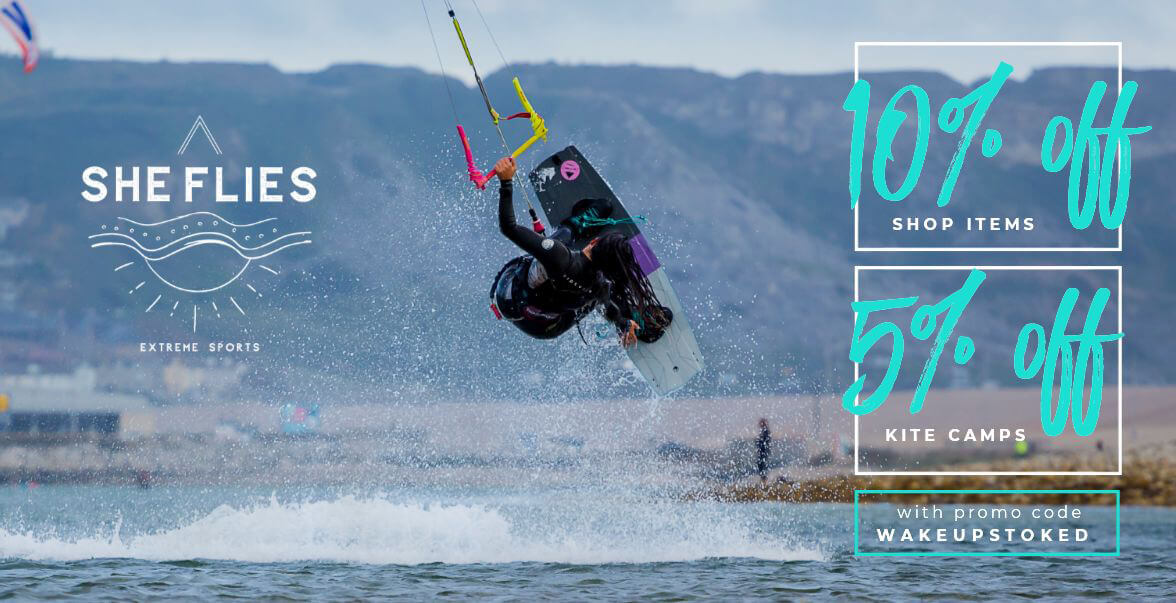 Women Only Kitesurf Camps, Wakeboard Camps, Virtual events and membership support program to encourage women in Extreme sports.
Get 10% off everything in the shop as well as 5% off Women Only Kitesurf & Wakeboard Camps with promo code "wakeupstoked".
Check out the website.