Here is a selection of carefully chosen businesses and brands I cooperate with or like to use, that have created special promo codes for the Wake Up Stoked readers. I only promote brands that I wear myself or believe in.
[This article may cointain Affiliate links. This means that if you decide to purchase some of these resources, I earn a small commission at no additional cost for you. I only recommend selected products that I'm convinced about and that I would buy (or already did buy) myself. This is helping me to keep investing as much time and passion as I do for this blog] 

//10% off all Awesome Maps – incl. Kitesurf Map//
Expand your kitesurf bucket list and dream away! This Kitesurf Map features over 500 kite spots (including snowkiting kite spots) and has additional info for every spot for the level of the rider (beginner/intermediate/advanced), riding preferences (flatwater, chop, waves), wind direction, wind speed (e.g. light, moderate, strong) and water temperature! Start dreaming and planning with these seriously awesome maps. Free Worldwide Shipping. 
Get 10% off on all maps when using code "WAKEUPSTOKED" at checkout. Get the map here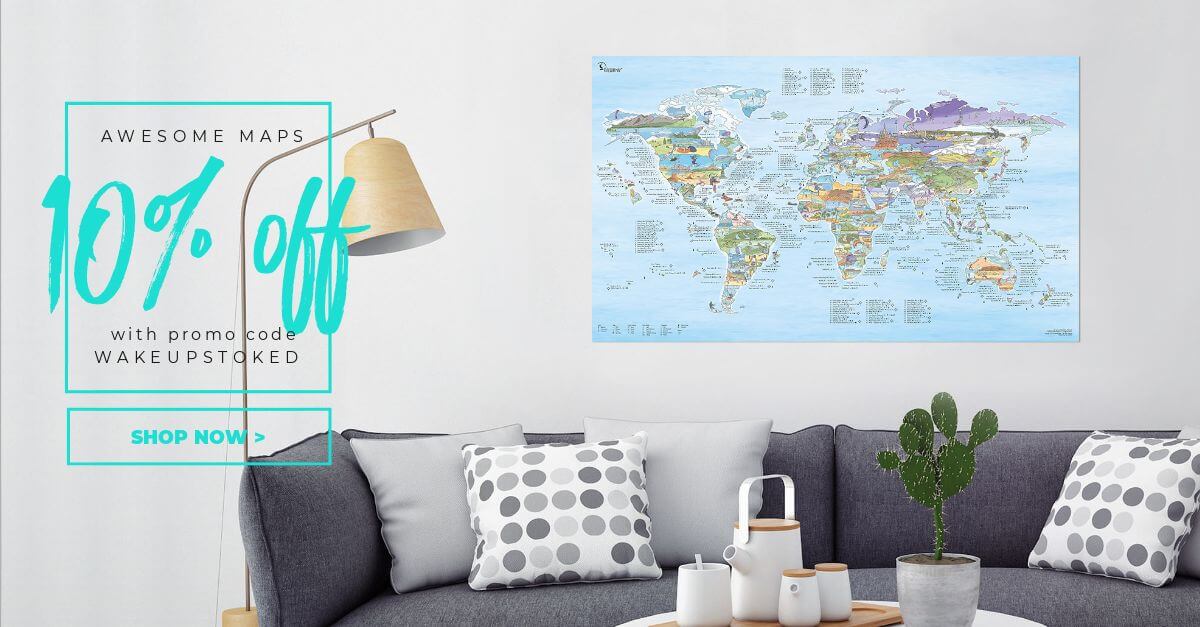 Btw they have tons of different maps for all kinds of activities e.g. Surf Map, Scuba Diving Map, Climbing Map, Mountain Bike Trail Map or also "regular" Travel Maps and Minimalist maps – the 10% magic code "WAKEUPSTOKED" applies for those as well!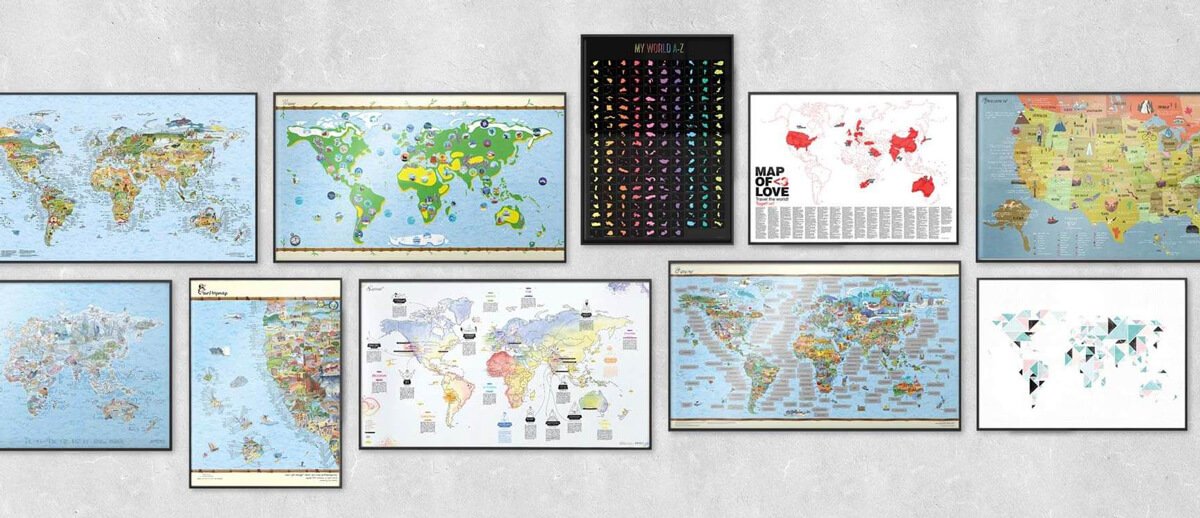 ---
// 10% off Suntribe: reef-safe, natural mineral Sunscreen and Zinc Sticks //
Natural sunscreen and skin products that are not only safe for yourself but also nature and the reefs – let's protect our playgrounds. Suntribe's sunscreens and zinc sticks are natural, reef-safe with certified organic and sustainable certificates and packaged eco-friendly as well.
My personal favorite is the Zinc Sticks as you don't get your hands dirty if you want to quickly want to apply something before hitting the water but they also have "normal" Mineral Sunscreen and different after-sun products to take care of your skin after spending all day on the water.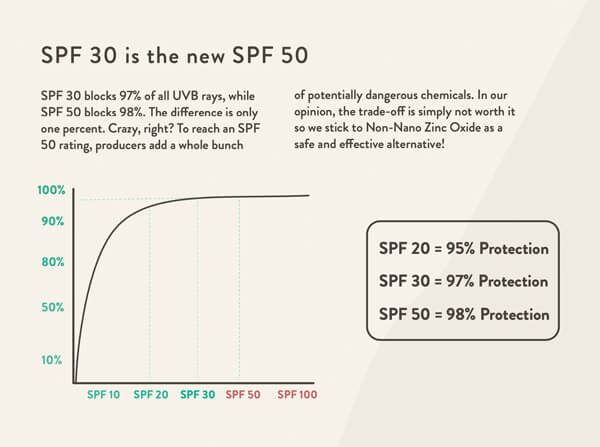 What I found most interesting, as someone who always uses SPF 50 was that using SPF30 is blocking 97% of UVB rays while using SPF50 is blocking 98% of UVB rays – so only 1% more. And for that extra percent the sunscreen producers usually have to add a lot of potentially dangerous chemicals – which is why Suntribe sticks with SPF 30.
Get 10% off by clicking this link and using the promo code "miriam&suntribe" at checkout.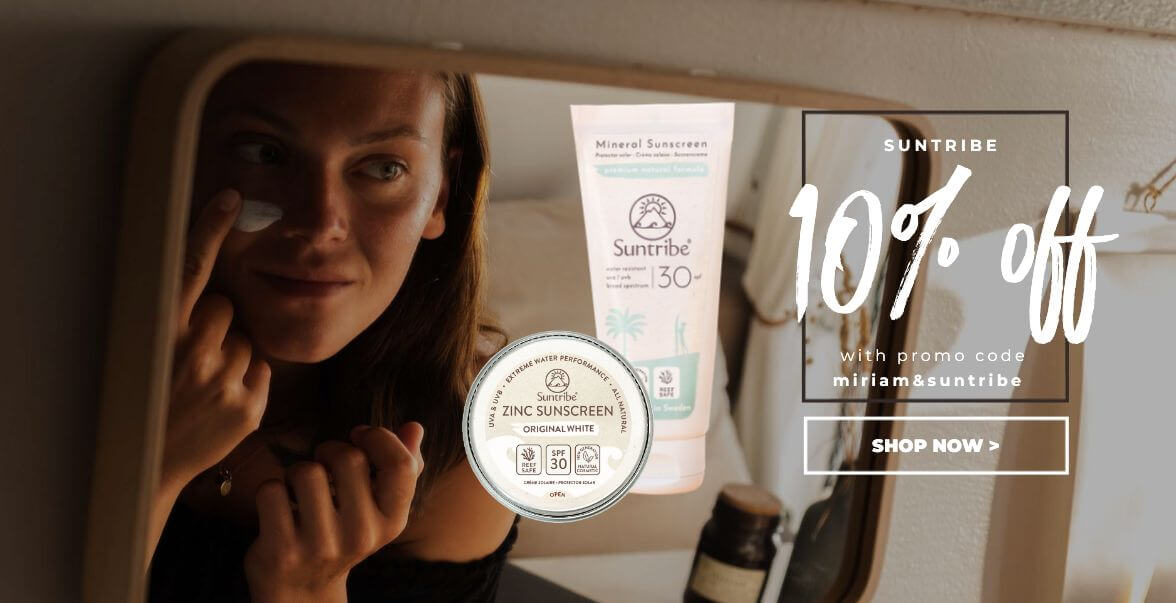 ---
// 10% off Onewayfly – real flight reservations //
The digital nomads and spontaneous travelers amongst you will love this. Ever wanted to enter a country that is requiring proof of a return ticket (which you don't have yet because maybe you don't know how long you want to stay or where you want to travel to next) or needed a hotel reservation to apply for a visa?
Onewayfly is targeting exactly that need: you can book a real airline ticket reservation (starting at around 19 USD) that is valid for up to 14 days so this way if you get checked at the immigration counter you have a valid flight reservation.
Book your flight reservation using this link and you will get 10% off with the Code "WAKEUPSTOKED10".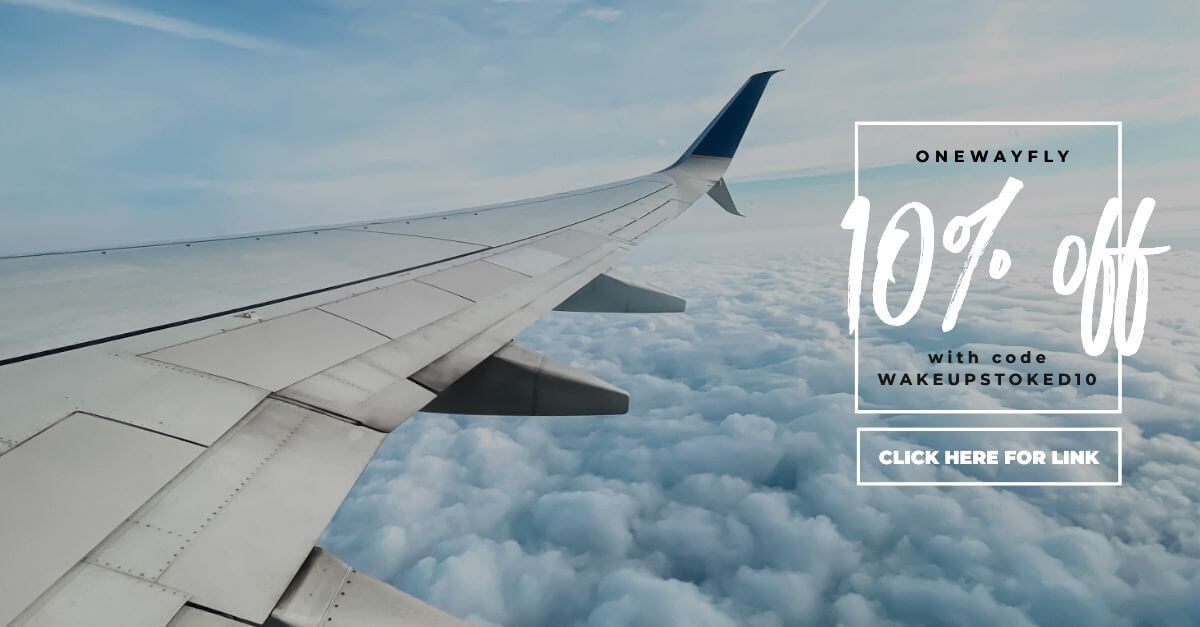 ---
// 10% off Big Blue Boards | womens' kiteboards //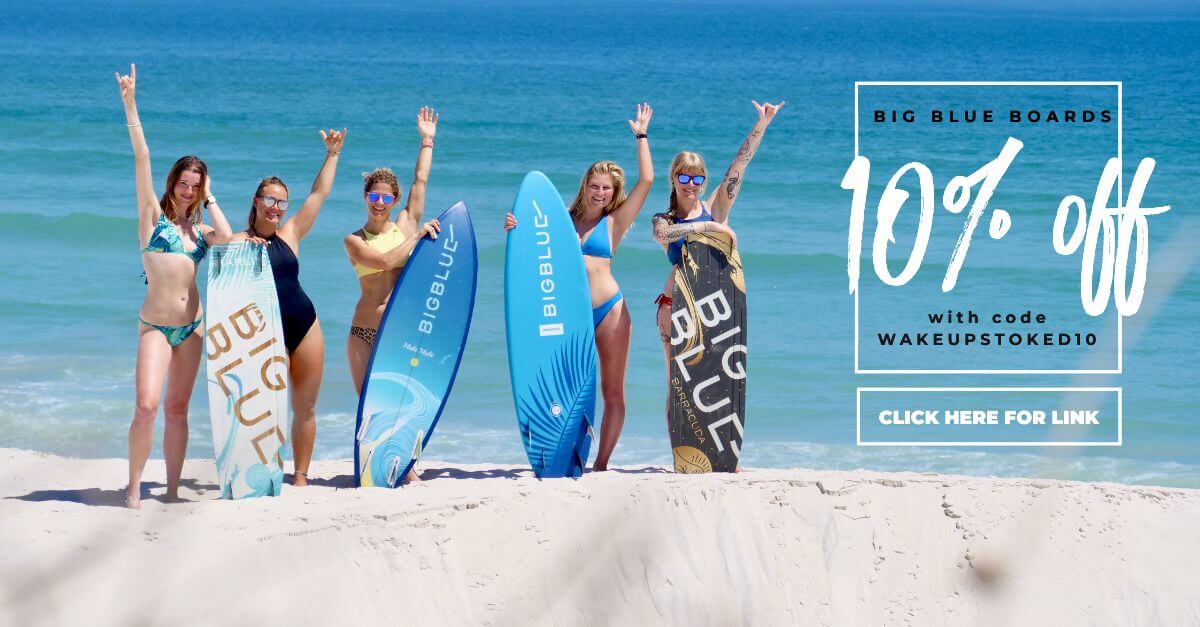 BIG BLUE Boards is the first kiteboard brand for women only. By creating women-only kite gear they empower kite women around the world. The brand has grown its board portfolio to beginner twintips, advanced twintips (with Carbon), directionals and rashguards/wetsuits.
Get 10% off by using this link and entering the Code WAKEUPSTOKED10.
---
// 10% off Massage Gun from Orthomechanik //
The more I kitesurf, the sorer I get, the more I wish I have a good massage therapist with me on my travels. While it is not easy to find a good massage therapist anywhere you go I started to fall in love with this massage pistol instead, the Om Go (the smaller travel version). Super light (only 460g), small (78x150mm), silent (< 45 dB ), powerful with a stylish design but most of all providing so much relief for my muscles after long windy days. It comes with 4 different top parts (depending on the body part you use it with), is chargeable via USB C and is all perfectly packed in a travel case.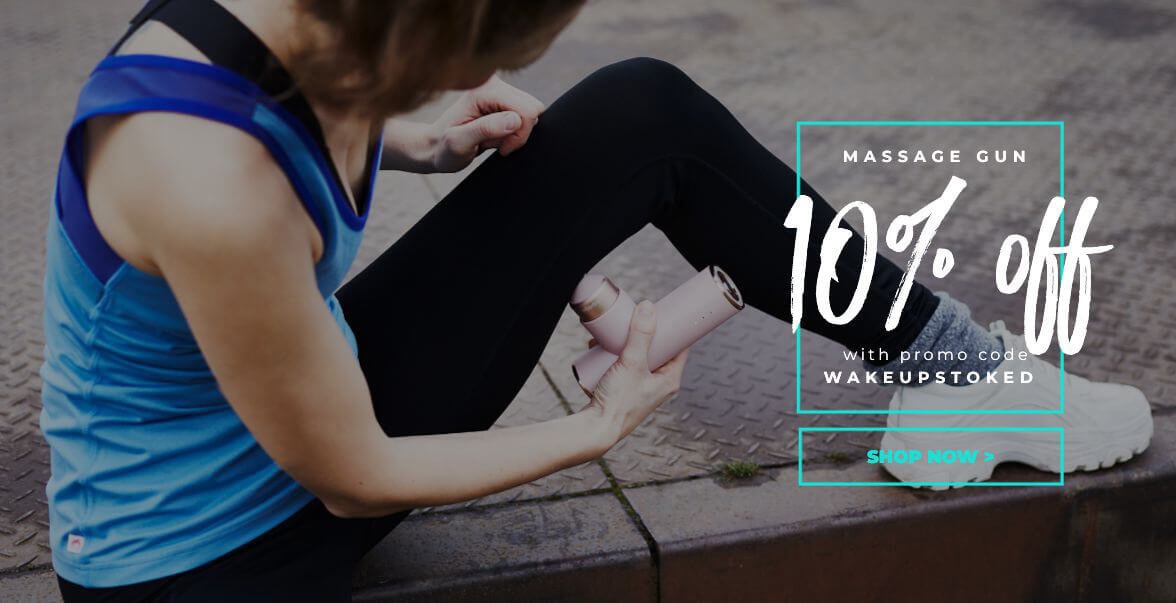 Get 10% off any massage gun (Om Go for Traveling, Ortho Gun for regular at-home use if you don't want to take it with you traveling) from Orthomechanik with discount code wakeupstoked.
---
// 10% off Vivida Lifestyle //


I'm wearing the apparel myself and love it. My favorites are the ponchos and the reversible eco surf bikinis, surf suits and activewear – all made from recycled plastic bottles! All their products I've tried until know are super comfy and long-lasting. They have small hidden messages in all their bikinis and activewear with an inspiring quote that lifts you up every time you wear it. Another favorite from them are the reusable stainless steel straws – which come in a beautiful bag ideal for traveling!
Vivida is offering Surfwear for Men and Women, Ponchos and Lifestyle Wear. Check out their full movie to get a glimpse on the philosophy and lifestyle behind the brand.
Get 10% off with promo code "WAKEUPSTOKED10". Shop Vivida here.
---
// 10 USD off Sensi Graves Bikinis //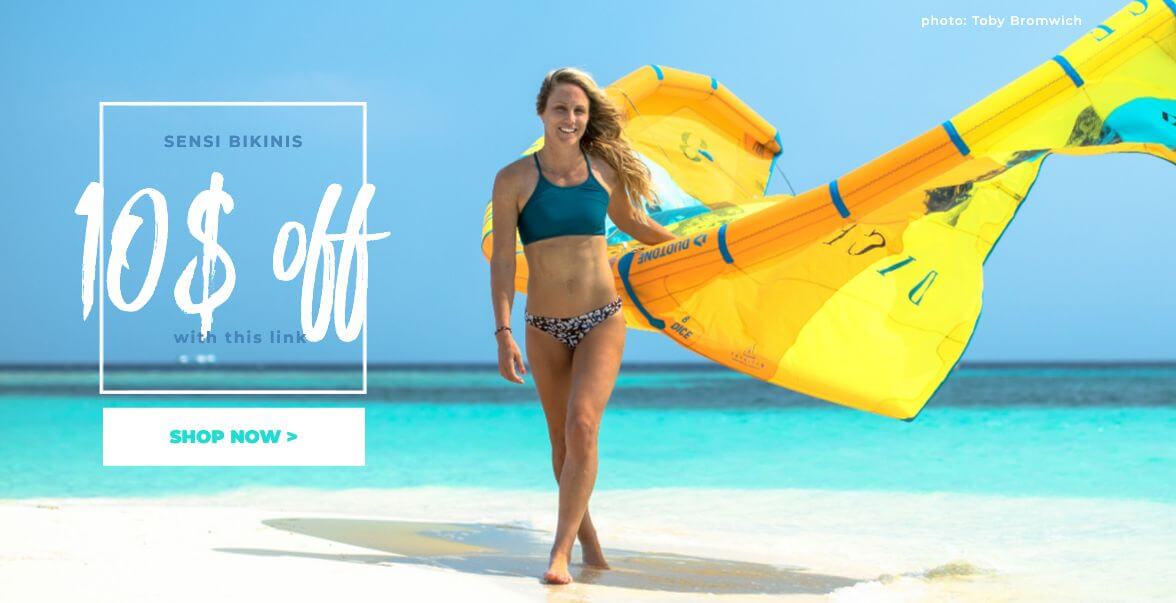 It was the first Kite Bikinis I found and bought and I absolutely loved their nice cuts, sexy designs and that they still stay on during every session and crash I make.
Get 10 USD off on your order using this link.

---
// 10% off Zealous Surfwear and Streetwear //
German surf girl Marie founded the beautiful brand named Zealous, which means to be filled with or to be inspired by intense enthusiasm, being passionate.
She designs and creates sustainable sports bikinis, surfwear and streetwear.
Get 10% off with promo code "WAKEUPSTOKED". Shop Zealous here.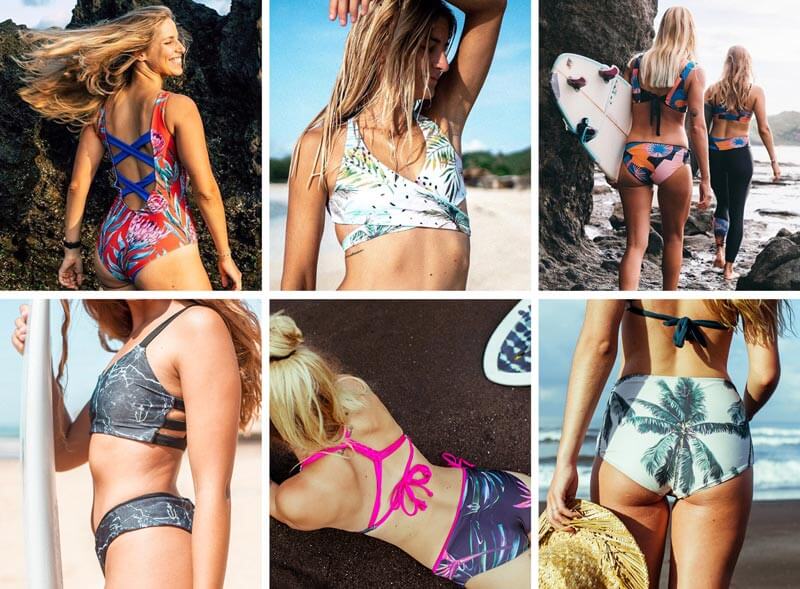 ---
// 15% off Akela Surf Bikinis and Surfwear //
Get 15% off Akela Surfwear with code "wakeupstoked", shop Akela Surfwear here.
---
// 15% off Euphoric Threads – Eco Active Wear and Surf Wear //
Get 10% off with code WAKEUPSTOKED. Shop here.
---
// 10% off Alooppa Surfwear //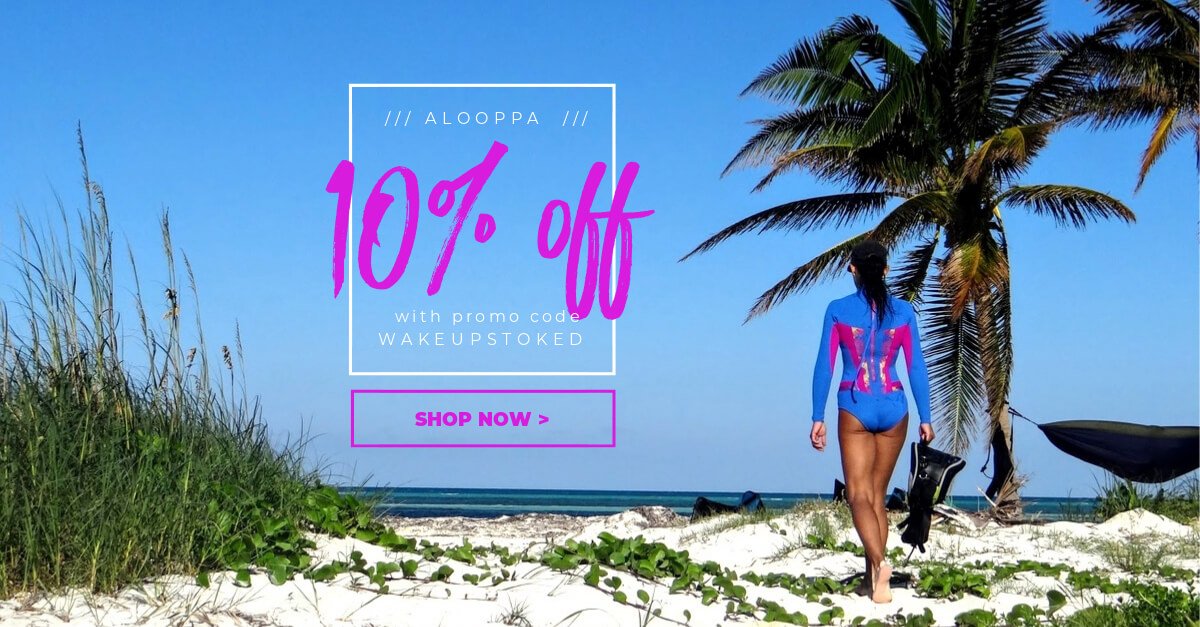 It doesn't get more colorful than this – if you want to stand out and love bright colors and bold contrasts, you'll love these spring suits. Alooppa is a label founded by a couple who left the world of financeto have more windsurfing and kitesurfing in their lives and created the most colorful suits on the market.
You can customize your colors as well as brand your wetsuit additionally (check out the one I created here) or even get a custom size for an extra charge.
Get 10% off when using discount code "WAKEUPSTOKED". Check out their site here.

---
// 10% off  She Flies Shop items, 5% off women-only Kite Camps //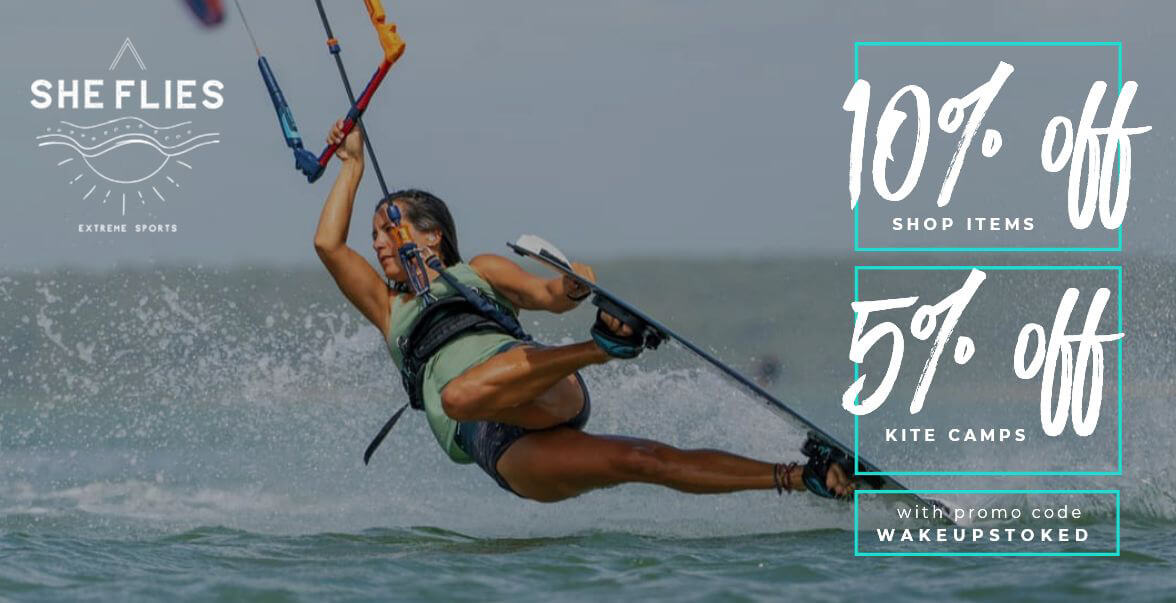 Women Only Kitesurf Camps, Wakeboard Camps, Virtual events and membership support program to encourage women in Extreme sports.
Get 10% off everything in the shop as well as 5% off Women Only Kitesurf & Wakeboard Camps with promo code "wakeupstoked".
Check out the website.
---
// 10% off Hair & Body Wash Products in the Kitelife shop //
Kitelife is a sustainable online store for kitesurfers with all the accessories and goodies you need for your salty and sunny kite life. Whether you're looking for bags made from recycled products, eco-friendly sun care, shampoo or body soaps or other cool accessories you would want for your everyday kite life.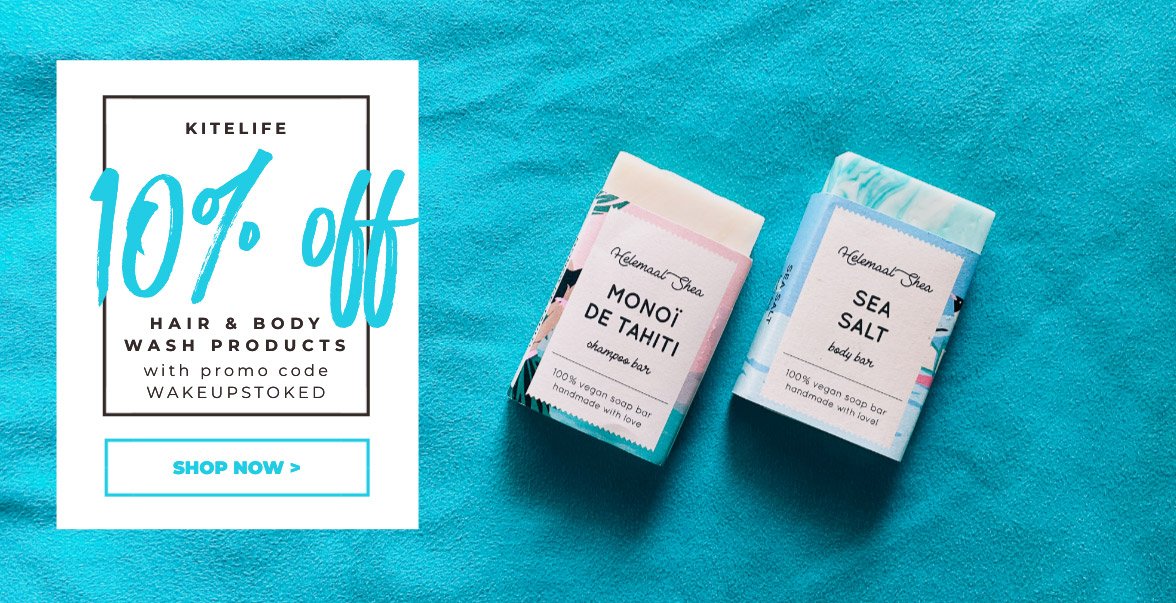 Get 10% off their Hair and Body wash products with code WAKEUPSTOKED
Check out the website.
---
// 25€ Voucher for airbnb //
I use airbnb on most of my travels as I love to stay in apartments when I travel and work.
Get a 25€ voucher for your first airbnb stay when using this link.
---
> Do you need more inspiration on kitesurf bikinis?
Here is a full blogposts on the best surf bikinis to shred in.