Here is a selection of carefully chosen businesses and brands I cooperate with or like to use, that have created special promo codes for the Wake Up Stoked readers. I only promote brands that I wear myself or believe in.
[Some of the links in this article are affiliate links. This means that if you decide to purchase some of these resources, I earn a small commission at no additional cost for you. I only recommend selected products that I'm convinced about and that I would buy (or already did buy) myself.] 
//10% off all Awesome Maps – incl. Kitesurf Map//
Expand your kitesurf bucket list and dream away! This Kitesurf Map features over 500 kite spots (including snowkiting kite spots) and has additional info for every spot for the level of the rider (beginner/intermediate/advanced), riding preferences (flatwater, chop, waves), wind direction, wind speed (e.g. light, moderate, strong) and water temperature! Start dreaming and planning with these seriously awesome maps. Free Worldwide Shipping. 
Get 10% off on all maps when using code "WAKEUPSTOKED" at checkout. Get the map here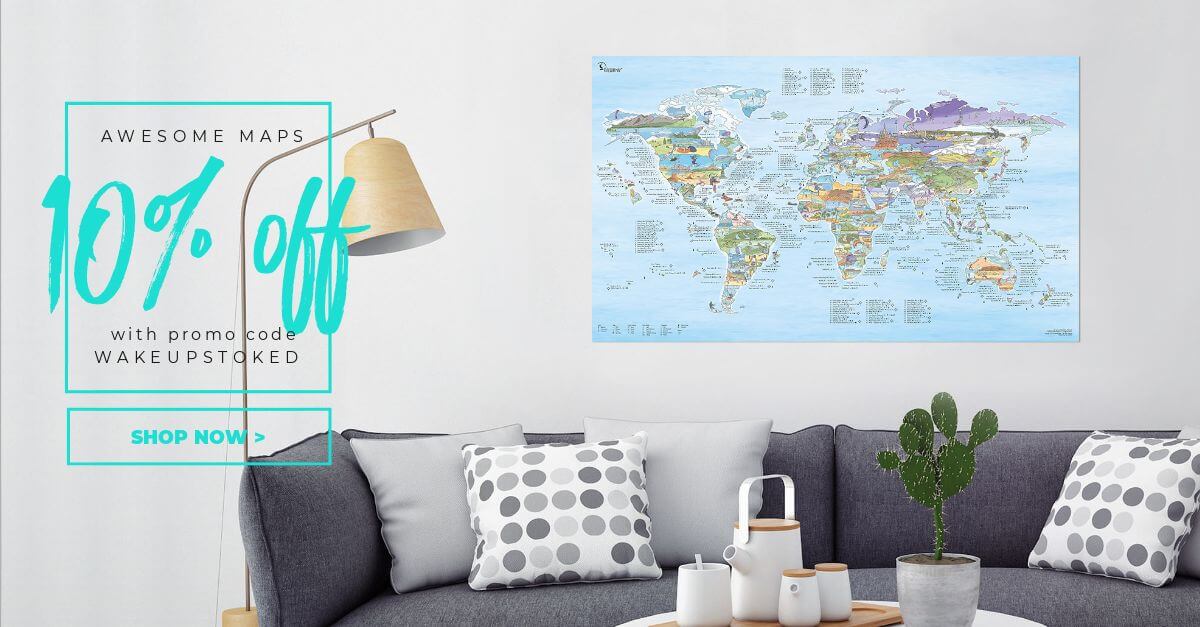 Btw they have tons of different maps for all kinds of activities e.g. Surf Map, Scuba Diving Map, Climbing Map, Mountain Bike Trail Map or also "regular" Travel Maps and Minimalist maps – the 10% discount code "WAKEUPSTOKED" applies for those as well!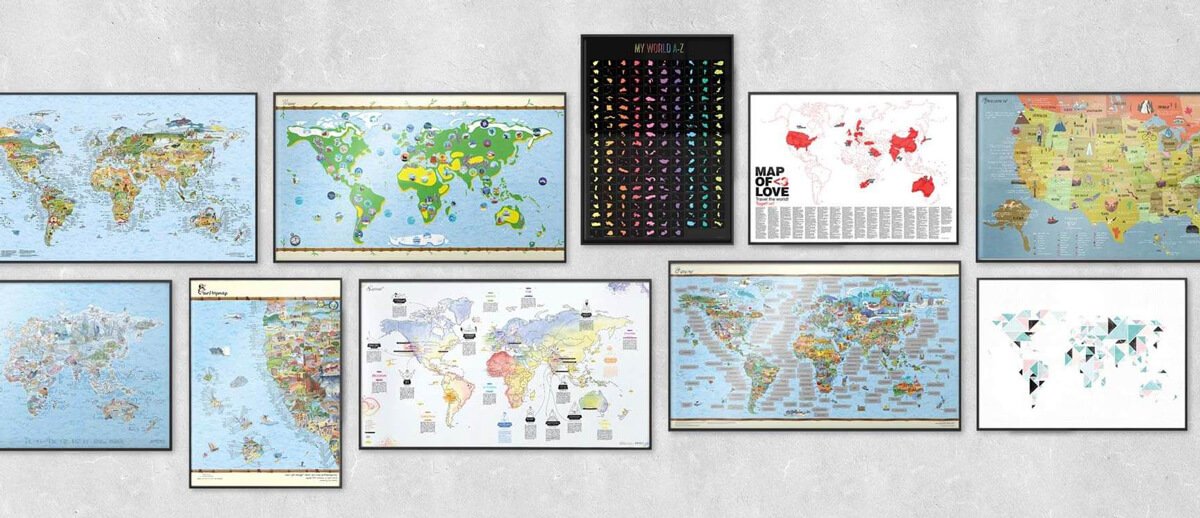 ---
// 10% off Big Blue Boards – womens' kiteboards //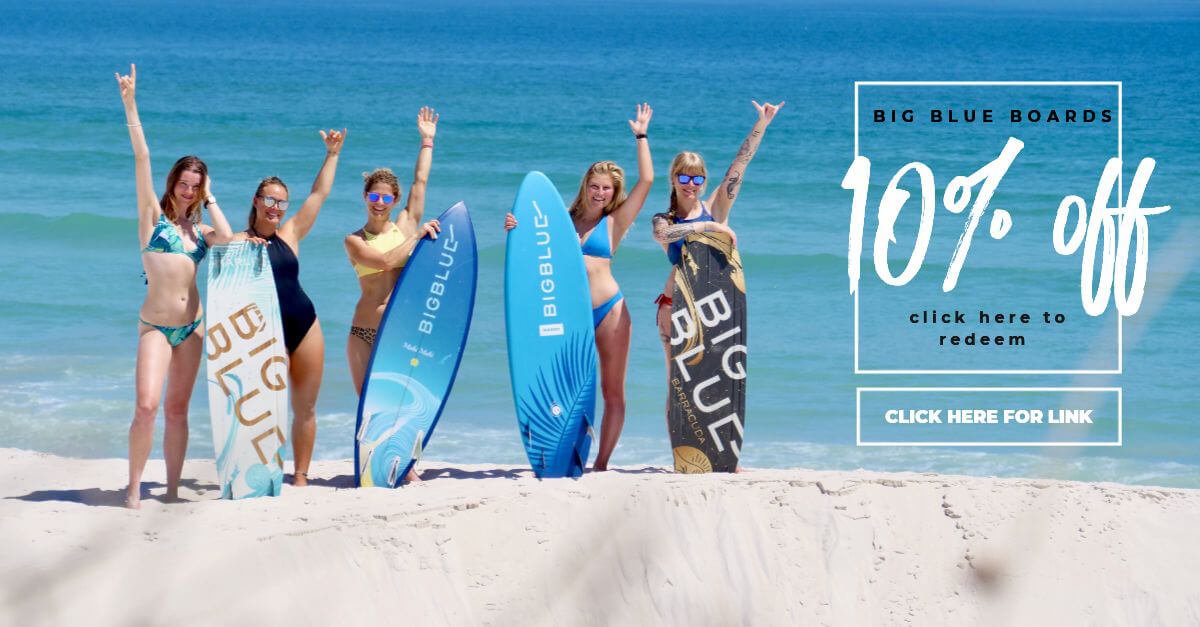 BIG BLUE Boards is the first kiteboard brand for women only. By creating women-only kite gear they empower kite women around the world. The brand has grown its board portfolio to beginner twintips, advanced twintips (with Carbon), directionals and rashguards/wetsuits.
Get 10% off by using this link.
---
// 10% off MAIN Design Surf Bikinis and Swimwear //
Eco-friendly, handmade surf bikinis and accessories like bags and jewelry as well as surfwear for kids (for the mommy-daughter partner look 🙂 ). I love that they have cuts with more coverage but also more cheeky, both for tops and bottoms so you can pick what you feel comfortable in. Personally I like the tops that you can tie as you can adjust them perfectly to your body but if you plan on wearing a wetsuit on top I'd recommend picking one without ties.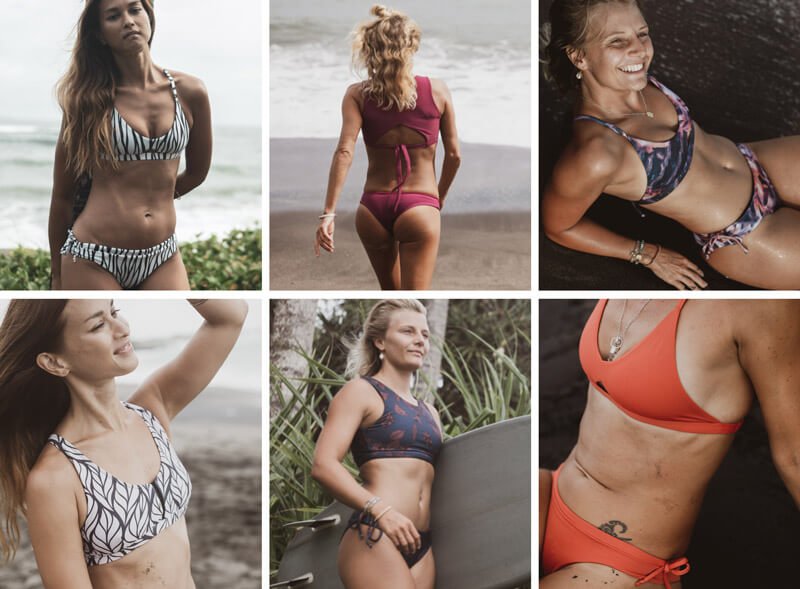 Bikini models that they recommend most for surfing/kitesurfing: for bikini tops Aurora, Spaghetti, Cheers and Cosmo are the best, for bikini bottoms they recommend Blush und Jade. To check the coverage on bikinis you can also look at the Fitting Guide on here.
Shipped from Switzerland, free shipping over 150 CHF.
> Shop MAIN Design (10% off with promo code "wakeupstoked")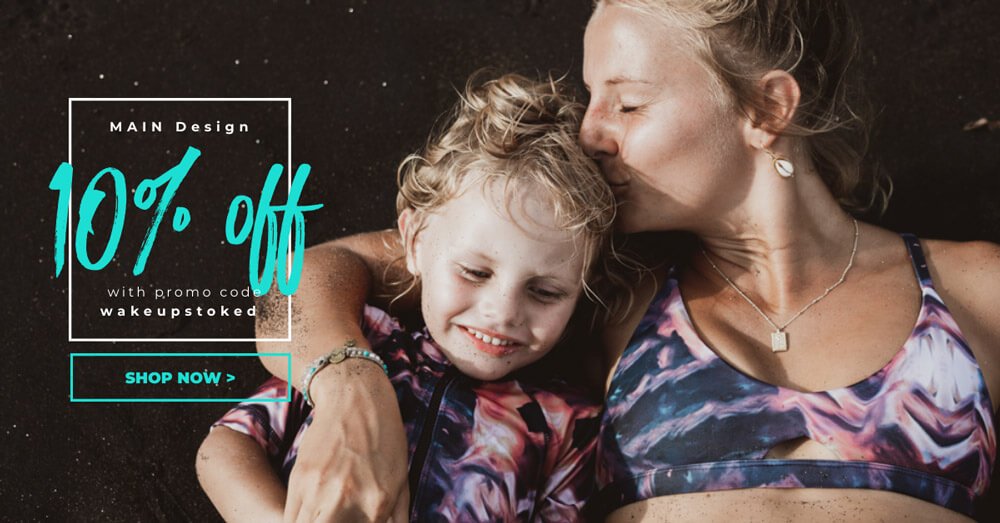 ---
// 10% off Vivida Lifestyle //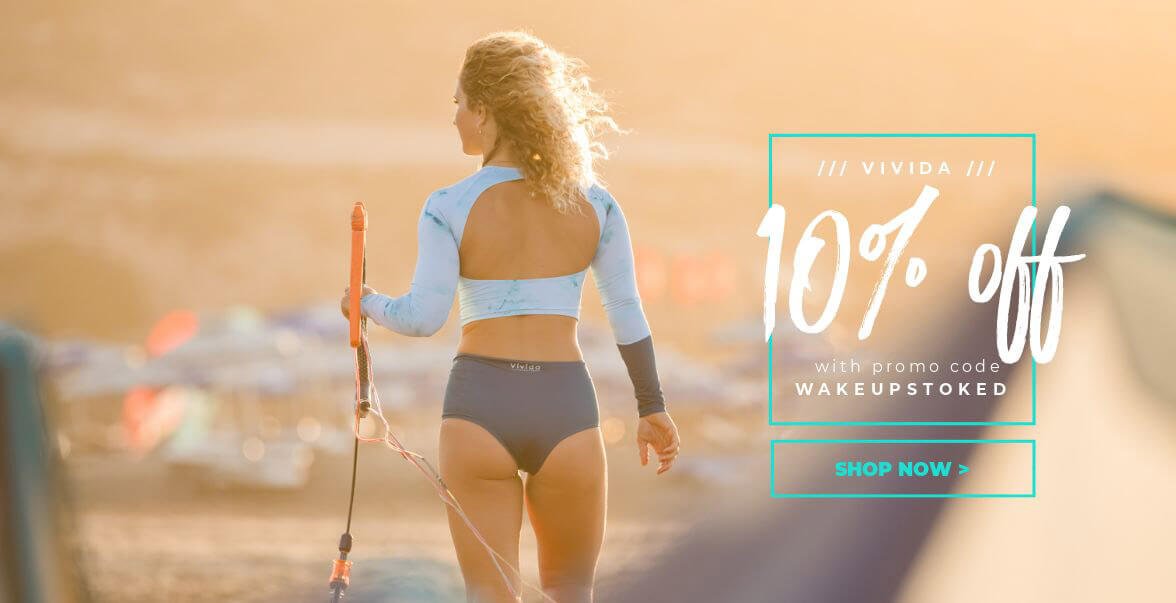 I'm wearing the apparel myself and love it. My favorites are the ponchos and the reversible eco surf bikinis, surf suits and activewear – all made from recycled plastic bottles! All their products I've tried until know are super comfy and long-lasting. They have small hidden messages in all their bikinis and activewear with an inspiring quote that lifts you up every time you wear it. Another favorite from them are the reusable stainless steel straws – which come in a beautiful bag ideal for traveling!
Vivida is offering Surfwear for Men and Women, Ponchos and Lifestyle Wear. Check out their full movie to get a glimpse on the philosophy and lifestyle behind the brand.
Get 10% off with promo code "WAKEUPSTOKED". Shop Vivida here.


---
// 10% off or 20$ off Sensi Graves Bikinis //
It was the first Kite Bikinis I found and bought and I absolutely loved their nice cuts, sexy designs and that they still stay on during every session and crash I make.
Get 20$USD off your order when using this link or get 10% off on your order using this link, 10% will be applied automatically at checkout.

---
// 10% off Zealous Bikinis, Surfwear and Streetwear //
German surf girl Marie founded the beautiful brand named Zealous, which means to be filled with or to be inspired by intense enthusiasm, being passionate.
She designs and creates sustainable sports bikinis, surfwear and streetwear.
Get 10% off with promo code "WAKEUPSTOKED". Shop Zealous here.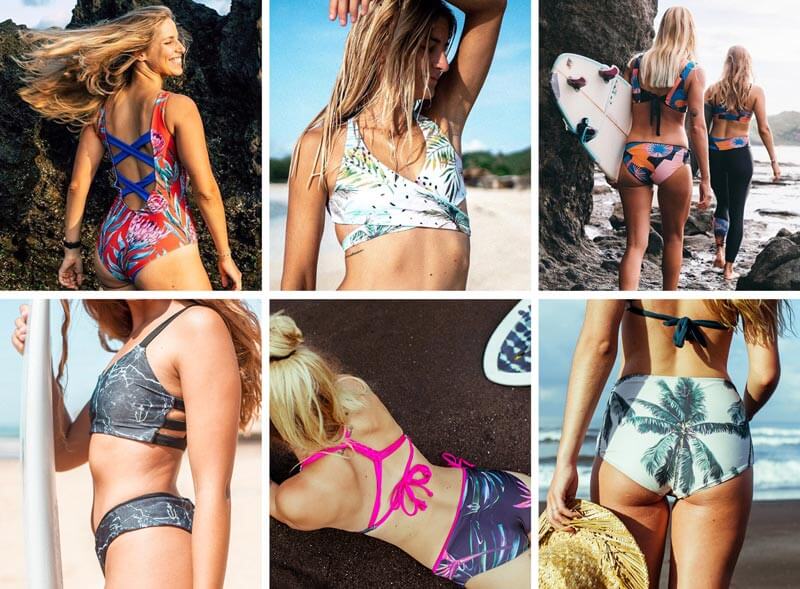 ---
// 15% off Akela Surf Bikinis and Surfwear //
Get 15% off Akela Surfwear with code "wakeupstoked", shop Akela Surfwear here.
---
// 15% off Euphoric Threads – Eco Active Wear and Surf Wear //
Get 10% off with code WAKEUPSTOKED. Shop here.
---
// 10% off Alooppa Surfwear //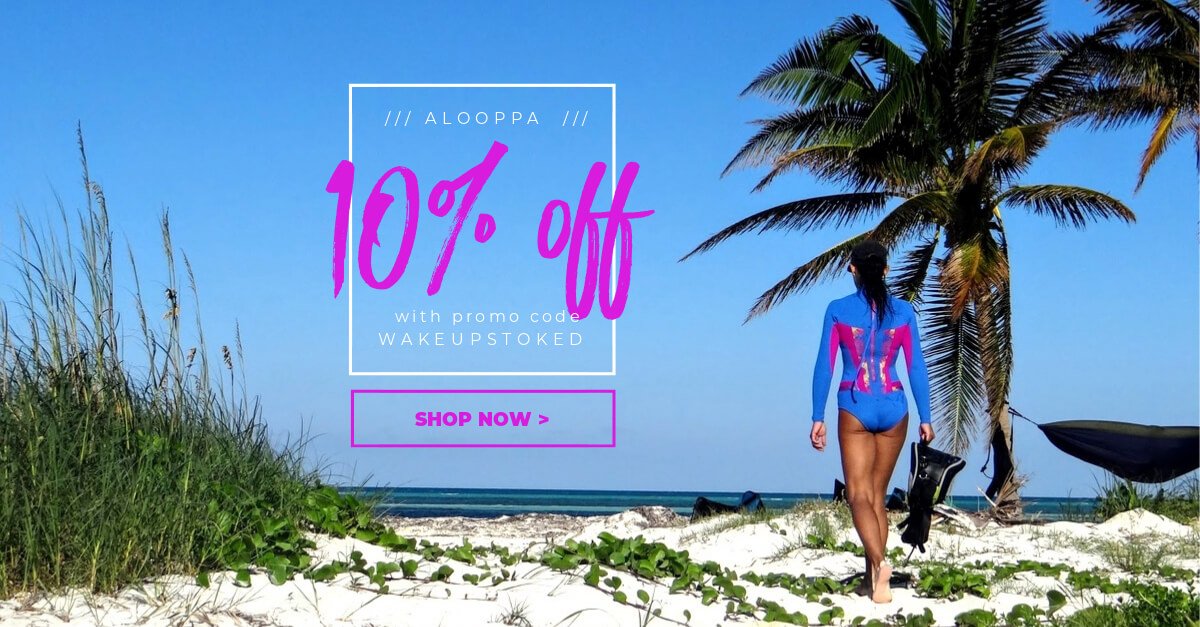 It doesn't get more colorful than this – if you want to stand out and love bright colors and bold contrasts, you'll love these spring suits. Alooppa is a label founded by a couple who left the world of financeto have more windsurfing and kitesurfing in their lives and created the most colorful suits on the market.
You can customize your colors as well as brand your wetsuit additionally (check out the one I created here) or even get a custom size for an extra charge.
Get 10% off when using discount code "WAKEUPSTOKED". Check out their site here.

---
// She Flies: 10% off  Shop items, 5% off Women only Kite Camps //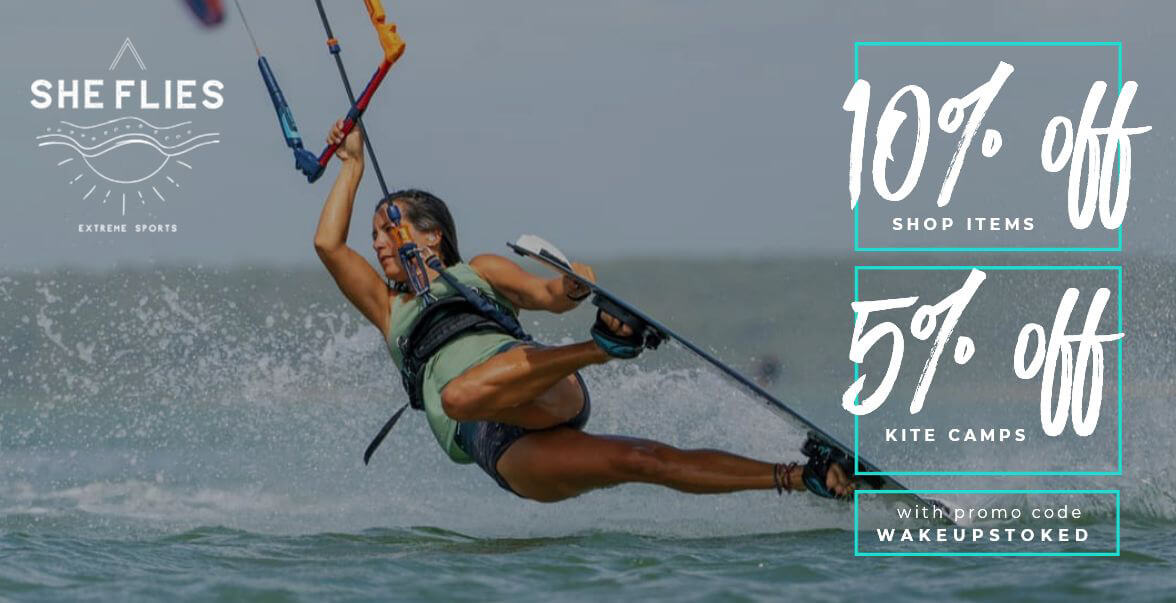 Women Only Kitesurf Camps, Wakeboard Camps, Virtual events and membership support program to encourage women in Extreme sports.
Get 10% off everything in the shop as well as 5% off Women Only Kitesurf & Wakeboard Camps with promo code "wakeupstoked".
Check out the website.
---
// 5 € discount for My Fitness Card //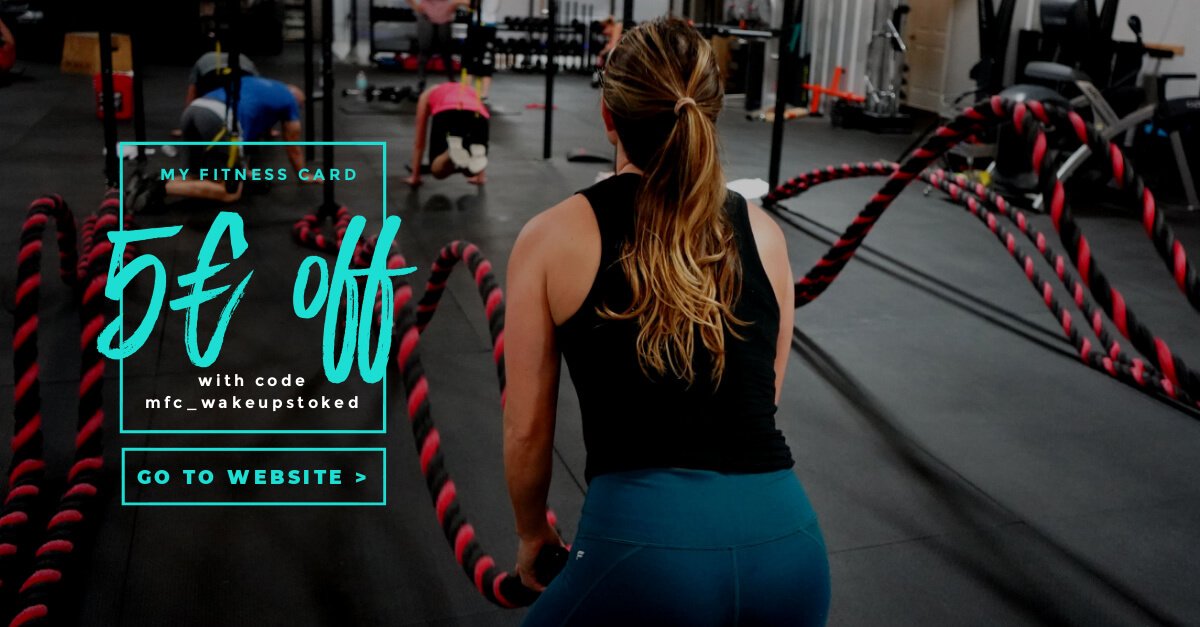 I rarely get SO excited about a concept like the My Fitness Card, as it feels like they designed it exactly for my needs 😉 As I travel a lot it is hard to get your workout in and I love to do different group classes in the gym but still want to be flexible as I'm usually just 1 to 3 months at a spot at a time.
The My Fitness Card is an amazing offer valid in Germany: with their card you can train in lots of different fitness studios, boutique studios, small gyms and big chains, do outdoor workouts etc, you can even get massages and cryo sauna (with a small additional payment for those two).
There are 3 different options, depending on how often you want to go: Start, Flex, Unlimited. Check out the options here.
You can cancel your membership anytime and you can train in any of the 35 cities in Germany they have listed.  I love the concept and am using the Unlimited Card any time I'm back in Germany.
You can get 5 Euro discount when using my discount code "mfc_wakeupstoked". Apply code here.
---
// 25€ Voucher for airbnb //
I use airbnb on most of my travels as I love to stay in apartments when I travel and work.
Get a 25€ voucher for your first airbnb stay when using this link.
---
> Do you need more inspiration on kitesurf bikinis?
Here is a full blogposts on the best surf bikinis to shred in.