Here is a selection of carefully chosen businesses and brands I cooperate with or like to use, that have created special promo codes for the Wake Up Stoked readers. I only promote brands that I wear myself or believe in.
//15% off all Awesome Maps – incl. Kitesurf Map//
Expand your kitesurf bucket list and dream away! This Kitesurf Map features over 500 kite spots (including snowkiting kite spots) and has additional info for every spot for the level of the rider (beginner/intermediate/advanced), riding preferences (flatwater, chop, waves), wind direction, wind speed (e.g. light, moderate, strong) and water temperature! Start dreaming and planning with these seriously awesome maps. Free Worldwide Shipping. 
Get 10% off on all maps when using code "WAKEUPSTOKED" at checkout. Get the map here
Btw they have tons of different maps for all kinds of activities e.g. Surf Map, Scuba Diving Map, Climbing Map, Mountain Bike Trail Map or also "regular" Travel Maps and Minimalist maps – the 10% discount code "WAKEUPSTOKED" applies for those as well!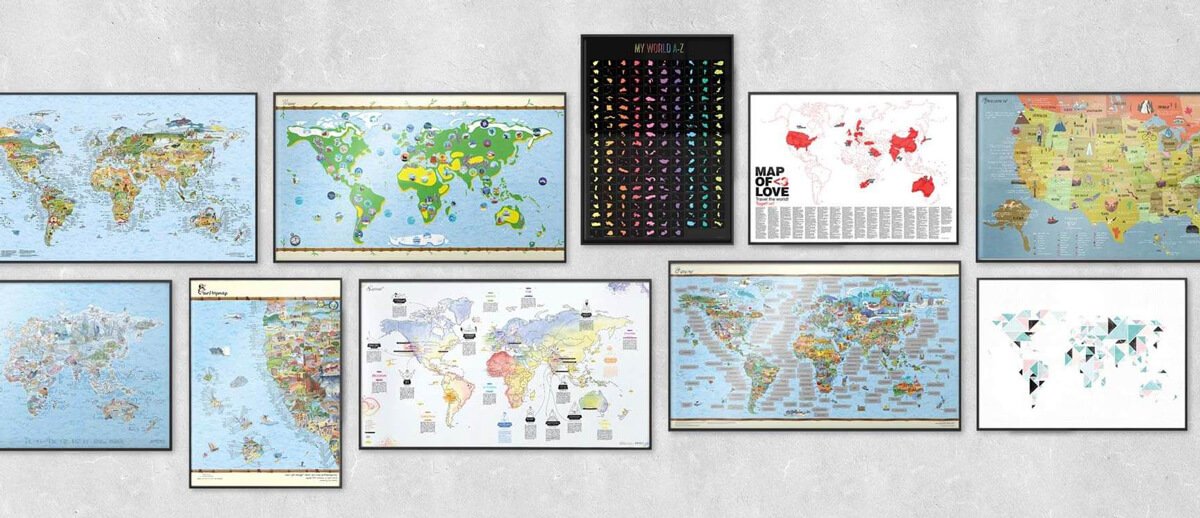 ---
// 15% off Vivida Lifestyle //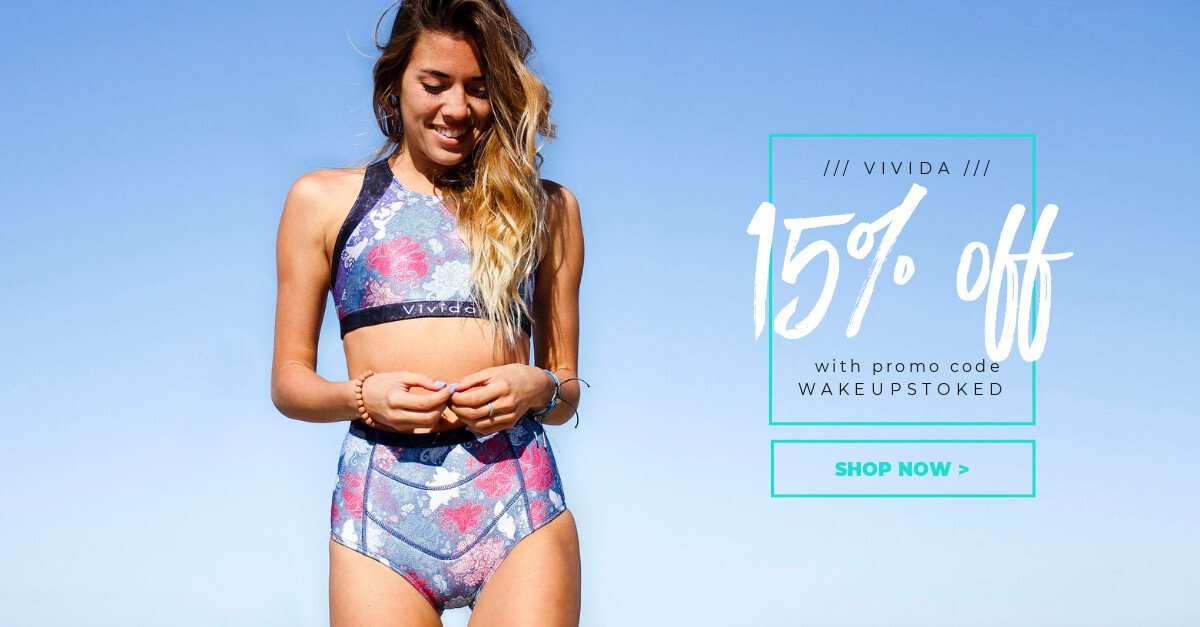 I'm wearing the apparel myself and love it. My favorites are the ponchos, the 2mm Linda surf suit and their yoga wear is just so incredibly smooth and in general all the products I've tried until know are super comfy and long lasting.
Vivida is offering Surfwear for Men and Women, Ponchos and Lifestyle Wear. Check out their full movie to get a glimpse on the philosophy and lifestyle behind the brand.
Get 15% off with promo code "WAKEUPSTOKED". Shop Vivida here.

---
// 15% off Saltbeat //
Saltbeat is one of the very few brands on the market that combines fashion with functionality in such a beautiful way. They are creating luxurious pieces that can withstand the most radical of waterwomen and combine chic with "staying put" even in the wipe out and during kite crashes.
Get 15% off with promo code "WAKEUP15". Shop Saltbeat here.

---
// 10% off Alooppa Surfwear //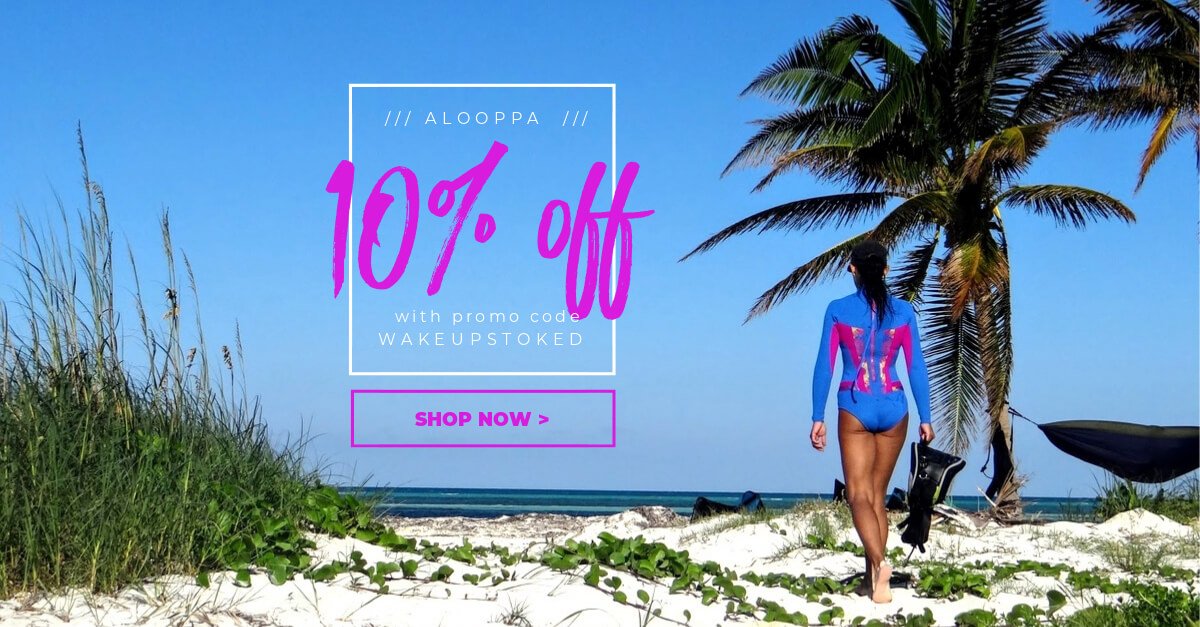 It doesn't get more colorful than this – if you want to stand out and love bright colors and bold contrasts, you'll love these spring suits. Alooppa is a label founded by a couple who left the world of financeto have more windsurfing and kitesurfing in their lives and created the most colorful suits on the market.
You can customize your colors as well as brand your wetsuit additionally (check out the one I created here) or even get a custom size for an extra charge.
Get 10% off when using discount code "WAKEUPSTOKED". Check out their site here.

---
// 20$ off Sensi Graves Bikinis //
It was the first Kite Bikinis I found and bought and I absolutely loved their nice cuts, sexy designs and that they still stay on during every session and crash I make.
Get 20$USD off your order when using this link.

---
// 10% off Big Blue Boards – womens' kiteboards
BIG BLUE Boards is the first kiteboard brand for women only. By creating women only kite gear they empower kite women around the world as well women in 3rd countries. With every board you buy with them you are providing a half year of scholarship for a girl in Tanzania.
With the 10% promo code above, you can save 10% on your order (use promo code BigBlueGET10). Or  you can give a 10% donation to womens' education (use promo code BigBlueGIVE10) so it's the regular price you would pay for the board but 10% of what you're paying are being donated.
---
//50€ voucher for Flying Gecko Kiteboarding //
I've had a very inspiring interview with John from Flying Gecko Kiteboarding. They are offering kite camps and kite safaris off the beaten path in Egypt, Turkey, Sri Lanka, Brazil etc.
Get a 50 Euro Voucher (for any booking over 500 Euro) when using discount code "WUS". Check out their adventures here.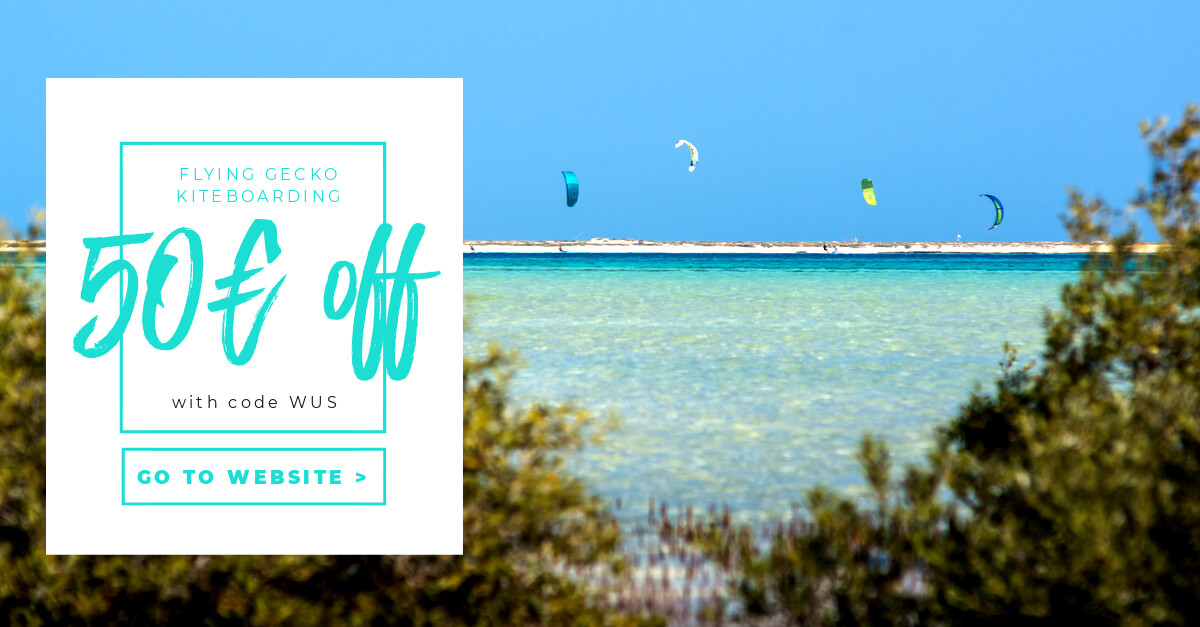 ---
// 25€ Voucher for airbnb //
I use airbnb on most of my travels as I love to stay in apartments when I travel and work.
Get a 25€ voucher for your first airbnb stay when using this link.
---
> Do you need more inspiration on kitesurf bikinis?
Here is a full blogposts on the best surf bikinis to shred in.