As a solo-traveling kite addict I combine work, travel and play and several months a year all I travel with is my kite gear and as I call it "my mobile office". I tried and tested a lot in the beginning and this is everything I take with me plus all my favorite apps and tools for travel, kitesurfing and working remotely. Put short – this is a guide to all the kitesurf resources and links I love to use!
[This article may contain affiliate links. This means that if you decide to purchase some of these resources, I earn a small commission at no additional cost for you. I only recommend selected products that I'm convinced about and that I would buy (or already did buy) myself.] 
1. My kitesurf equipment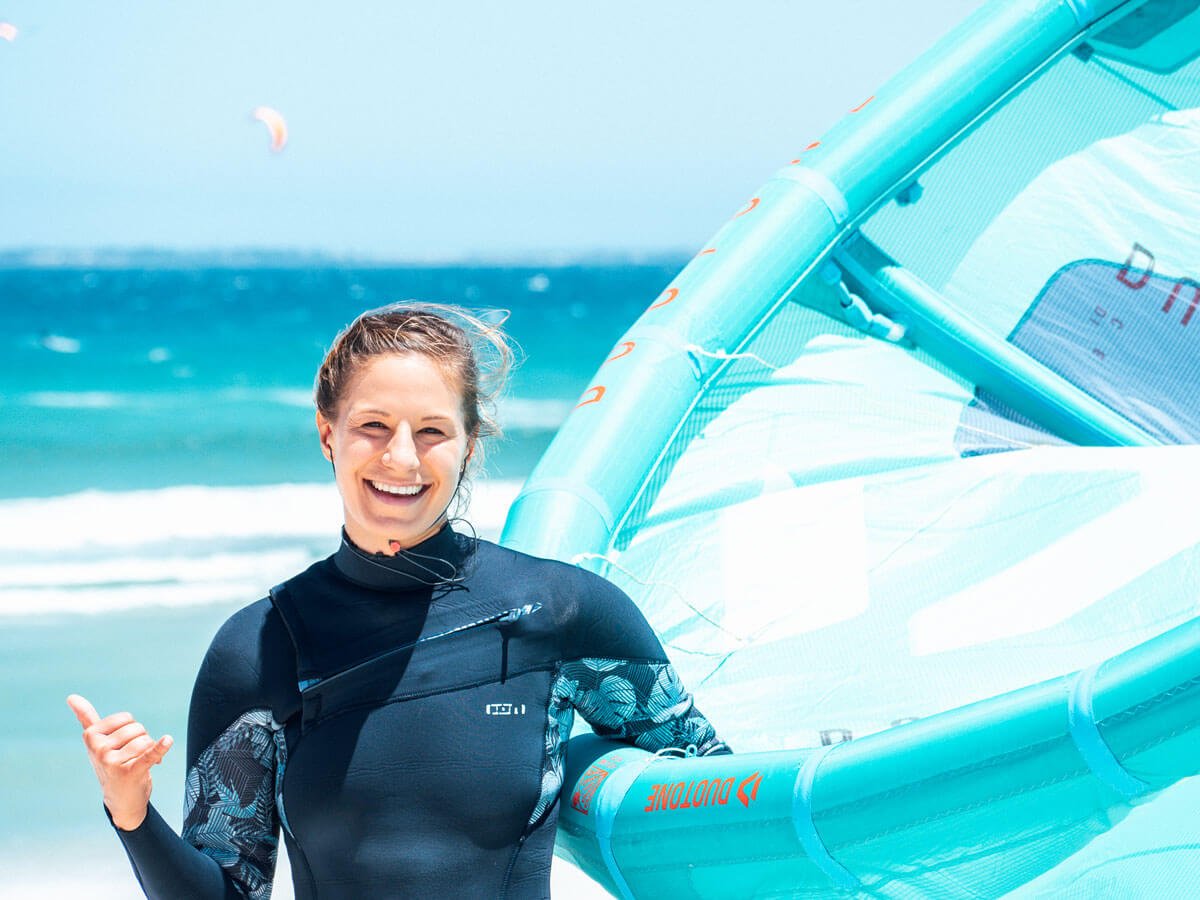 ---
2. My Travel gear and backpacks
Kite Luggage
Duotone Combibag 139cm (if I travel with Twintip only) or 165cm (if I travel with Twintip and Hybrid board) and the Duotone Single Boardbag CSC for the Hybrid Board for extra protection.
I can fit all my kitegear and clothes in there – check this packing article to see how I make it work.
Hand Luggage
Osprey Farpoint 40

If my kite bag is not too heavy, I travel with a backpack as my hand luggage. I love this one since it's pretty big and you can open the main compartment fully. I only travel with the big one if I bring all my technical equipment. 

Alternative: Hand luggage trolley

Whenever my kite luggage gets really really heavy, I take a light trolley as a hand luggage with me since I can attach the kite bag to it and then pull it all at once. The best hack I discovered so far to pull even the heaviest kite bag! I have a hardcase since sometimes I might just check it in as well if it's free to check in a second piece of luggage. Choose one with 4 wheels, it will make the manouvring of your kite luggage behind you way easier!

Burton Daypack Annex

 I use this backpack for everyday and for the flight if I don't have the nerve to bring the other one 😉  As I travel around and work at the same time I need a good and comfortable backpack for the everyday commute from my apartment to the coworking space of cafe. I love this one since it has a padded separate laptop pocket and you can also open the backpack on the back side with a zipper (without having to open the main compartment). Plus you can open the backpack completely on the top so I can easily get an overview in my (very chaotic) backpack inside.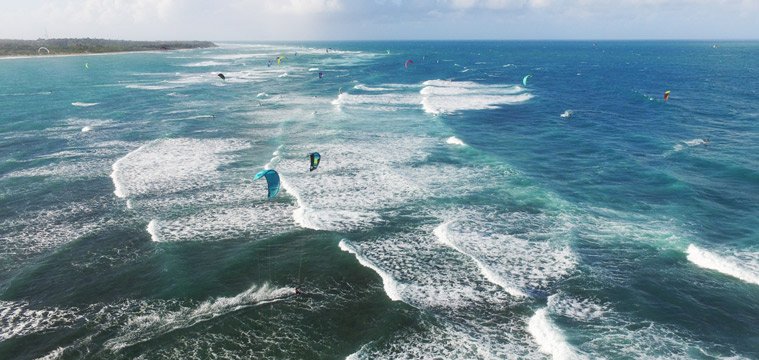 3. Tech gadgets around kitesurfing or how I capture the most unforgettable kitesurf experiences

4. My mobile office: how I work as a location-independent entrepreneur
Make sure to check out my guide on Digital Nomad Essentials & the best gadgets for remote workers.
If you want to know how I combine work and play, check out my post on how I created the Kitesurf-Work-Balance or on why being a Digital Nomad fits so perfectly together with the Digital Nomad lifestyle. 
Wacom Intuos Pro M

Digital drawing tablet I need for my design work.

iPhone 6s 128 GB

I also use it as my camera and to shoot small videos.

Portable Charger

Charges your iPhone 3 – 4 times (or your GoPro or anything that works with a USB cable). Great for spots where electricity is rare or for long roadtrips.

External Harddrive 2TB

Since I'm good at destroying stuff – it's military drop tested and shock-absorbent.

Skross World Adapter Pro

For the whole world. It also has an adapter to fit two USB cables, comes in handy when you want to charge your GoPro and iPhone at the same time.

Headphones Bose Quiet Comfort 25

Noise Cancelling

– the BEST headphones that really cancel all the noise around you, makes even an airplane a perfect workspace.

USB drive 16 GB

To get pics from others or print something at the copy shop.
---
5. Travel essentials I bring with me on every kitesurf trip
Check out my packing article to find out how I pack all my gear and clothes easily into a kitebag.
Packing cubes 

The best way to pack/unpack quickly and keep your stuff organized. It also helps me keep my stuff clean since I just throw all of my stuff into the (often sandy) kitebag when I travel to the next spot.

Dry Sack Osprey

To keep your valuables dry or to throw your wet stuff in, can be used as a packing cube as well.

Mosquito Stick Bite Away

This tiny stick helps you to get rid of that itchy feeling of mosquito bites by

heating up the bite locally to 51 degrees Celsius. The itching is gone – a dream come true!

Travel towel

I usually have a small and a big towel with me on my travels, it just saves a lot of space.

Travel Massage Gun Om Go (get 10% off when using code wakeupstoked) My new favorite travel companion after long kite days/weeks. Small, light, travel friendly and a real live saver for those sore muscles.
Sensi Bikinis Super stylish kitesurf bikinis that stay on you even during crashes! I also use them as bras mostly during my travels since they're so comfy 😉 My personal favorite considering the cut is the Claire Top and Colleen Top. Get 10% off your order when using this link.
Zealous Bikinis & Streetwear Super nice Surf Bikinis with nice cuts and patterns, they also have beautiful streetwear and accessories! Get 10% off when using this link and entering discount code "WakeUpStoked" at checkout.
Bikini, Leggings & Poncho from Vivida Lifestyle I love their eco-friendly activewear & bikinis (I have the high-waisted leggings Bamboo tropics, the High Impact Bra Bamboo Tropics and the Reversible Bikini Top). And they have super fluffy ponchos with really nice designs (I have the Blue Leaf Poncho) For 15% off use discount code "WAKEUPSTOKED" at checkout.
To find a full list of kite bikini options check out this article the best Surf Bikinis

6. Sun protection which sticks even after hours on the water
---
7. Credit Cards for traveling: how I pay on my travels and save money
I have 2 different credit cards and travel with both. Additionally (when back home) I have the business account that I use in Germany only but gives me really REALLY bad exchange rates and I pay fees for withdrawing money (and I think I will change to the N26 Business account in the future, makes so much more sense when you're traveling and want a modern bank.
> The best credit cards for traveling: N26 and Revolut
Free MasterCard, it uses the Interbank Exchange Rate which saves you money. Available in Europe, Australia, UK and US.

Free MasterCard, it uses the Interbank Exchange Rate which saves you money, super modern App and system, you can send and spend money globally without any fees. Available in Europe, Australia, UK not in the US yet! 
Use all your different credit cards in one! Since I have 4 different credit cards for different purposes but don't always want to carry all of them with me I absolutely love Curve! Use this link to get 5£ after you made your first purchase.
Small side note: If you are paying in foreign currencies – they also have a good exchange rate but not as good as Revolut or N26 when I tested it – so I simply change the currency to the country I'm in and then it will be converted directly by Revolut or N26. To use different cards you simply tap the card you want to use in the app and it will automatically be paid with this one. If you chose the wrong card you can also
> Why do you need two different credit cards when traveling?
It depends on how much you travel but if you do long trips or travel full-time as a digital nomad I would definitely recommend getting both.
> If I only want to get one travel credit card, which one should I get? What are the differences Revolut vs N26?
I won't do a detailed Revolut vs N26 review here but all I can say is: I love both, they have great apps and user interfaces, it's super easy to open an account remotely and they both give great exchange rates. The only difference for me is this:
For Revolut I love to use the automatic exchange. When I know I will be going to South Africa for winter I simply set an automatic exchange a few months before and every time the exchange rate is at a certain level, it automatically exchanges. This sometimes happens overnight even so if you would monitor it, it would be hard for you to get it. This way I exchanged quite a lot of money when the exchange rate was 17 ZAR to 1 Euro – compared to when I was in South Africa a few months later and it was 15,6 ZAR to 1 Euro.
When I didn't exchange money beforehand I like to use my
N26
as on the weekends they have better exchange rates then Revolut (but again, the difference is minor 😉 )
---
8. Travel Insurances for kitesurfers & long time travels
Hanse Merkur Travel Insurance 

(For Germans) For long trips I use this one – kitesurfing is covered as well. Plus if you should get back earlier, you'll get the money back. You can apply for it online.

World Nomads International insurance, you can do everything online even after you've left (!), it also covers adventure sports including kitesurfers. As kitesurfers we are doing an extreme sport after all so I would never travel without travel insurance(even though I hurt myself much more often off the water than on luckily haha) You can check right away below how much your travel insurance would be:

---
9. How to find and choose the best kitesurf spots
---
10. Planning your kitesurf travels: flights, rental cars and hotels
How to search for the cheapest flights to kitesurf destinations
Google Flights

A super powerful tools for flights, here is an

article

on how to get the most out of it

Skyscanner

Instead of putting in a city of departure you can simply put the whole country of departure and will get the cheapest flight. If you're flexible you can also choose the whole month as the departure date and it will show you the cheapest flight.

Swoodoo For some reason I just like swoodoo, since it has the flexible dates option (+-3 days) and I love the view you get with the grid, where you can see the cheapest flights depending on which day you fly.
Onward Flight Tickets
Onewayfly – Onward Flight Tickets Some countries require proof of an onward flight when you enter the country at immigration (like Brazil or South Africa) Most of the flights I book as a digital nomad are one-way-flights because I never know how long I want to stay or where I wanted to go next so this service is perfect for having a real flight reservation upon entry into the country (plus it is valid for 14 days!). They even offer hotel reservations which you might need when you apply for your visa. Book your flight reservation using this link and you will get 10% off with the Code "WAKEUPSTOKED10".
How to find the best deal on a rental car at the kitesurf spot
billiger Mietwagen

 (for Germans) booking site with the cheapest rental cars – I've tried many different sites and this one really has the best deals.

Rental Cars (International platform) for finding the best deal for a rental car

How to find accommodation at kitesurf spots
airbnb

 I very often use Airbnb for short-term or long-term stays (if you're not on Airbnb yet, register

here

and get a 35-Euro Voucher by using my link)

kitebnb

(Airbnb for kiters by kiters)

booking

 To book hotels and apartments, sometimes it's even cheaper than Airbnb. 

hostelworld

 I don't like 16-bed hostel rooms anymore but sometimes it's cheaper to get a single room in a hostel than in a hotel, if I'm new to a city it's the easiest way of getting to know people.

swap & surf 

This is about way more than swapping homes: it's about connecting with surf locals and really get to know a place. You can swap homes simultaneously or non-simultaneously or just get tips from local surfers

facebook groups for almost every spot I go there are Facebook groups to ask for accommodation, like

Cabarete

,

Tarifa

,

Jericoacoara

etc. You can always try and search for Facebook groups of the destination you're going to.
---
11. My favorite kitesurf books
World Kitesurf Guide I also like to call it the bible of kitesurf travels 😉 So much spot inspiration and infos in one guide!
Tricktionary A kitesurfing manual providing you with tons of inspiration on tricks which are all pictured in detailed photos.
---
12. The best kitesurf apps

---
13. The best travel apps

---
14. The best apps/websites for digital nomads and remote workers
Speedtest or fast.com to check the Wifi speed in e.g. cafes before you start working or see if it's good enough for your Skype call
Evernote Here I collect all my ideas, it's my virtual notebook and I write all my articles in here. It's synchronized on all your devices.
Skype The best and easiest tool for video calls or also to call call phones and landlines from abroad for a good price.
Slack This is a chat system for all the communication in location-independent teams. You can create different channels for different topics.
Wetransfer To send big files up to 2 GB (in the free version), without even creating an account
Pocket To save articles for later and read them offline. Make sure to synchronize before your flight.
Audible I love to listen to audiobooks, with this link you'll get an eBook for free for the test month.

---
15. How I stay fit during my travels
Workouts and Apps
Yoga Mats
DAWAY Y8 TPE Mat

I love the colour, design, grip and support of the mat. The mat is eco-friendly and not made out of PVC material.
Stay fit while traveling
Check out this post for no-equipment travel workouts you can do anywhere, anytime.
---
16. Vitamin Supplements
I know it's a philosophy whether you take or don't take supplements. I think you should get all the vitamins you can from good, real food. But if you're constantly kiting and working out for more months in a row, sometimes several hours a day, I think that for me personally supplements keep me healthy, fit, more productive and help me recover faster.
Note: I'm not a doctor and all those supplements were recommended to me by my personal functional medicine doctor after an extensive blood test (including amino acids) was done.
Vitamin C

 1000mg Vitamin C and 500mg Bioflavonoids per capsule.

Omega 3

 Those are the most concentrated EPA/fish oil capsules available.

Magnesium I usually buy just the pure magnesium citrate without any sugars or sweeteners added in my local pharmacy in Germany – just make sure you by magnesium citrate which is the highest quality one that your body can use best. 
Acetyl Cysteine

A secret from pro athletes and biohackers to recover faster: take 1,000 mg of the

amino acid L-cysteine. It also

helps your body to detox faster.

Vitamin D3 drops

Or as I call it: liquid sunshine. If you're not chasing the sun year-round or have darker skin which makes it harder for your body to produce Vitamin D3 when you're exposed to the sun.

A high-quality protein powder which has all the essential amino acids and a chemical score over 100, the one I use (available in Germany) has 155 (not vegan).

---
17. Foodstuff and kitchen essentials for my travels to stay healthy and fit easily
---
18. Kitchen accessories for longer-term stays and health addicts
Water UV Purifier To use for road trips to purify clear water. Or as I do it to drink water from the tab in countries where I'm not sure if I can "just" filter the water with my Water Filter: I purify the water first and then filter it with this special filter to avoid drinking water from plastic bottles and producing new plastic trash. This only works if the water is clear, if you can see particles flying around it you have to filter it first with a pre-filter (which btw also fits with the 1l Nalgene bottle I linked above).
Alcala Quell Water filter After purifying the water or back home/anywhere where the tab water seems drinkable I use the filter to have good quality – and well tasting – drinking water. The filter removes more than 99 % of substances such as cadmium, lead, uranium, chlorine, drugs and hormones.
High-Speed Blender My secret to healthy food in seconds: just blend it! Anything from green smoothies to homemade guacamole, hummus, dips etc. This one is extremely powerful while still being the smallest with this high performance. It weighs 2,6 kg (5.7 lbs).
Veggie Spiral Slicer I'm usually a lazy cook, when I come back from a session I need food quickly – this little and light device helps you to make veggie spaghetti (out of zucchinis, carrots, sweet potatoes for example) in seconds.
Genmaicha Tea a.k.a Popcorn tea. It doesn't feel like home unless I have a cup of Genmaicha (loose Green Tea with roasted rice and popped rice – sounds funny, tastes like heaven to me) in the morning. It's my favorite way to start the day. Make sure to choose an organic one otherwise it's full of pesticides.
---