Looking for some gift ideas for your surf friend/boyfriend/girlfriend and just don't know what to get them? Need a last minute christmas or birthday gift for a surfer? Here are some of my favorite surf gifts!
[Some of the links in this article are affiliate links. This means that if you decide to purchase some of these resources, I earn a small commission at no additional cost for you. I only recommend selected products that I'm convinced about and that I would buy (or already did buy) myself.] 
1. Surf World Guide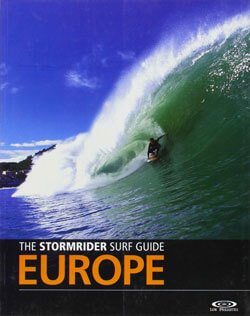 No matter how experienced the surfer you want to gift is – this is a continuous inspiration and will last with your friend/partner probably for his/her whole surf career: the Stormrider Surf World Guide! If you rather want a more "local" guide or know exactly which area is the favorite of your friend you can also go for the Europe Surf Guide, France Surf Guide, Indonesia/Indian Ocean Surf Guide and Central America/Caribbean Surf Guide.
---
2. Surf Map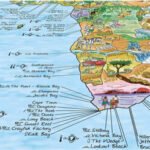 An alternative to the Surf World Guide with still a lot of info and for sure sparking the travel imagination just as much is the Surf Map. You can either get the home version (a poster) or a foldable one if your surf friend is constantly traveling and never much at home – or the lightweight surf towel with world map which I think is so super cool because you just always have it with you on the beach with all the spots you can visit next. Get 10% off on all maps when using code "WAKEUPSTOKED" at checkout.
---
3. Aquapac Key Master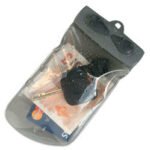 Not the sexiest but for sure the most useful gift! The easiest way to make sure your car key gets back out of the water dry are those water proof bags.
---
4. Surf Poncho
The easiest way to change and chill out after your surf session – and it is an easy gift for surfers as the sizing is very flexible 😉 Vivida has the fluffiest Ponchos with beautiful graphics (get 10% off with code WAKEUPSTOKED). If you are looking for the travel version that is made out of the microfiber material check out the ION Ultralight Ponchos. I have both and usually switch depending on the length of trip (the Vivida one is always fluffier and more comfy but on a short trip not worth the weight) and the coldness of the water/air temperature (ION has the more "summer" ponchos while Vivida works all year round for me).
---
5. Book present ideas for surfers
Barbarian Days: A Surfing Life (Winner of the Pulitzer Prize for Biography 2016) "Surfing only looks like a sport. To devotees, it is something else entirely: a beautiful addiction, a mental and physical study, a passionate way of life.")

Surf Survival: The Surfer's Health Handbook

 Three expert physicians/surfers give tips around how to survive the surf and sun, how to get fit for surfing, surf-travel-medicine and how to survive big surf as well as prevention and rehabilitation of the most common surf injuries.  A must for newbies as well as experienced surfers
Surf Science: an introduction to surfing Basically an intro on how to read waves and predict the surf "Have you ever wondered where surfing waves come from, what makes every wave different, why some peel perfectly and others just close out; why, some days, the waves come in sets and other days they don't, and how the tides, the wind and the shape of the sea floor affect the waves for surfing? If you have, this book is for you."
Fifty Places to Surf Before You Die: Surfing Experts Share the World's Greatest Destinations Expand your surf bucket list with this beautifully illustrated guide to the most thrilling surfing destinations in the world.
Surf Odyssey: The Culture of Wave Riding Beautiful Coffee Table Book on Surfing capturing all these emotions in photos. "Comparable to the new outdoor movement, today s surfing is about an attitude toward life, a lust for adventure, and a love of nature that one can only find far away from established spots. Surf Odyssey presents this scene s places, people, stories, and brands. Its stunning photography is sure to inspire many further surfing exploits."
Surf Shacks: An Eclectic Compilation of Creative Surfer's Homes This beautiful coffee table book features surf homes all around the world
Surf Like a Girl Spectacular photos from 30 female surfers in beautiful locations – some of those surfers are over sixty, some surf while pregnant, some captain boats, teach yoga, and make movies. Get inspired by those breathtaking moments and wisdom.
German Books for Surfers
---
6. Surf Ears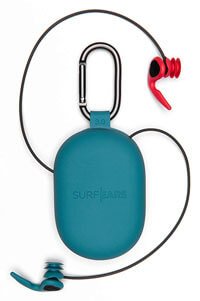 If you are looking for a gift for your surf friend who always has trouble with their ears, doesn't get the water out of them after the session or often has ear infections – the Surf Ears are a lifesaver! It took me a long time and a bad ear infection to finally get them and now I couldn't live without them! 
---
7. Surfboard Bike Rack
For all the lucky ones who get to bike to the surf spot a Surfboard Bike Rack is the way to go!
---
8. Inflatable Roof Rack
Since we usually rent the smallest/cheapest cars and then have trouble fitting our stuff in – the inflatable roof rack is an awesome little tool you can take with you on your travels. I was surprised how well it worked and how small it folded! 
---
9. Wetsuit Changing Mat
If you are looking for a gift for your surfing boyfriend/girlfriend/roommate who brings the beach home 😂 a Wetsuit Changing Mat is the gift to get him/her! Easier to change and the wetsuit will not be coated with sand.
---
10. How to get into your wetsuit easier: Wet Ease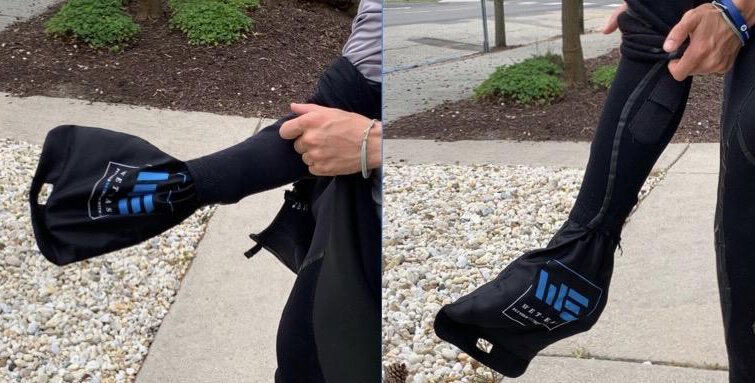 You know this saying "I do yoga to get in and out of my wetsuit"?
The struggle is real, which is why this small accessory makes your life so much easier, specifically getting into your dry or wet wetsuit!
---
11. Surf Bikinis
While it is not always easy to find the right sizing, getting a surf girl a new surf bikini that fits properly is a million-dollar-present. My favorites are:
All three brands are founded by passionate surfers/kitesurfers and I love to support brands with big values and passionate founders, who are changing something up in the market.
---
12. Slackline or Balance Board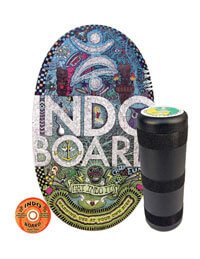 If you are looking for a present for your surf friend, who is usually landlocked or is living further away from the spot and can only make it on the weekends or holidays – those two toys are great to train the muscles you usually need for balance in surfing. My personal favorite is the Indo Balance Board (since I can use it in my apartment) but many also love the Slackline which needs a bit more space and can be hung in-between two trees in any park/outdoor space.
---
13. Surf present ideas you can never go wrong with:
---
More surf gift ideas
Still didn't get a great inspiration? Check out this extensive gift guide with even more present ideas for surfers and kitesurfers!