[ADVERTISEMENT] This is a sponsored post. This article was written by me and all opinions are 100% mine. 
When travelling with kitesurf luggage, space and weight is always veryyyy limited. There are some travel essentials and must-haves though that I just can't go without on my trips. That's why I listed a selection of my top 10 kitesurf gadgets and I'll also tell you why: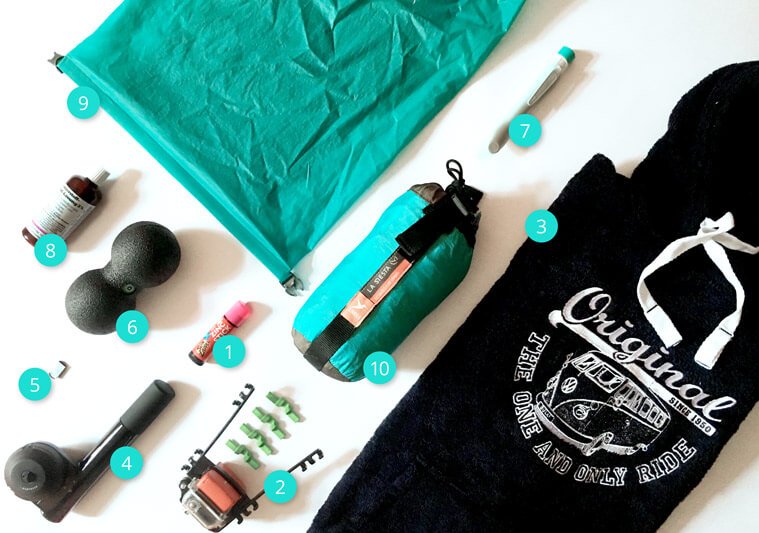 1. Go "all Zinc" on your next session
Why would you need it?
No matter how good and how high your sun protection is, almost every kiter I see coming out of the water has that really nasty sunburn on their cheeks and nose. I've tried hundreds of things and the only one really working is Zinc Sticks.
Unexpected advantages
And you have a secret plus factor: you will meet so many smiley people on the beach and make so many connections cause everyone wants to talk to you and know what that is ? They come in all colors, just choose your favorite one and put on the warrior style sun protection! Just a recommendation – make sure it's one of those sticks and not a tube since it's way easier to use, no need to wash your hands after.
Where to get them
If you're from the UK you can order them here, in Germany you can get them here and if you're from the US, you can get it e.g. here.
If you're still thinking you don't really need the sun protection, just watch this little reminder: "How the sun sees you"

2. Capturing your adventures from the best perspective
Thanks to my brother I have ALL the Go Pro Mounts you could possibly think of without even having used most of them. For the simple reason that I realized after testing: the three best ways to capture the best moments of your kitesurf sessions are for me personally the board mount, selfie stick and – by far the most spectacular one – the kiteline mount!
Seeing the world from above and filming your jumps out of that perspective simply always looks amazing – even more so if you're at destinations where the water looks as astonishing as here in Hamata.

3. The best after-kite-feeling in the world: being wrapped up in a fluffy kitesurf poncho
Kitesurf Poncho (and Hoodies) by Vanone
There is nothing better than snuggling up into a comfy poncho after a stormy kite session. Especially if it's such a fluffy and warm one as this one from Vanone. This usually a bit odd poncho-shape looks way more glorious with the style/dream factor of the VW bus stitch on the front and more of a "hoodie-look" thanks to the cord. Makes me think about the next adventures right away (maybe in a VW bus road tripping along the coast of Portugal?) while snuggling into my soft wind protection.
And while I know that a kite poncho might not be an essential for most kiters out there, I love the look on the faces when I am sitting comfortably in mine after my kite session and everyone else is freezing ? I chose the dark blue one but they have nice bright colors as well.
4. If you're just as crazy about Espresso as you are about kitesurfing, this one will fulfill your wildest coffee dreams!
When choosing spots the highest priority is always the kitesurf conditions. And the most amazing spots are often in the middle of nowhere, sometimes small fisherman villages or tiny islands like in Los Roques.
I looked at quite a few options and am totally happy with my decision to buy this "hand-powered" Espresso Machine which even has the crema on top and doesn't need electricity. It's so simply designed and makes an Espresso which tastes just like from your local Italian bar.
5. Collecting those images of a lifetime from your kite sessions and kite buddies
Tiny but mighty 64 GB USB stick

Countless times on my kitesurf travels
either my hard drive on the laptop was full since I had so much GoPro material or
people I met traveling took photos of me and I had no USB stick so we had to find a solution sending them via a poor email connection or I never got them cause they forgot.
So last year I bought this tiny USB stick which has 64 GB (I know right??!!!) so all problems are solved at once without even taking a lot of space. The only problem with this one? It's so small that it's easier to lose as well, so attach it to something so that you can still find it in your backpack.
6. The alternative to your very own physiotherapist to loosen up those sore muscles
A lifesaver after long trips and tough kite sessions
The longer the kite trip gets, the sorer you will get if you're pushing your boundaries every session. So in case you can't afford to have a physiotherapist treat you or get a massage every day, I have kind of a replacement: the Blackroll Duoball. I prefer the small version with 8 cm since it doesn't take so much space.
How to use it
It's super light, helps you to massage the deeper lying muscles and you can apply it very punctual as well. Love to use it for my neck and back after I crashed a few times in kitesurfing but also to just stand on them and massage your feet feels amazing. But you can also use it to massage your upper arms (after practicing those unhooked tricks) calves (after a challenging session where you have to carve hard to get upwind). Yeah, you see, pretty enthusiastic about that little wonder toy.
The low-budget DIY version
If you don't mind a bit more improvisation and weight, you can try the DIY version: put two tennis balls in a sock and there you go! A bit softer so it doesn't work as good as the Blackroll ones but a cheap and easy alternative!
7. Are you the only person in the room getting bitten by all the mosquitos?
Bite Away
At least I am. I magically attracted those little beasts. And I have just the solution for you – which I admit is probably the least sexy-looking one in the world and I would have never bought it myself if my dad wouldn't have had given it to me one day prior to departing to Brazil. And now I can't travel without it!
It's called "bite away" and basically you point it at the mosquito bites and press the button, which heats up the bite locally to 51 degrees Celsius and destroys the itchy feeling. It stings when you use it for those 3 seconds but then the itching is gone. It's also supposed to help after bee/hornet/jellyfish stings but I have never tried it for those purposes yet – luckily!

8. The superpower in your travel pharmacy
Hydrogen peroxide 3% is one of the very few multi-purpose items I have in my travel pharmacy: the main reason I have it is to prevent ear infections due to dirty water. You can use it as well to clean wounds, if you have gum infection (don't swallow it though!), to stop a nosebleed (dip a button pad in the hydrogen peroxide) to remove stains in your clothes, to disinfect surfaces and a lot more. Looks like the very unsexy sounding hydrogen peroxide might just have as many superpowers as coconut oil ? You can get it in every pharmacy or drugstore.
9. Stay organized and dry with this simple hack
Osprey Ultralight DrySack (e.g. 20l)
As you might already have noticed I love items that I can use for different scopes. So I use this Osprey Ultralight DrySack as a substitution for one of the packing cubes (and it's way lighter than most packing cubes) and whenever I'm at the spot I unpack my stuff and use it as a Drypack to keep my stuff dry on a rough boat ride or – the other way round – to put my wet stuff from the beach in there so that not my whole backpack is soaked by the time I get home. Plus they have the coolest colors and different sizes available…
10. Life's better in a hammock
All you need is the ocean, sun, wind … and to top it off a hammock ? This one is one of the lightest and easiest I found since it is made out of parachute silk (so not only super light but super comfy as well!) and weighs only 750g (1.65lbs). It's easy to set up, dries super fast if you were laying with your wet board shorts in there after your session and you can reuse it as a blanket since you can remove the ropes completely. Plus, you might have guessed it, the colors are awesome!
This article was sponsored by Van One Classic Cars.
---
Some of the links in this article are affiliate links. This means that if you decide to purchase any of these ressources, I earn a small commission at no additional cost for you.