When I started kitesurfing I said goodbye to the thought of wearing a bikini while doing it. It took me quite some trial and error to find out there are actually so many beautiful bikinis you can kitesurf in – no matter if you like big coverage or sexy cuts, color explosions or classy one-pieces. This article features the best brands for kitesurf bikinis that will stay on during your whole kite session!
[This article may cointain Affiliate links. This means that if you decide to purchase some of these resources, I earn a small commission at no additional cost for you. I only recommend selected products that I'm convinced about and that I would buy (or already did buy) myself. This is helping me to keep investing as much time and passion as I do for this blog] 
(tried & tested the bikini top, poncho, yoga bra, high impact bra and leggings myself)
bikinis made from recycled plastic (some are even reversible)
premium quality activewear made from recycled plastic
bikinis, surf suits, poncho towels, apparel & more

When I first met David, the founder of Vivida, he had just started to produce Ponchos. It is beautiful to see a brand grow and thrive as fast as Vivida did with exceptional products and quality.
So now they have a small and ever-growing collection of bikinis and surf suits as well alongside their big collection of activewear and lifestyle wear.
> Shop Vivida Lifestyle (10% off with promo code WAKEUPSTOKED10)
(tried & tested the Colleen and Claire tops myself)
seriously stylish bikinis with fancy cuts that really stay on
made in the USA, from recycled fabrics, 1% donated to environmental causes
bikinis, one-pieces, surf leggings
Pro Kiteboarder Sensi Graves developed a stunning range of beautiful and sexy kite surf bikinis with lots of details. I didn't believe they would stay on with those designs since it looked too good to be true but they did, survived every crash and are my favorite go-to surf bikini I like to use.

My favorite cuts for the tops are the Colleen Top and the Claire Top.
I bought two Sensi bikinis 2 years ago and used them A LOT! For my kite sessions or simply as bras during my holidays and travels. I've never had such an endurable bikini before that still looks good after such a long time of heavy use!
> Shop Sensi Graves bikinis (Get 10$ USD off when using this link)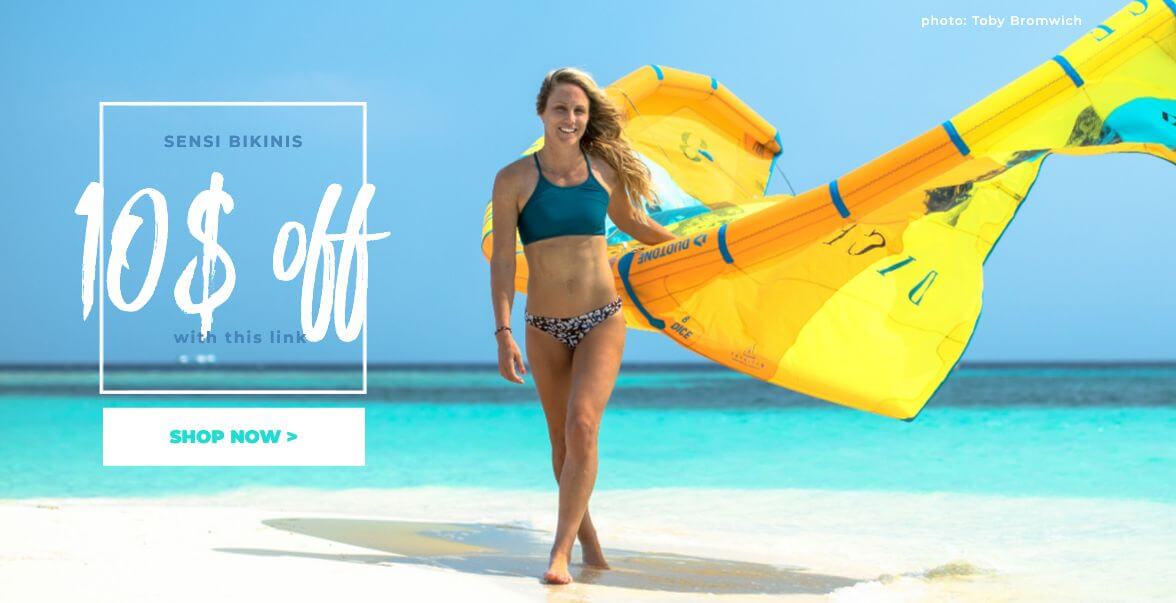 beautiful reversible surf bikinis
fair production in Bali
surf bikinis, surf suits, rashguards, surf-inspired streetwear and accessories
German surf girl Marie founded the beautiful brand named Zealous, which means to be filled with or to be inspired by intense enthusiasm, being passionate.
I love that her bikinis are reversible (so you usually can switch from a pattern to a one-colored side) and since some tops have more coverage they are perfect for bigger busted surf girls.
Make sure to check her Surf Bikini Guide on the site to get an overview on which bikini is suited best for your needs and your cup size. And probably there is no need to tell you but you should definitely also check out her beautiful Apparel (I'm especially in love with the beach wraps and tops).
> Shop Zealous (10% off with promo code WAKEUPSTOKED)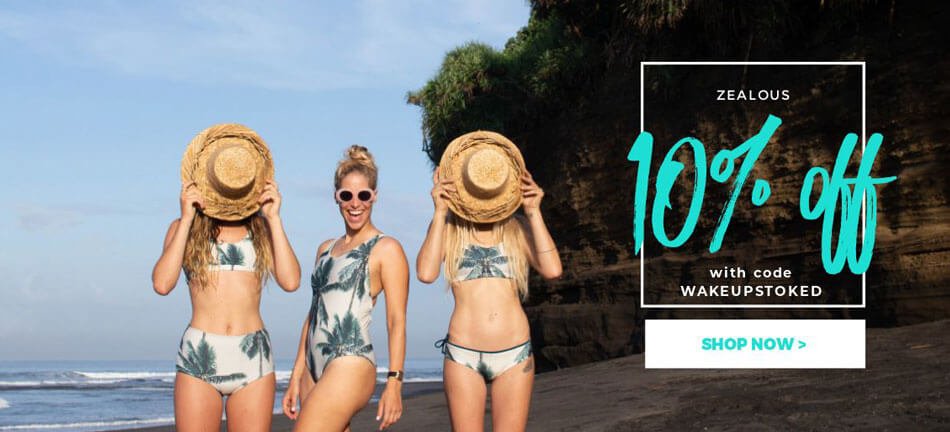 (will try the bikinis on my next kite trip, loved the cuts already on my coldwater swims! I ordered the tops "Spaghetti", "Cheers" and "Aurora", for bottom "Jade")
surf bikinis and surfwear made with love in Bali by Tiina and Yvi
made with eco-friendly, recycled materials
surfwear for kids available as well since 2020 (MAIN Mini)
Eco-friendly, handmade surf bikinis and accessories like bags and jewelry as well as surfwear for kids (for the mommy-daughter partner look 🙂 ). I love that they have cuts with more coverage but also more cheeky, both for tops and bottoms so you can pick what you feel comfortable in. Personally I like the tops that you can tie as you can adjust them perfectly to your body but if you plan on wearing a wetsuit on top I'd recommend picking one without ties.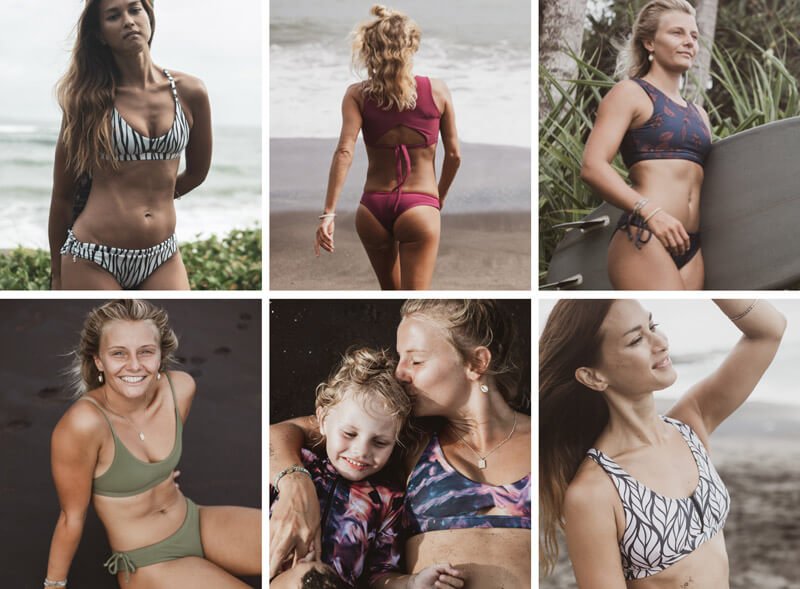 Bikini models that they recommend most for surfing/kitesurfing: for bikini tops Aurora, Spaghetti, Cheers and Cosmo are the best, for bikini bottoms they recommend Blush und Jade. To check the coverage on bikinis you can also look at the Fitting Guide on here.
Shipped from Switzerland, free shipping over 150 CHF.
(tried & tested the tops myself)
surf bikinis that fit like sport bras (and can be used as such)
out of recycled materials, made in Germany
bikinis, leggings, surf suits, ponchos
German Kitesurfer Jocelyn was tired of losing her bikini during her sessions so she founded Josea, a brand of surf bikinis that fit like sports bras and are made out of recycled materials. I love using the tops – although they don't look like classical bikinis so if you're looking for something to sunbathe in they're not for you?
They also work for bigger busted girls and I love to use it as a normal sports bra as well for running, yoga etc. I've used the bikinis for a year quite a lot for running, hot yoga and obviously kitesurfing and they still work perfectly and never leave me even during the toughest sessions!
Each bikini is made once you ordered and sewn in the headquarters in Hamburg, Germany.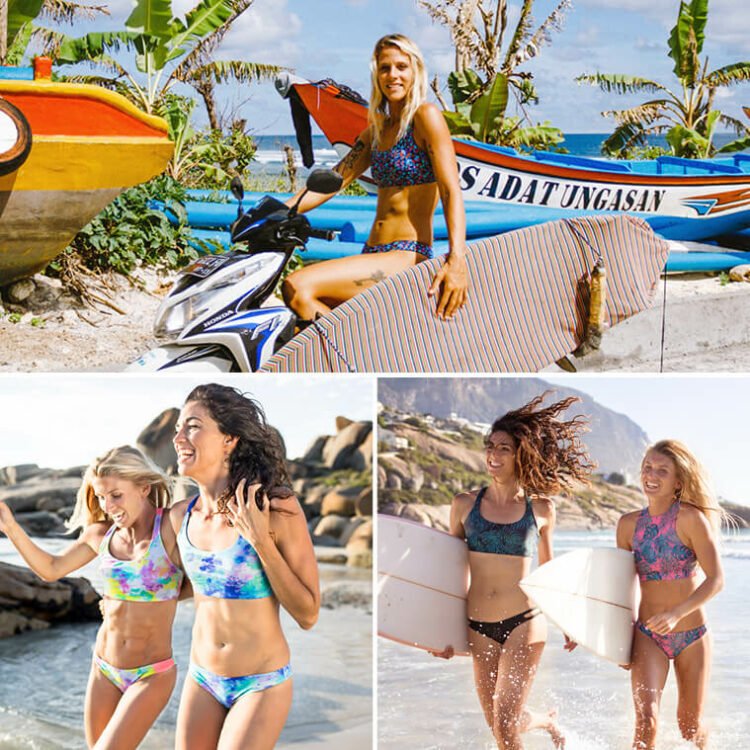 classy, high-quality bikinis tailored by hand
mix & match the collection
bikinis, swimsuits, leggings and rashguards
Oy Surf Apparel was founded by two businesswomen from different parts of the world – Regula from Bali and Zelia from Switzerland – who met on the waves of the Indian Ocean and turned their passion for surfing into this brand.
I love the variety of cuts and the mix of beautiful patterns with classy one-colored pieces. The tops "Santi" and "Lou" also fit bigger busted girls perfectly.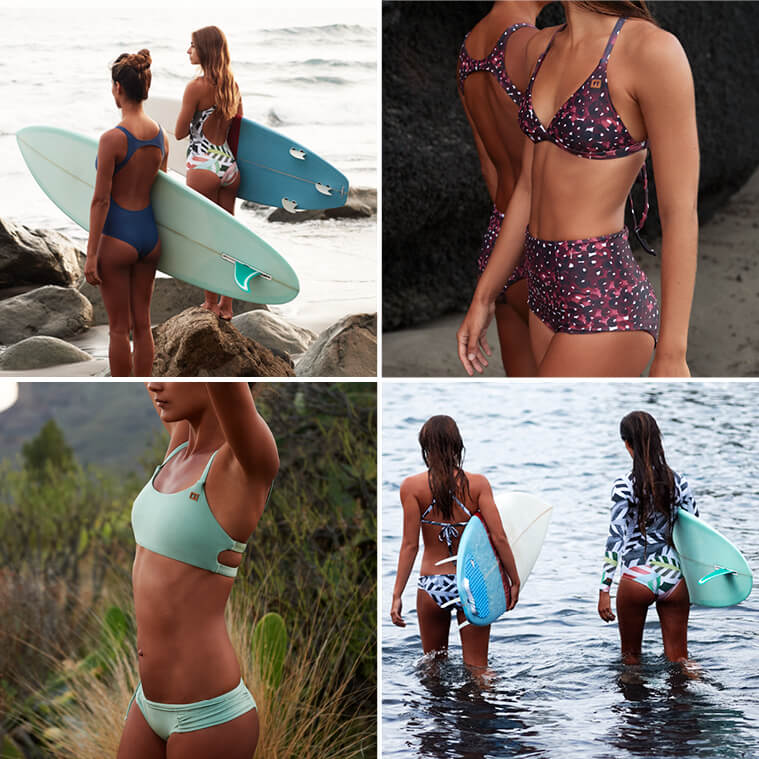 collections are made in cooperations with various artists
every collection is a limited edition made in Canada
bikinis, surfsuits, leggings and activewear
What a rad label I just discovered while doing this research! Created by the Canadian-Venezuelan duo Annie and Servio. Akela is Hawaiian for "happy" and as they are both happiest designing and surfing it perfectly fits the brand name.
> Shop Akela Surfwear (15% off with code "wakeupstoked")
color explosions and bright patterns made in Venezuela & Brazil
bikinis (Mix & Match), one-pieces
Drika, the nickname of founder Adriana in Brazil, is a bikini that was created with a mixture of Brazilian and Venezuelan culture – which you can see in the sometimes sexy cuts that are typical in those countries. She wanted an explosive color explosion which made her feel coquette while kitesurfing. And hell yeah, those bikinis really do make you stick out with their bright colors!
Her shop is in Spanish but she offers worldwide shipping.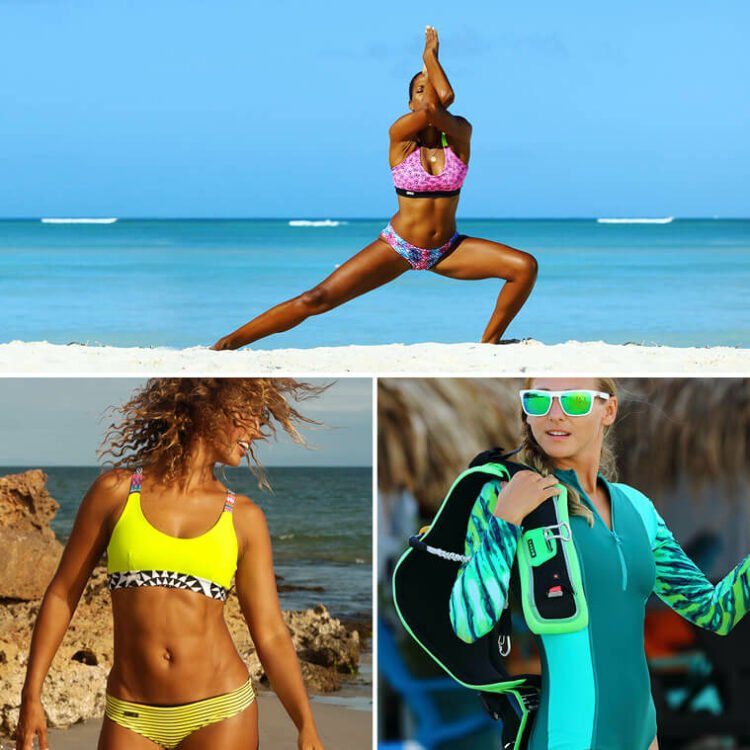 sporty and elegant at the same time, reversible designs
sustainable brand, designed and made in Europe
bikinis and one-pieces
If you like it a bit decent and elegant you'll absolutely love the simple designs of MYMARINI! Focusing just on the essentials this eco-friendly swimwear by founder Mareen from Germany adds a lot of class to the world of swimwear and has some kitesurf-compatible pieces. Design and minimalism at its purest.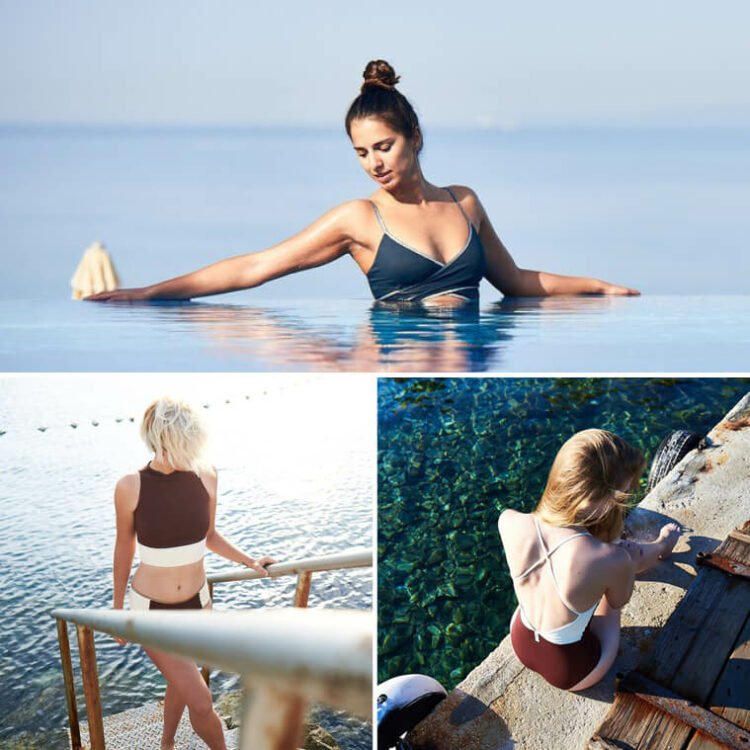 bold pattern and color combinations, elegant style
made in the US
bikinis, one-pieces, surf suits, rashguards
Classy bikinis and surf suits focused on bold patterns and color contrasts while having out of the ordinary cuts and shapes. Founded by Brazilian Amanda who moved to California and was looking for swimwear that would look stylish in the line-up. She designed it for herself and got so much positive feedback she founded Seea.
Photo Credit: Lucrecia O'Keefe
Mix & Match bikinis

Founded and made in Costa Rica/Nicaragua by surf girl Michelle

Bikinis, rash guards, surf leggings, activewear
Comfortable bikinis that stay in place doing the activities you like while looking super stylish. The founder Michelle found her passion for surfing, which changed her life, only she couldn't find swimwear that would stay on and combined functionality and femininity. So she used her design skills wisely and created a beautiful range of surfwear.
Wear those pieces for surfing, kiteboarding, hiking, doing yoga or even going out at night.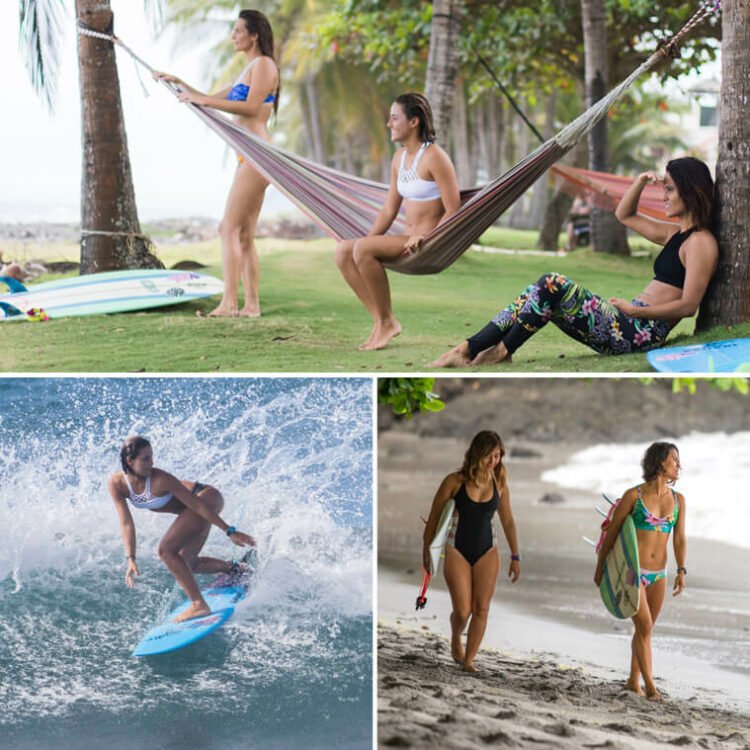 12) More Kitesurf and Surf Brands with Bikinis and Waterwear:
---
> What's your favorite bikini for kitesurfing?
That was a small selection of surf bikinis I found and loved. Did you try another brand that's not on this list and you loved for kitesurfing? I'd love to know about it in the comments!
> Check out the Kite Girl Guide

> Do you want to know what else I take with me on my travels?
Check out my huge resource list with all my tips, hacks and products I use on my kitesurf travels.