Pros & Cons for kitesurfing in Cape Town, South Africa
Pros – kitesurfing in Cape Town
General Infos (Wind, Water Temperature and Water Condition) for Cape Town, South Africa
Best Wind: December – End of February
The best wind is from November until End of February although it has "only" around 60%–70% wind chance. Which means you'll always have a few days in-between with no wind in Cape Town but you have plenty of options at the surrounding spots which are a few hours away or to simply explore the area which has A LOT to offer.
Water Temperature: Long Wetsuit (4/3)
The best option is to go for a 4/3 wetsuit although some people also wear 3/2 with short legs.
Water Condition: choppy, waves
Beginner friendly? No!
It's advisable for kitesurf beginners to go to Langebaan lagoon (1 hr drive from Blouberg), Hermanus (2 hr drive from Blouberg) or Wistand (Breede River)(4 hr drive from Blouberg).
How to get to Cape Town, South Africa
How to get around in Cape Town, South Africa
Option 1: Get your own rental car
Longer term car rental
For long term rental Avis offers mini-leases with monthly rates. You have to take it a minimum of 3 months or otherwise pay a small "fee" if you terminate your contract early, which is what I did.
Does it make sense to rent a car?
If you want to explore the activities around Cape Town, yes. As well as if you want to visit the other kite spots when the wind is changing direction and you don't want to miss a single windy day.
Option 2: Uber and bus
Spot details for Table View area in Cape Town, South Africa
The order of the spots is from upwind to downwind (or from South to North): Sunset Beach, Dolphin Beach, Kite Beach, Doodles, Big Bay, Haakgat, Melkbos.
If you get confused with all the spot options, simply go kite at Dolphin Beach or Kite Beach and you'll figure the rest out once your'e there 😉
Sunset Beach
The wind usually starts here the earliest but it's quite gusty. Waves can be super nice, the spot is popular with windsurfers as well.
Dolphin Beach
One of the most popular spots, you usually find some less crowded places upwind or downwind of Dolphin Beach.
Kite Beach
Doodles
In front of the Doodles Restaurant 😉 It's the end point for some people who are doing a downwinder from Sunset and don't want to continue around the rocks to Big Bay.
Big Bay
Nice infrastructure with the promenade for non kitesurfing partners. Nice waves! It can be a bit gusty. In or downwind of Big Bay you can score nice waves. Windsurfers and surfers are usually at the left part of the bay.
Haakgat
Ideal for wave kiters, popular for windsurfers, usually an end point if you're doing a downwinder.
Melkbos
Downwind options
Downwinders are very popular for wave riders and those who boost high. Depending on how long you want your downwinder to be you can either do a short one from Sunset Beach to e.g. Doodles or a longer one from e.g. Kite Beach to Haagkat or Melkbos. Generally speaking the best waves are usually downwind of Big Bay if you're a wave lover.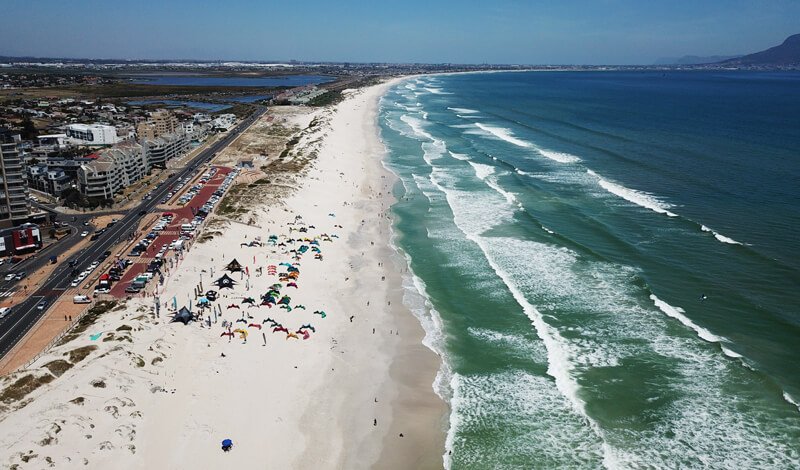 Spot details for surrounding spots around Cape Town, South Africa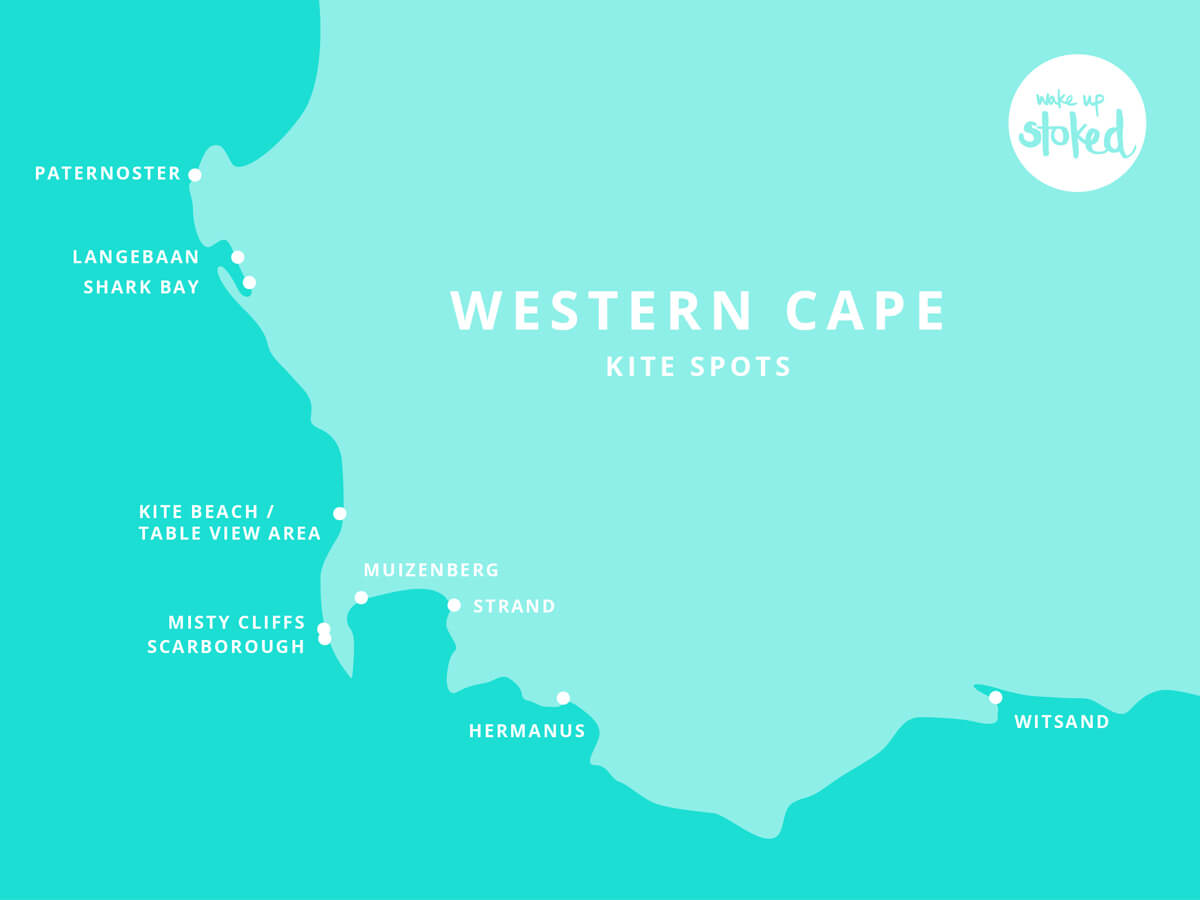 Muizenberg
45min – 1 hour drive from Blouberg (depending on traffic)
Quite popular for surfers with warmer water but also works fine for kitesurfers. The wind is onshore and the waves can be quite nice. Watch out for the shark flags 😉
---
Strand
1.5 hour drive from Blouberg
The wind is not as strong as in Blouberg so bring your bigger kites (9 to 12m). Nice for freestyling.  Works best with South wind but also when the wind blows more North West or West.
---
Witsands/Misty Cliffs/Scarborough
For experienced kitesurfers only, especially Scarborough. good for wave lovers and those who want to boost high on a non-windy day in Blouberg. (Don't mix up Witsands with Witsand (Breede River) 😉 )
Hermanus (Grotto Beach and Kleinriver Lagoon)
Witsand (Breede River)
---
Live wind meter and webcam for Table View, Cape Town
These keep changing and some stopped working so please let me know if any of those doesn't work for you anymore.
A typical windy day in Cape Town, South Africa
The atmosphere at the spot in Cape Town, South Africa
Kiting in Blouberg had a funny feeling to me at first: you're in a city but at the beach. You don't really have that "holiday-beach-feeling" atmosphere since everyone sets up their kites, kites their heart out and then leaves. There are a few bars close to the spot like Pakalolo where you'll bump into a lot of kitesurfers but it's still a different vibe.
Also during the main holiday season (Mid-December until Mid-January) it got very crowded and let's just say that it's one of the spots where you might get annoyed by the people since there are a lot of good riders kite looping and landing right in front of you or in your lines if you didn't look around – or there are those who think they are good but completely misjudge and would jump right into you if you're not careful.
Where to stay in Cape Town, South Africa
Since I assume you're a kitesurfer, the best is to stay around Blouberg, Table View or Big Bay to be close to the spots. Staying in town might take quite long to get out to the kite spots with the traffic and daily rush hour happening.
Where to eat in the Blouberg Area, Cape Town
Cafes and Restaurants in the Table View/Blouberg area
Bootlegger: Nice coffee and breakfast/brunch place with a good view if you sit in the front (they are a franchise so you can find their cafes all over the city).
Surf Cafe: Cute little surf cafe with breakfast, smoothies (including one with CBD Oil for those tired muscles) and Acai Bowls. They have some Outdoor Seating as well.
Tiger's Milk: nice place for dinners and drinks with a good view (unless you are back at the bar area). My favorite is the Halloumi/Roasted Eggplant/Avo/Roasted Butternut salad. Their burgers and pizza are also decent.
On The Rocks: right before Big Bay this is a nice pick for sunset dinners. Anything I tried off their menu has been delicious. A bit more special/fancy than a regular restaurant, you will most probably need a reservation for the weekends.
All in the Kitchen: A bit further back so not directly at the beach! They have homemade fresh dishes changing every day at decent prices. Nice breakfasts and regular dishes as well (try the Roast Veg salad with avocado and feta or their low carb quiches). They also have green juices and low carb options. If you come after 1.30 pm they might already have run out of the daily specials so if you want one of those it makes sense to make a reservation via whatsapp or come early. And leave some space for their insanely yummy cakes!
Morgan's: tiny cafe, yummy breakfast, usually always crowded and good vibes.
Salt & Sage: nice breakfast and lunch place, they have really good, high-quality food and yummy smoothies.
Homespun: Fine dining for all the foodies! Definitely a must-do when you're there, make sure to make a reservation. If you're vegan or have any food requirements contact them before and they'll prepare a special dish for you. Small disclaimer: if you're a very hungry kitesurfer and love big portions you should have some food before or order two mains 😉  My favorites: Cape Malay Baby Squid for starter, all the mains are exceptional and the Chocolate Torte for dessert.
Primi: a chain for Italian food, they serve gluten-free options for pizza and pasta, it has the best view for sunset watching the kitesurfers
Simply Asia: chain with Asian food (gluten-free and vegetarian options available)
Cattle Baron for the meat lovers!
Ciao Pizza Blouberg: haven't been there yet but it looks like a good place for pizza
Kauai: healthy food chain with smoothies, juices and bowls e.g. in the Bayside Mall or Big Bay
Cafes and Restaurants in the Big Bay area
Cape Town Fish Market: Seafood and Japanese style Sushi and bowls
Col'Cacchio: Italian style franchise with all the classics, they do have some healthy, low-carb and gluten-free options aswell.
Orient: no fancy restaurant but very reasonably priced sushi.
 they also have a Kauai and other restaurants on the main promenade in Big Bay
Gyms and breathwork in and around Blouberg, Cape Town, South Africa
Gyms around Blouberg and Table View, Cape Town:
The easiest option is Viva Gym (which is for example in Sunningdale) as they have contracts which you can cancel monthly
If you stay longer check out Virgin Active which has multiple branches in the Blouberg area. The downside is you have to do an annual contract and if you cancel that early, let's say after the 3 months, you will have to pay quite the amount to "get out of it" sooner so calculate that into your budget. For me it is still totally worth it as I usually stay longer, I mainly do group classes and I love to use their Sauna and Swimming Pool as well.
Breathwork in the Table View area, Cape Town
Facilitated by me, Miriam, during the main season. If you would like to join me for a breathwork session in Cape Town you can keep your eyes peeled on my insta stories or send me a dm to be added to the Whatsapp group for Breathwork in Cape Town where I announce new sessions.
No-Wind-Activities around Cape Town, South Africa
Annual Kitesurf Events in Cape Town, South Africa.
Tips for load shedding (electricity cuts) in Cape Town, South Africa
Something which surprises many that come for the first time is that there is regular power cuts in Cape Town, which might not impact you too much unless you also have to work.
Install the App Eskom Se Push and enable push notifications, you will always get updated on when they change stages (stage 1 has less load shedding, stage 3 or 4 have multiple times daily load shedding)
Before you book your accommodation you can ask them (in case you also need to work) if they have backup power for wifi (many started installing it), if the electric gate still works during load shedding (so you can get in and out of the house at that time), if they have a gas stove (so you can still cook or make your coffee even if there is no power). A lot of accommodations start having rechargeable lamps so you don't have to sit in the dark 😉
Safety tips for Cape Town, South Africa
This is not a complete list, just a few things so always inform yourself before you come 😉
Generally don't walk anywhere once it gets dark, especially not as a woman and not even if it's "just 500 m", that was what everyone told me and I followed that advice. Blouberg seems super save but people that walked home at night from Pakalolo sometimes got robbed.
If you park to go kite, either hide your phone before you park or take it with you on the water with a waterproof bag. If you can, hide the rest of your kite gear in the trunk so that there is not so much visible. 2022 was the first time I heard that they were breaking into cars and stealing kite gear, usually it was more phones/valuable stuff. Generally park your car where there is parking guards, not on the loneliest parking.
If you lock your car with an electric key by pressing the button, always check on one door if it is actually locked (this is how my phone got stolen 2021, they have signal blockers so the car was actually not locked and I had stuffed my phone inside of the bag and put stuff over it but somebody was watching me already and well.. )
Generally December and January during the public holidays in South Africa a lot of stuff gets stolen so be extra careful. Don't fall asleep with your bag next to you and your phone on top. Don't go swimming leaving all your valuables on their own on the beach.
Digital Nomad guide for Blouberg, Cape Town, South Africa
Cape Town combines kitesurfing with the infrastructure you need to work online like no other spot in my opinion. You have the city close by, Blouberg itself has a good infrastructure, you can easily uber anywhere, if you ask before you find airbnbs with uncapped internet and mobile internet can be super cheap. If the wind blows it usually blows until sunset so you can easily finish your work and go for an afternoon or evening kite session.
Loadshedding (electricity cuts) in Cape Town
Cape Town has regular power cuts throughout the day which always last around 2.5 hours per block. Before you decide to come here make sure to plan accordingly. If you have to be online at all times or have client calls at certain hours then make sure that you either go to a Coworking Space with backup power or choose accommodation with backup power for the wifi.
I already mentioned earlier in this article what App to get to stay informed and what to consider before you book your accomodation if you rely on the internet at all times.
There are also cafes popping up with backup power that runs their wifi. If you are staying in Cape Town center you can check out this app Remotable which shows cafes and Coworking spaces with backup power.
Mobile Internet options for digital nomads in Cape Town
To get a sim card the shops will want to see proof of residency, you can show your airbnb booking but if that should not be enough ask your airbnb host to write up something – or try it another day with another employee😉
Coworking Cafes and Spaces in Blouberg and Cape Town