If you're new to kiteboarding you probably have a billion questions circling around in your head. Do I need kitesurf lessons? What do I need to know before learning kiteboarding? How do I choose the right kitesurf school? How do I find a good kitespot? What do I need to bring? This will be your guide to learn kitesurfing fast, safely, easily AND have a lot of fun!
[Some of the links in this article are affiliate links. This means that if you decide to purchase some of these resources, I earn a small commission at no additional cost for you. I only recommend selected products that I'm convinced about and that I would buy (or already did buy) myself.] 
Photo Credit for all pics: Annie Kreß

1)

 How easy is it to learn kitesurfing? Is it easier to learn kitesurfing or windsurfing? Or surfing?

Easy depends a lot on your personal fitness, if you have practiced boardsports before and how fearful you are. The common opinion, which I can confirm in my experience, is that kitesurfing is actually the easiest of all those sports (windsurfing and surfing) to learn. The learning curve is rapid in kitesurfing, which gives you quick success and gets you so incredible hooked in that sport.

I've tried windsurfing and surfing in a couple of holidays, over the years again and again, took lessons and practiced from time to time. It was exciting and fun in a way but it never hooked me as much as kitesurfing did. But if you're in doubt – just try them out all! You can never learn too many boardsports, it will always enrich you're life 😉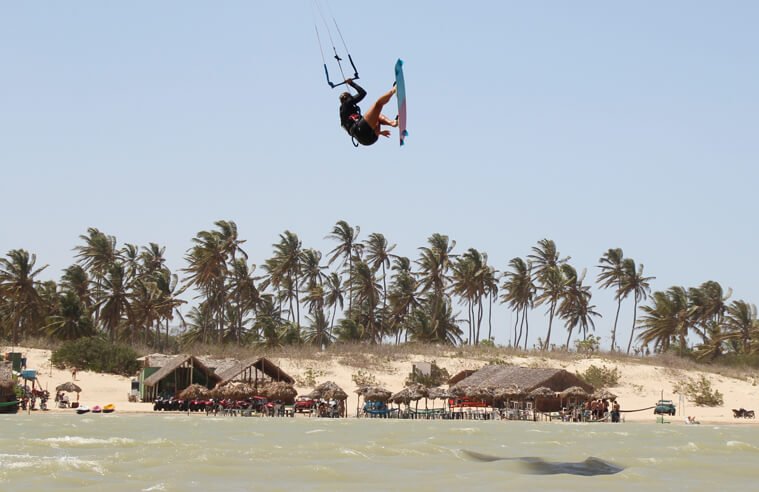 2) 

Can I only learn kitesurfing if I'm super sporty? Am I too old to learn kiteboarding?

I think two of the most typical beliefs are the two questions above. But let me tell you this: you don't need to be super sporty and you're never too old to learn kiteboarding! I put together a whole article with the 10 most common and wrong kitesurf myths which will explain you exactly why.
3) 

Can I learn kitesurfing on my own? Do I really need to book those expensive lessons?

Take proper kite lessons! I could tell you about all the horror stories of people who didn't and they got hurt.

I'm not trying to scare you here. But kitesurfing can be the most dangerous sport in the world if you don't know what you're doing. And it can be the safest and most fun sport in the world if you get a proper introduction and lessons. So do yourself a favor and go for the lessons right away.

4) 

How do I choose the right spot to learn kitesurfing as a beginner? Where should I learn kiteboarding?

I will describe the ideal spot to learn kitesurfing – so if you have the choice you could look out for this criteria.
Flat water: Learning kitesurfing, especially the part when you're body dragging and trying the water start, is way easier in flat water in the beginning.
Standing area: If you can stand in the water it will make life a whole lot easier in the beginning.
Consistent, stable wind: There is nothing trickier than very gusty wind. Or wind that drops from one minute to another or only comes every other day. Choose a spot with a high wind probability and stable wind. You can ask the kite school for an honest opinion how many days a month they have wind and calculate for yourself how big your chances are to get wind every day.
No obstacles in the water, no currents: In an ideal world you just have a sandy beach with no reefs or rocks in the water and no trees which are very close by beach.
Space on the water and on the beach: There is nothing worse than a tiny crowded beach or an insanely crowded spot with a lot of kite surf beginners who tangle their lines.
No offshore wind and a rescue service: Once you finished your lessons you will be in the water on your own. The wind shouldn't be offshore, you should be able to do the self rescue and arrive back at the beach without a rescue boat. And there should be a rescue service, just in case.

Optional: Warm water:

I personally could only learn kitesurfing at a warm spot since I get cold super fast.
I on the other hand learnt at a spot which wasn't 100% ideal for learning (deep water, choppy water, very crowded): in Cabarete, Dominican Republic. I still loved it and became a total kite addict and until today it is one of my most favorite spots ever! Not learning at an ideal spot also has the advantage that you learnt it in more difficult conditions and you will have an easier time at spots that don't provide the perfect conditions!
5) 

Can you recommend ideal spots to learn kitesurfing at? Where should I learn kiting?

I think there are just some spots that have it all like:

I'm sure there are also a lot of other spots I haven't heard of, that are great for beginners.
6) 

How do I find a good kite school?

There are several criteria you can check before booking your beginner's class and you can also email those schools or talk to them once you're there before booking a class:
Are the teachers certified? The teachers should all be certified by one of the big kite surf organizations like IKO (international), KSA (international) or VDWS (German).
Do they have up-to-date equipment? Ask the kite school beforehand from which year the kite equipment is. Best case it's from this season but it shouldn't be older than one years since it gets used quite a lot in kite schools.
Do the teachers speak your language or a language you can speak well? Ask beforehand if the teachers speak your language or a language you feel comfortable with. Big schools usually have teachers from different nationalities. Learning kitesurfing is exciting enough so you should be able to understand your teacher easily.
Do you feel comfortable at the school? Do you feel comfortable with your teacher? Usually I recommend booking your lessons once you're there and just checking several kite schools which you researched before online. Look if you feel comfortable with the way things are running there.

7) 

How much time does it take to learn the basics of kiteboarding? How long does it take until I'm actually kitesurfing?

This depends a lot on you, the type of lesson (private or group), the conditions on the water and the consistency of the wind. Usually a kite surf beginner's course is around 10 – 12 hours. Which is the minimum you need to at least arrive at the waterstart. Some people might learn it in less time and some might need a few extra lessons. So this will take you at least 3 – 4 days to finish the beginner's course.

Once you know how to do the water start I would recommend taking a few more hours of supervision (a kite assistant will supervise you and help you if you have problems on the water) before you go all on your own.
8) 

Should I take private lessons or group lessons?

Always take private lessons. There are kite camps with group lessons of two or even more people which, in my opinion, don't make sense. You might be fooled by the cheaper price. But the thing is, even if you have semi-private lessons you will have lessons only half of the time because the other half is occupied by the other student. So ultimately, if you spend 12 hours of lessons, you will effectively only have 6 hours of lessons.

You will progress slower and probably need to take extra lessons after. Plus everyone learns at a different speed, so you might have to wait for your kite buddy and practice the same thing over and over again because he doesn't get it yet.

So save yourself the time, money and frustration and just book a private lesson right away.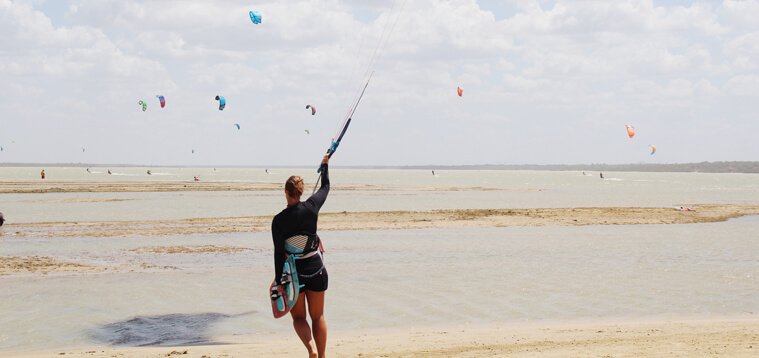 9) 

How much time should I calculate if I want to learn kitesurfing properly?

As I said above, it will take you around 3 – 4 days IF the wind is blowing consistently. There are only a few spots in the world that really have wind every day, even during main season. Let's say you have two non-windy days in-between. That already makes 6 days.

I would take at least a week or even better 10 – 14 days. If you stop while you're still in the middle of learning and take a break of a few months, you will start again at a lower level and will have to get more lessons. Usually if you already learned the waterstart and feel safe to ride, maybe even make it upwind, you will almost certainly pick up at the same level you left on your next kite holiday a few months later.
10) 

What are the dangers in kiteboarding and how can I avoid them?

The biggest danger is not having proper kitesurf lessons. But with all the tips I gave you, you will easily find a good school and get all the important basics you need. As with all extreme sports, always make sure you're fit and healthy when going on the water. I put together an extensive article with all the tips you need on kitesurfing safety here.
11) 

What do I need to take with me when learning kitesurfing or taking my first kitesurf lessons?

It depends a bit on the spot, so it makes sense to ask the kite school what to bring before you travel there. You might need a wetsuit or neoprene shoes because there might be rocks or shells in the water. Even if it's sunny and warm you will definitely need a rashguard to protect yourself from the sun. Besides that I'd recommend:
Sun Protection: A very high, long-lasting (!) sunscreen (SPF 50) for the body and face. Daylong Extreme and p20 are the sunscreens that really last the longest. If you want to go for a good-smelling, eco-friendly alternative I'd recommend Reef Safe – or in Europe Eco-Cosmetics.
Sun Protection Face: Zinc Sticks for the sensitive parts of the face and lips.  They don't wash off that quickly in the water and are an absolute must if you're traveling to a warm, sunny spots and being on the water all days.
Head Protection: A cap to protect you from the sun (even though you also get a helmet in the beginning).

Sunglasses:

 Polarized sunglasses for the first lessons since you'll be constantly looking up to the kite, against the sun. If you can find some, choose unsinkable sunglasses. You can also take some of your old cheap sunglasses and buy floatable sunglass retainers to hopefully keep them attached to your face at all times ? I wouldn't spend too much money on the first ones since you might loose them at your first water start attempts.
Sand Protection: A long rash guard and board shorts, even if you're at warm water spots. I'd rather recommend not trying it in a bikini because you'll most probably loose it in the water. If it's colder, ask the kite school if they rent wetsuits or bring your own.

Snacks:

Water to stay hydrated, maybe a few nuts and dry fruits or a banana to get some quick energy.
The right attitude: If you think you'll never learn it, you won't. If you have fun learning it and stay positive, you'll learn super quickly!
The secret weapon: I always recommend bringing a lot of Magnesium to take after your lessons because you will probably be very sore.
Travel pharmacy: It's always good to have some Panthenol (if you have the sand everywhere you might have a few rashes at the end of the day) and something to disinfect little cuts – I like to simply take some Hydrogen peroxide 3% with me cause it doesn't sting as much and I use it as well whenever my ears are a bit infected.

12) 

How do I prepare for a kite surf holiday?
Prepare your body
In general it always helps if you are fit – so any kind of sport helps! Particularly anything that is challenging your balancing muscles. For example:
Yoga
Functional Training
Freeletics, TRX
Other boardsports like surfing, snowboarding, long boarding, SUPboarding
Prepare your mind
DVD's/videos for beginners
If you are a very visual person, you can watch the beginners kite surf course on a DVD by Progression – in my opinion their videos explain it most throughly, step by step. If you're not a fan of DVD's you can also buy the videos in the Progression App.
To my German readers I can recommend Kirsten Boses' DVD Kitesurfen – Das Trainingsprogramm mit Weltmeisterin Kristin Boese which I watched during/after taking my first kite surf lessons ?
Books for beginners
A short introduction is this eBook Beginner Guide by the Kiteboarder Magazin.
If you really are into kitesurfing before you even started and want to know all about the background, history and theory of kitesurfing, then you'll probably like The Kiteboarding Manual: The essential guide for beginners and improvers which is 209 pages of kite surf culture neatly packaged in a nice book.
To my German readers: the book is also translated into German Kiten: Alles was du wissen musst.
13) 

Should I book everything from home or book it once I'm there?

This one is quite hard to answer. The problem with booking in advance is that you don't really know if the kite school is as good as it promises or if there will be wind.

The problem with booking once you're there is that the best teachers might already be booked out. I personally would recommend booking once you're there. If you have a good kite friend that knows a good school or someone you trust warmly recommends a school, then you can safely book it in advance.
14) 

Do I need to buy my own kite surf equipment for the lessons?

No, you will get all the equipment you need at the school: kite, bar, board, harness, helmet and life vest.
15) 

When does it make sense to buy my own kite surf equipment?

After you finished your kite surf lessons and feel like this is the sport for you, it's time to think about whether you need your own equipment.

Be honest with yourself and think about how many days or weeks a year you can kite. If you just have one week a year in which you can kite surf, it doesn't really make a lot of sense to buy your own equipment.

If you're totally hooked and want to spend every free minute of your future life with kitesurfing – it definitely makes sense to buy your own equipment.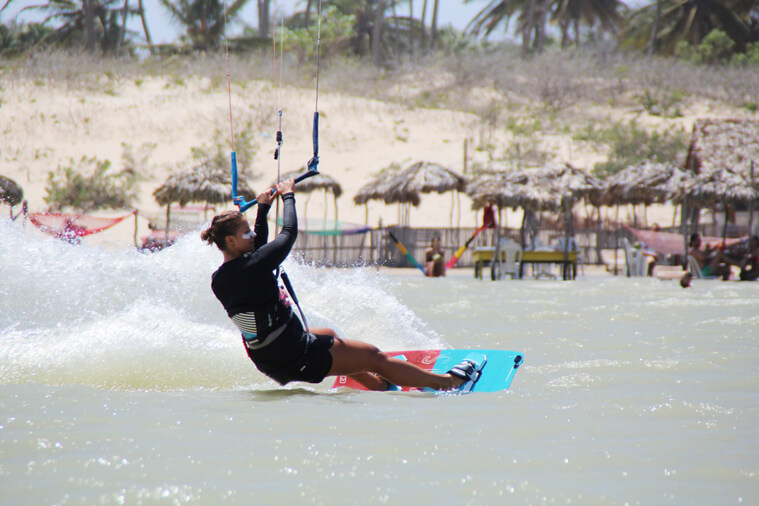 16) 

Where can I find people to ask all the questions that keep popping up?
Comment on this article
You can always drop a comment to this article. I'll try my best to answer your question – and might also add it to this article so that other kite surf beginners can read the answer.
Use Kitesurf Forums
Ask around in kitesurf forums. But before use the search function first because someone might just have asked the exact same question. Check out for instance:
Use Kitesurf Facebook Groups
Ask around in active kitesurf facebook groups. It's not easy finding good kitesurf groups but I can recommend those:
Kitesurfer Deutschland (very active and helpful German kitesurf group)
Kite Nomads (International group for kitesurfers who travel around to kite spots and work at the same time, most of them online)
Kite Chicas (International kite group for girls)
Women's Kiteboarding Community (a great and very active kite group curated by Laurel Eastman and her team with great and informative live videos every week)
There also might be Facebook groups for your city or state or country, simply browse around for a bit.
Contact the kite school you're taking lessons at
Ask the kite school you'll be taking lessons at. Or your new kite buddies after you finished your lessons.
---
Some of the links in this article are affiliate links. This means that if you decide to purchase any of these ressources, I earn a small commission at no additional cost for you. 
---
> Any more questions?
Just add yours to the comments and I'll try my best to answer it ?
> You still think you're too old, skinny/heavy, not sporty enough to learn kitesurfing?
Check out my article in which I clear all false beliefs there are around kitesurfing. You might wonder why I know about them? I had them all myself before I started kitesurfing so I know exactly what you're thinking!
> You got all the answers you needed but still, you're not a hundred percent convinced?
Here are 10 reasons why kitesurfing will make you incredibly happy. And 10 more reasons of free, funny and amazing side-effects of kiteboarding.