Kitesurfing in Dakhla, Morocco, a 45-kilometer lagoon which seems endless and is known to be the freestyle heaven, has been up on my personal kitesurf bucket list for quite some time. So finally it was time to visit that piece of flatwater heaven myself and see what all the buzz was about.
And as so often, that new spot exceeded my expectations: tons of space, flatwater, wind every day (we stayed there in July), kitesurfing all day every day (a classic eat, kite, sleep repeat) while being surrounded by the charm of the Western Sahara. 
Pros & Cons at a glance
+ very high wind chance year round
+ huge lagoon with lots of space
+ all-level spot ideal for beginners and advanced
+ flatwater for freestylers, wave spot Oum Lamboiur close by (30 min. ride from the lagoon)
+ downwind options
+ kitesurf luggage is currently for free if you fly with Royal Air Maroc
– being in the middle of the Western Sahara there is not much to do but kitesurfing
– no nightlife, remote place
– no direct flights, you always have a stopover in Casablanca (expect for direct flights from Paris starting end of Oct 2017)

PGlmcmFtZSBsb2FkaW5nPSJsYXp5IiBzcmM9Imh0dHBzOi8vd3d3LnlvdXR1YmUtbm9jb29raWUuY29tL2VtYmVkL0ZLXzJodXZDblpNIiB3aWR0aD0iNTYwIiBoZWlnaHQ9IjMxNSIgZnJhbWVib3JkZXI9IjAiIGFsbG93ZnVsbHNjcmVlbj0iYWxsb3dmdWxsc2NyZWVuIj48L2lmcmFtZT48L3A+
General Infos (Wind, Water Temperature and Water Condition)
Best Wind: April – September
July and August have over 90 percent wind chance but those months the wind will also be a bit more gusty. In general you have more than 50 percent wind chance all year round, the best months being from April to September.
Best Waves: October – March
October is the best month if you want to go Kitesurfing at the wave spot Oum Lamboiur. If you're just coming to surf some waves, you can choose any time inbetween October and March.
Water Temperature: wetsuit
Long Wetsuit throughout the year, in the summer you can go with a long wetsuit or shorty. It gets warm during the day but since it's a desert it gets a bit chilly at night, remember to pack something warm and cozy for the evenings.
Water Condition: flatwater in the lagoon, wave spot 30 min. from the lagoon
Depending on the wind you have flatwater or choppy water with stronger wind in Dakhla lagoon. At the Speed Spot you have butterfat water with low tide. At Oum Lamboiur you have waves and choppy water (pretty gusty wind though) – which was also where the GKA tour stop took place in 2017.
Beginner friendly?
Great spot for learning kitesurfing since the lagoon is huge, you have lots of space, it has flatwater and you have a big standing area at the beginning.
Solo-traveling girls and safety
Since your airport transfer is usually arranged with your accomodation, it is super safe for you even if you travel alone as a girl. Once you're at the spot there is quite a lot of kitesurfers, some of them also solo-traveling so you'll easily meet people.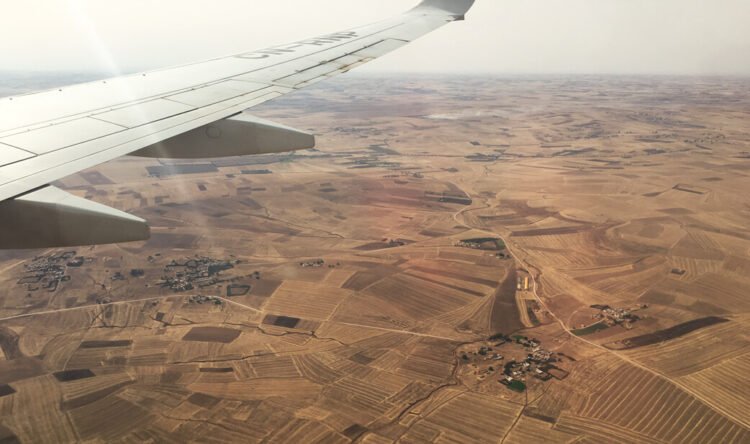 How to get to Dakhla
Most flights from Europe go with Air Maroc via Casablanca to Dakhla (airport code: VIL). The stopover in Casablanca is usually just an hour or two. The great thing about Air Maroc is that your kitesurf luggage up to 23 kg (additionally to your normal luggage) is free of charge.
The only direct flight for Europe is starting from autumn 2017 with transavia from Paris Orly with prices starting at 69 Euros one way (without luggage) plus 44 Euros fee each way for kitesurf luggage (so add 88 Euros in total for sports luggage).
How to get around in Dakhla
If you're at the lagoon the only option you have is getting a transport with the hotel to the different spots which is quite pricey (10 Euros one way per Person in Dakhla Attitude, I didn't check the other hotels).
If you're staying at Westpoint, at the wave spot Oum Lamboiur, you can walk down to the beach and check if a taxi is driving by or one of the locals is taking you.
I also met some people who rented a car in Dakhla town to get around to the lagoon, wave spot and town.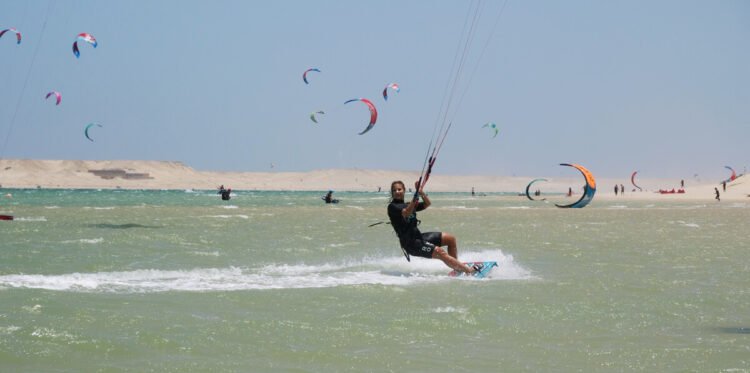 Spot details for Dakhla lagoon
The lagoon is pretty much a big playground with standing area and flat to choppy water. The wind can sometimes be a bit gusty but still quite stable and good for progressing or learning kitesurfing.
If you want butterflat water the Speed Spot a.k.a. freestyle heaven with offshore wind is your place to be, with the water being most flat at low tide.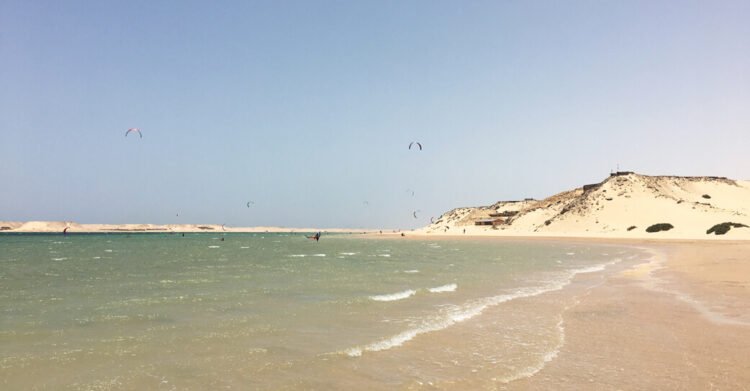 Spot details for Wave Spot Oum Lamboiur
Especially with lower tide you can catch some nice waves. The best waves are from October until May, when the wind chance is not the highest, so if you want to kitesurf in the waves the best months are October and March since then the wind chance is still the highest.
The wind is a few knots lighter on the ocean compared to the lagoon and is very gusty inside of the bay. When you ride a bit out of the bay it gets more stable but still feels gustier than the lagoon.
Btw you might find the wave spot under a different way of spelling as well, e.g. "Oum Lbouer" in Google Maps.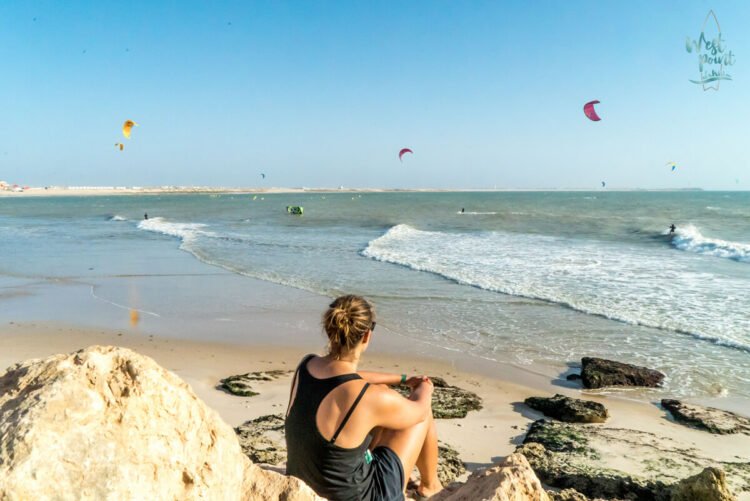 Photo Credit: Rasa Iselionyte for Westpoint Dakhla
Downwind options
You can do downwinders from Dakhla lagoon to the White Dune, to the Oyster farm or also Dakhla town and arrange a pickup beforehand with the accomodation you're staying in.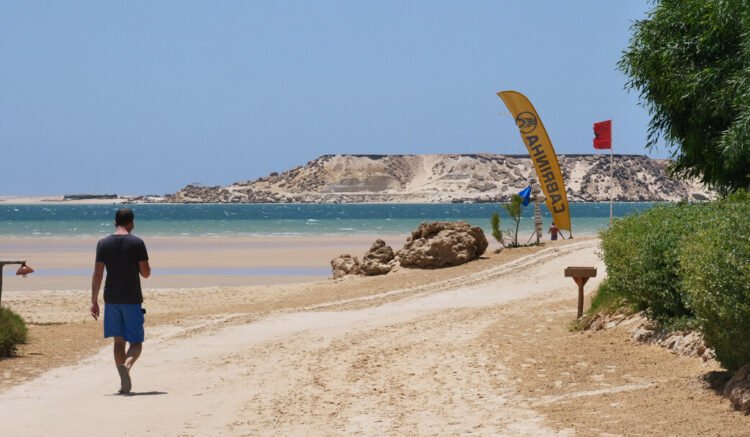 A typical windy day
Dakhla is all about eat, kite, sleep repeat (similar to Kaplitya in Sri Lanka or Hamata in Egypt). The wind blows from around 10am and usually gets stronger during the day, picking up around 2 pm. In the evening it goes down again but basically you usually have the full day to kite if the wind is good.
If you want more insight on how everyday life in Dakhla really is (and if it's worth flying there all the way from the US), check out this detailed spot review on iksurfmag.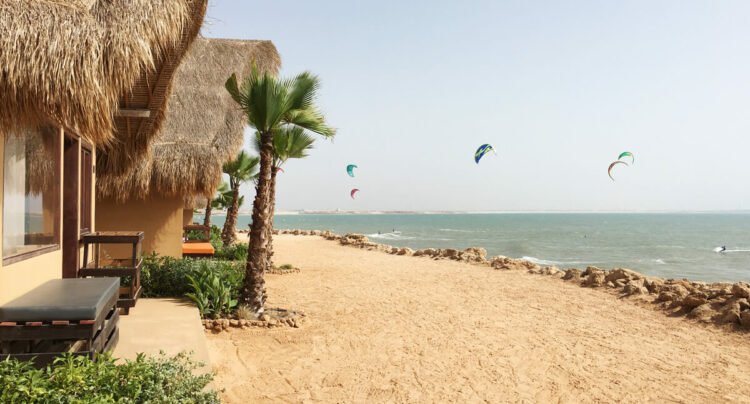 Where to stay in Dakhla
Accommodation at the lagoon
There is a variety of accomodation options around the lagoon, the closest ones to the lagoon (walking distance lagoon to the hotel) being Dakhla Attitude and Dakhla Spirit. But as far as I saw most hotels aren't really far from the lagoon (at least with high tide), so it's only a short walk. Some are more basic (tents) and some more luxurious and pricey.
Accommodation at Wave Spot Oum Lamboiur
If you want to stay at the wave spot in a more pricey but beautiful ecolodge, then Westpoint is your hotel of choice. They have a kitesurf and surf school as well, so you can practice both.
I'd recommend going to the lagoon if you're learning kiting, since the conditions are ideal there for beginners.
Accommodation in Dakhla town
It's also an option to book an apartment via e.g. airbnb (get a 35-Euro Voucher using this link) and rent your own car to get to the spots. A ride from Dakhla town to the wave spot is around 15 minutes, to get to the entrance of the lagoon it's like 30 minutes, getting to the hotels of the other side of the lagoon is like 45 minutes.
There is a variety of restaurants or markets if you want to buy your own food to cook independently.

Where to eat in Dakhla
All the hotels offer food included with accommodation and you're pretty much limited to the food you have in your hotel – unless you drive to town.
In Dakhla town you can find some cafes and restaurants, street food (meat sticks, Arabic bread, peeled cactus fruit, fresh juices) or buy your own veggies, nuts and if you feel homesick a selection of good German/Swiss chocolate on the market, souk and in the streets of Dakhla.
No-Wind-Activities
Wakeboard and Skate in Dakhla Attitude
Sup Trips, Catamaran sailing
Yoga, Massages (depending on hotel, there is some e.g. in Dakhla Attitude)
visiting the Oyster farm
going to Dakhla town (although there is not too much to see but nice to soak up the atmosphere)
walk along the beach with low tide
Golf
Annual Events in Dakhla
GKA strapless tour stop: The world's best strapless kiteboarders compete for a 5 to 7-day-event at the wave spot.
Digital Nomad factor in Dakhla
Depending on where you're staying you have no or bad internet. Westpoint had a really good internet connection although I don't know if it was only during the GKA world cup ? Internet in Dakhla Attitude was a bit unstable so not really reliable. Still, it was pretty impressive regarding that you're basically in the middle of the desert and have internet connection.
You can also get your own SIM card with mobile internet as a backup in Dakhla town, a Sim Card is around 5 Euros and 1GB of data around 1 Euro.
My conclusion: Dakhla is not really made for Digital Nomads unless you really just want to kite a lot and work a bit on the side, more of a workation.
---