Tarifa is commonly known as the kitesurf mecca of Europe which has wind almost year round, a lively nightlife and lots of no-wind-activities. While it took me some time – and a second trip – to get to know Tarifa better, I would honestly say it doesn't have the best kite conditions in the world. But the atmosphere, vibes and lifestyle it offers is very unique in Europe and attracts not only kitesurf addicts.
Pros & Cons for kitesurfing in Tarifa
+ laid-back surf vibes, nice restaurants & bars
+ variety of kitesurf spots and kitesurf conditions
+ cute town, vivid nightlife
+ lots of no-wind-activities
+ reasonable costs of living (not during high season)
+ hotspot for digital nomads (not during high season)
– need a car to get to the spots
– very crowded during high season (end June – early Sept)
– coldish water (you always need a wetsuit/shorty)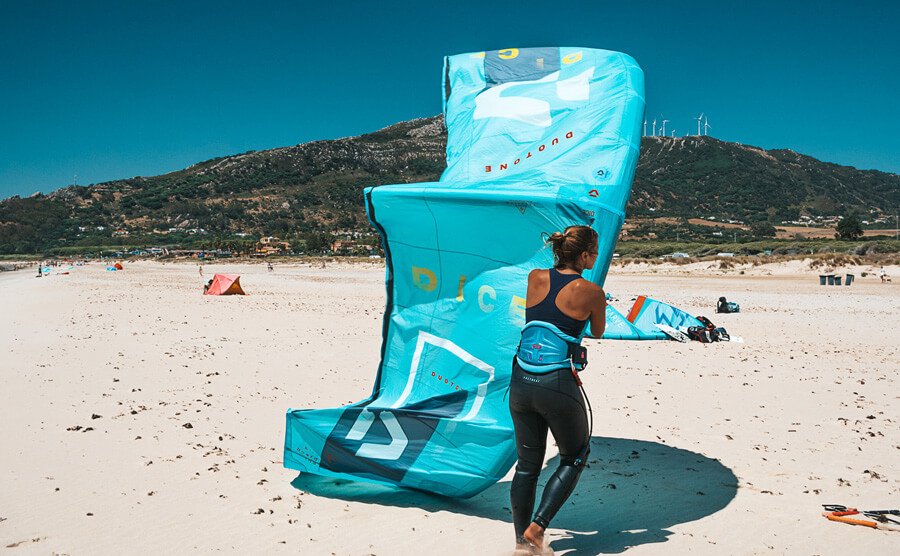 General Infos for Tarifa, Spain (Wind, Water Temperature and Water Condition)
When to go – Best Wind in Tarifa: April – October
The best wind is from April – October but end of June – early September are veeery crowded! If you are planning to stay for longer you can basically kite year-round but will have some non-windy periods inbetween.
Water Temperature Tarifa:
long wetsuit (4/3) in spring, autumn, winter, shorty during summer (although I usually even kite most days in an 4/3). The wind direction Poniente is always colder, with Levante the wind is much warmer (the wind directions are explained below in the arrticle as well 😉 )
Wind speed/kite sizes for Tarifa:
Anything from 0 – 40+ kts 😉 With wind direction Levante you get anything around 15 – 40+ kts, with wind direction Poniente you have lighter wind with around 10 – 25 kts, so best is to bring all the sizes you have.
Water Condition: flat, choppy, waves (depending on spot)
Beginner friendly?
Yes and no 😉 Let's put it this way: Tarifa is not an ideal beginner spot but if you learn kiting here you can kite anywhere! Poniente is quite stable and good to learn, with Levante it can get messy. If you want to learn I'd recommend coming in spring and autumn since it's not as crowded. Plus from what I saw the prices were pretty cheap for lessons compared to some other spots.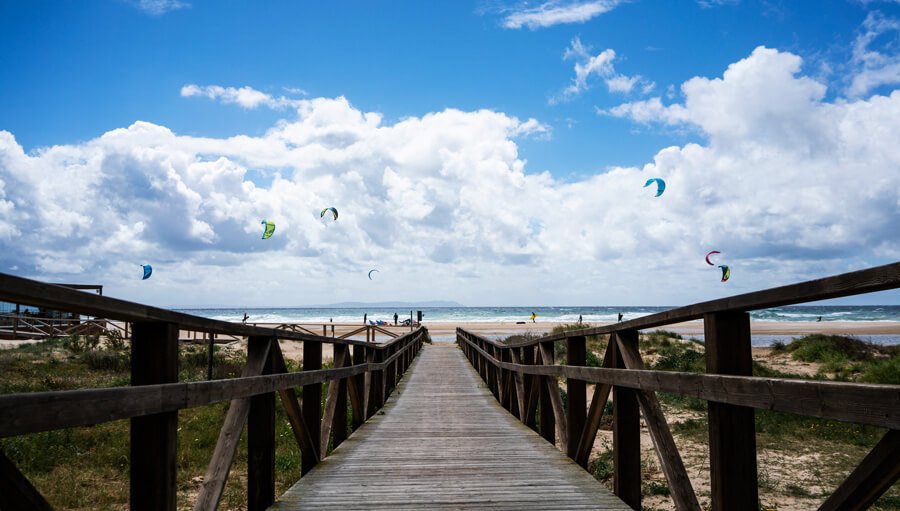 How to get to Tarifa, Spain
You can fly to Malaga (AGP), which I always found the cheapest flights to, and then drive a little less than 2 hours to Tarifa. The closest airport is Gibraltar (GIB) which belongs to the UK and is just a 45 min drive to Tarifa.
How to get to and around Tarifa, Spain
Option 1: get your own rental car
I'd go for a rental car since you always need to drive to the spots. It used to be super cheap but since C hit the prices have skyrocketed so make sure to book ahead. I always book my rental car via billiger mietwagen (German Site, you can cancel up to 24 hrs before) or Rental Cars (International Site).
I made the experience that it's sometimes significantly cheaper if you rent a car for 3 weeks, then bring it back again and rent a new one for 3 weeks. If you fly to Gibraltar (which is UK), make sure to check the rental car prices at La Linea (Spain), which is just a 5-minute walk from Gibraltar airport and sometimes cheaper.
Option 2: bus
There are a few direct buses running from Malaga to Tarifa and many other buses that run from Malaga to Algeciras, then you can catch another bus Algeciras to Tarifa or just take a taxi for the last 35 min. Schedules changed a lot during the lockdowns but I think everything picked up back to normal, in any case just check it online to make sure which buses currently run.
Option 3: use car sharing
If you don't want to rent a car check out Tarifa Car Share for sharing rides e.g. to and from the airport. You can also check the car sharing app blablacar, usually you can find rides from Algeciras to Malaga (Tarifa – Malaga is less common but you might be lucky during the main season). A little word of warning though: on blablacar the drivers tend to cancel last-minute so it can be a bit of a bargain, I have almost lost my flight once and heard of many people who had happening the same. Also I have sent the drivers pics of my kite luggage and all the measurements, asking beforehand if they could fit it, they said yes and once I arrived they left me standing there because they couldn't fit it. So it's best to book for more people on the app so you make sure your kite luggage fits 😉
Option 4: use a taxi
During the C phase I mostly used taxis because there was almost no car sharing available and I couldn't bother with the hassle of getting my blablacar canceled. Prices vary quite a lot, it is around 140 Euros (on the toll-free road, they ask you if you want to use the toll road which is 20 Euros more and a bit quicker and less roundabouts/curves). I booked it beforehand (there are multiple taxi services posting in the facebook group Tarifa Community Noticeboard) so I don't know what they would charge you if you would just rock up at the airport and took a taxi there.
Wind directions in Tarifa, Spain
Levante
Levante is the infamous, sometimes gusty and strong offshore wind (around 20 – 40/ 50 knots) you might know from kitesurf videos, the kind of wind that can drive you crazy. Overall it's wind quality is not as good as Poniente.
Poniente
Coming from West from the Atlantic, Poniente is more light or moderate wind (and mor cold as well) and is pretty steady, the kind of wind you'll prefer for your kitesurf sessions if you're not into strong wind (inbetween 10 – 25 knots)
Kitesurf spots in and around Tarifa, Spain
If you get confused by the detailed spot selection, here is a simple guideline to egt you started: you'll mainly be kiting inbetween Arte Vida (4) and Los Lances (7) with Poniente and on Valdevaqueros with Levante 🙂
At some spots you are officially forbidden to kite in summer which is from 15.06. until 15.09.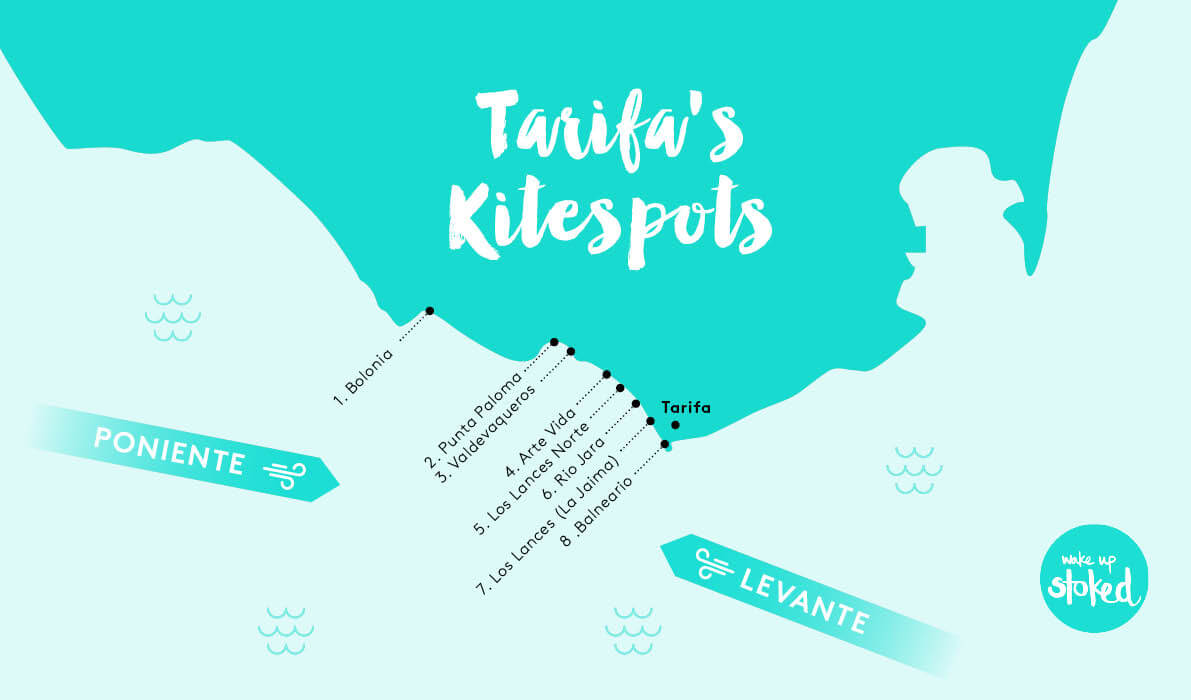 1. Bolonia
wind: Levante and Poniente
level: all levels
good for: Freeride
NOTE: forbidden to kite here in summer, usually a windsurf spot, waves during winter time
2. Punta Paloma and 3. Valdevaqueros
wind: Levante and Poniente
level: all levels
good for: Freeride /Freestyle/Wave
4. Arte Vida
wind: Poniente
level: intermediate – expert
good for: Freeride/Wave
NOTE: forbidden to kite here in summer
5. Los Lances Norte
wind: Levante and Poniente
level: all levels
good for: Freeride
6. Rio Jara
Rio Jara Wave Spot
wind: Levante
level: expert
good for: Wave
NOTE: forbidden to kite here in summer, offshore wind, no rescue
Rio Jara Lagoon
wind: Poniente
level: all levels
good for: Freeride /Freestyle
NOTE: it's illegal to kite here but you'll always find a lot of kitesurfers, it works best with high tide..
7. Los Lances (La Jaima)
wind: Poniente
level: all levels
good for: Freeride/Wave
NOTE: forbidden to kite here in summer
8. Balneario
wind: Levante and Poniente
Level: expert
good for: Freestyle (Levante), Freeride/Wave (Poniente)
NOTE: forbidden to kite here in summer, with Levante offshore wind!, current, rocks, unwritten rule among the locals: there are max. 6 kiters in the water, otherwise the small spots is too crowded
Kitesurf spots close to Tarifa, Spain
Los Caños de Meca
wind: works with strong Levante
level: intermediate – expert
good for: Freeride/Wave
NOTE: forbidden to kite here in summer, wind is lighter than in Tarifa so you need strong Levante
Getares
wind: works with strong Levante
level: intermediate – expert
good for: Freeride/Wave
NOTE: forbidden to kite here in summer, strong current, big shore break, wind is lighter than in Tarifa
Palmones
wind: ideal when the Levante is too strong as it is a bit lighter here, a lot of kite schools go here
level: all levels
good for: Freeride
NOTE: forbidden to kite here in summer (but you will still see kiters 😉 )
Sotogrande
wind: works with strong Levante
level: intermediate – expert
good for: Freeride/Wave
NOTE: forbidden to kite here in summer
---
Kitesurf School in Tarifa, Spain

[Paid Advertisement]

Why learn kitesurfing with Alex Pastor Kite Club in Tarifa, Spain?
Alex Pastor Kite Club is a new concept of kite school in Tarifa, and unlike any other, they believe the instructors are the most important part when you're booking your kite lesson, so you are able to see each instructor's reviews, pictures, bio and their specialty. You can book directly with the best instructor suited for your level, choose your preferred time and you'll get specific kite information prior to your lesson so you'll be able to learn faster.
> Book your lesson with Alex Pastor Kite Club here
---
Accommodation in Tarifa, Spain
Since I'd recommend getting a car for Tarifa to visit all the spots it doesn't matter so much where you stay, there are plenty of apartment options – we stayed in an airbnb apartment.
There are two accommodations I can really recommend because the hosts are just amazing
---
Premium holiday apartments in Tarifa

[Paid Advertisement] 

SimplyTarifa offers premium holiday accommodations that are nicely decorated and fully equipped, not only for a holiday, but also for a longer (remote-working) stay; fast internet and amenities such as a smart tv and a Nespresso machine. Moreover, thanks their superb reputation as hosts, you can be assured to have a perfect and flawless stay in Tarifa.
> Book your premium apartment in Tarifa here
---
Long-term Accommodation in Tarifa, Spain
For finding Accommodation long-term (a month or longer) check out these Facebook groups Tarifa Room Mate and Properties for Rent & Sale Tarifa. Although these are usually only options during lower season (October – March), from April – September it is hard to find cheaper long-term deals as hosts prefer short-stay and charge accordingly.
The best Restaurants and Cafés in Tarifa, Spain
Breakfast and Cafés in Tarifa
They are sorted as if you were walking from the beach towards Tarifa town 😉 Please note there are so many amazing cafés I couldn't fit them in here so keep exploring on your own and let me know if you found a new favorite besides the ones I mentioned
Cafés/Restaurants around Tarifa
(outside of Tarifa, on the way to the kite spots if driving towards Agua and Valdevaqueros)
Restaurants in Tarifa
Supermarkets and organic stores in Tarifa
Supermarkets in Tarifa
Mercadona is my favorite with a big selection but Super Sol and Lidl offer a big selection as well. Note that the only supermarket open on Sundays until 2pm is this Dia. (During lower season, in the summer months almost all supermarkets open also on Sundays). There are many more smaller supermarkets and minimarkets spread around Tarifa.
Organic/Eco stores in Tarifa
No wind activities in Tarifa, Spain
So many! Surfing, yoga, beach volleyball, hiking/climbing, whale watching, mountain biking, running on the beach or promenade, outdoor "gyms" on the beach promenade, go shopping in Tarifa town and get lost in all those cute little boutiques, enjoy the good food and tapas (usually happens here around 8/9pm), partying (parties start here around 11/12 pm).
Gyms and Yoga Studios in Tarifa, Spain
Gyms in Tarifa, Spain
Yoga in Tarifa, Spain
Breathwork and Astrology in Tarifa, Spain
Day trips from Tarifa, Spain
How about a trip to Vejer de la Frontera, Sevilla, Cádiz, Gibraltar (UK) or even to Tangier, Morocco (a 30-min-ferry ride which is actually an hour from door to door) or Chefchaouen, Morocco – the blue town (ferry ride to Tangier and 2 hr drive from there, then it's ideal to stay for a night or longer). There is plenty to see around Tarifa and depending on the drive you are willing to make in one day there is much to explore.
Digital Nomad factor for Tarifa, Spain
While it wasn't the best kite conditions I ever had, it definitely had the perfect combination of Digital Nomad lifestyle paired with kitesurfing, a healthy lifestyle while also having a good nightlife – so an ideal spot if you're staying longer and don't mind if you don't kite every day. So the overall package Tarifa offers is pretty unique. I loved Tarifa's vibe, it's one of the towns where you feel at home instantly.
Since this was my very first trip as a kitesurfing Digital Nomad, the connections I made in Tarifa connected my to other kitesurfing Digital Nomads all over the world which I still keep meeting know wherever the wind blows. So it's definitely a good starting point if you want to get in touch with the whole scene. Now I love coming back and seeing the scene grow and grow, both with kitesurfing and non-kitesurfing Digital Nomads.
Coworking Spaces in Tarifa, Spain
Tarifa Garage Coworking (in the poligono/industrial zone, parking around is available)
La Cocotera Coworking Hostel (in the old town)
Coworking Cafes in Tarifa, Spain
There are many cafes that you could potentially work from if you don't need suuuper fast wifi but be aware that many cafes are small and don't have many seats so it is a given that you consume appropriately if you do work there and don't come in the rush hour 😉 I liked Surla and Café Del Mar in Tarifa, Tangana is a Cafe/restaurant right at the kitesurf spot in Valdevaqueros (around 7 km outside of town). There are many more, make sure to check out WebWorkTravel's Tarifa guide for more coworking cafes.
Mobile Internet (Sim Card)
I got a Vodafone Sim Card in Spain as I wanted the one with the biggest data package but I guess Orange and Movistar are just as fine, you can find it in Tarifa town itself. Providers have new packages and offers every year so when I arrive I just check who has the best package, this year (2022) Vodafone again had a nice deal with 120GB for 20 Euro.
Tip: Depending on where you move around in Tarifa your network might switch to Moroccan network which can become veeeery costly if your phone is switched to roaming. Make sure that if you use your European Sim Card in Tarifa with Roaming you either talk to your provider first to change your roaming to Europe only or you manually change it in the settings so that it only connects e.g. to Vodafone ES or Movistar. [For iPhone go to Settings > Cellular Network > Switch Automatic off and manually pick your network provider]
Further useful links for Digital Nomads in Tarifa
Digital Nomad Events in Tarifa
Join the Facebook Group Tarifa Digital Nomads and the whatsapp groups for spontaneous meetups and events. once you join the Facebook group above you can ask for the Whatsapp groups, there is one for kitesurfing digital nomads in tarifa, a general one for digital nomads and then also other groups for coworking, hiking, yoga etc.