Cabarete.. When you say those words my face lights up and I can't do anything but smile. I think about a Watersports Mecca, where you can surf, kitesurf, SUP and windsurf – all within a radius of 4km. About palmtrees, long sandy beaches and the deep blue ocean. About what feels like a hundred of different sports activities, anything from yoga on the loft with a sea view to kickboxing, surf fitness and SUP Yoga. About loud Bachata and Reggaeton booming from the loudspeakers of every corner. About good food, ripe Avocados and Mangos that taste insane and the strongest Cuba Libres I've ever drunken in my life. About the happiness of Dominican people and how much they enjoy their lives even if they sometimes have so little.
The Cabarete Kite Vibe
A big plus for me is that I know I can go there as a solo-traveller and meet so many new people within minutes. You have a real kitesurf culture, it's a little community of locals, expats and tourists that share the same love for the wind and the ocean that connects them. I love to hang out at the Kite Club Cafe for some food and within minutes I will have someone to chat to. There is a positive, energizing, open-minded and happy vibe everywhere. I haven't found any spot that is even remotely comparable to the lifestyle you have in Cabarete!
Watch and marvel at Cabarete's high density of Pro Kiters
Besides the fact that it's
Susi Mai's
 homespot there is a
huge amount of insanely talented local sponsored pro-riders
. Just to name a few
Robinson Hilario
, 
Ariel Corniel
, 
Adeuri Corniel
,
Kelvin Corniel
 (jupp, this family is seriously talented!!), 
Joselito del Rosario
,the only 14-year-old 
Suami Cavallo
, 
Alex Soto
 and
Luis Alberto Cruz.
 I'm pretty sure I forgot a few already, you see it's hard to keep track there! You can just sit down at the beach and watch, it's better than any kite movie, those guys/gals toss handle passes every few minutes as if it was the easiest thing ever. Their practice is more inspiring than any kite competition I watched. As you might notice, the Dominicans love to show their tricks always close to the shore, which is beautiful to watch but annoying if you are are a beginner or want to go to the water yourself.
PHA+PGlmcmFtZSBsb2FkaW5nPSJsYXp5IiBzcmM9Imh0dHBzOi8vd3d3LnlvdXR1YmUtbm9jb29raWUuY29tL2VtYmVkL0lwbzEtSmN0MG5JIiB3aWR0aD0iNTYwIiBoZWlnaHQ9IjMxNSIgZnJhbWVib3JkZXI9IjAiIGFsbG93ZnVsbHNjcmVlbj0iYWxsb3dmdWxsc2NyZWVuIj48L2lmcmFtZT48L3A+
Pros & Cons at a glance
+ Watersports-Mecca for kitesurfing, surfing, windsurfing and SUP
+ great kitesurfing culture with talented pro-kiters
+ mainly boardshorts temperature
+ stunning Caribbean scenery with palmtrees, long sandy beaches
+ wide range of sporty and touristy no-wind activities
+ nice nightlife and good restaurants/bars
+ relatively cheap for the Caribbean
– can be crowded on the water in high season
– a lot of tourism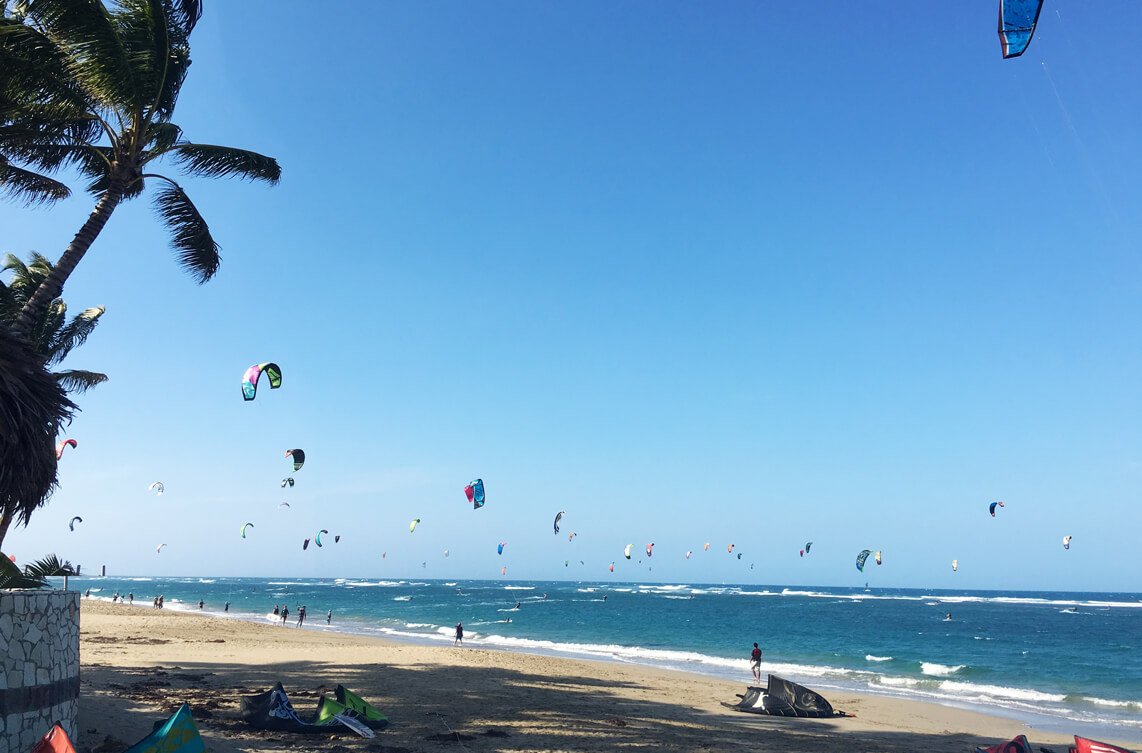 General Infos (Wind, Water Temperature and Water Condition)
Best Wind: Jan – Mar, Jun – Jul
300 windy days a year: A lot of locals claim that Cabarete has 300 windy days a year thanks to the trade winds blowing. But it can vary strongly, if e.g. El Nino is active like it was when I now visited in February 2015. The weather can be a bit crazy and the wind a bit unreliable, so you never know what to expect, but that's nature…
The best months: the wind is more reliable in June and July, but if the trade winds are blowing as they are supposed to, you can get a lot of good kite days inbetween January and April. August is kind of a 50/50 percent chance, since hurricane season starts in August, so you can have some good session in the summer storms or they mess up the wind completely.
The daily wind habits: Depending on the month of the year you are going, the wind will pick up around 11am – 12pm in the summer months or around 1 to 2 pm in the winter months. Sometimes there are some storm clouds rolling in and you also have a nice stormy early morning session. The wind usually goes down again with sunset.
Kite sizes: As for the kite sizes, it's best to bring the big ones as well for the light wind days (you might be the only one with a 16 or 21 sqm foil on the water), but usually you will need anything between 9 and 12 (depending on your weight of course), sometimes smaller kites for the stormy sessions.
Water Temperature: mostly boardshorts
Jun – Aug: Boardshorts (Rashguard to protect you from the sun)
Sep – Apr: Shorty or Boardshorts with Lycra
Water Condition: choppy and waves
Choppy (little ramps which you can use as kickers). There are some really nice waves, especially in the winter months, out on the reefs.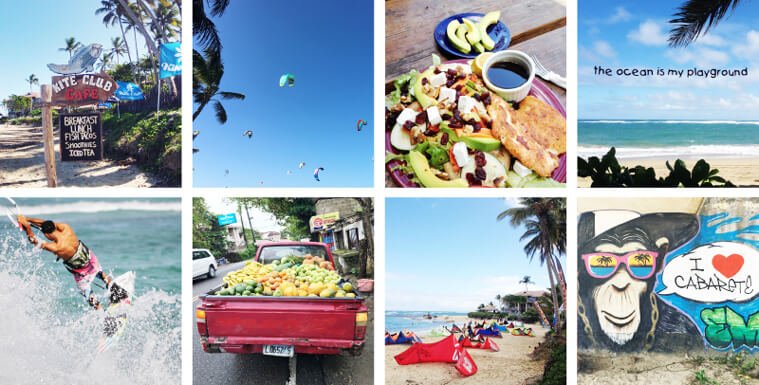 Photo Credit: Jan Vogt, Miriam Tymiec
Getting there
The closest airport is Puerto Plata (POP) and just a 20-minute-ride by taxi later (around 35 Dollars) you're already in Cabarete. Super easy and convenient. You can also fly to Santiago or Santo Domingo and take the bus or taxi, check out this link for more detailed info on flights and transportation.
If you want to explore the rest of the island a bit it makes sense to rent a car. I always book my rental car via billiger mietwagen (German Site, you can cancel up to 24 hrs before) or Rental Cars (International Site).
Spot details of Cabarete's spots
Cabarete Beach (Kitesurf, Windsurf, SUP)
This is the center of town and the place where usually the Windsurfers go out. I never went kitesurfing from here though, I would rather walk/drive down to Bozo Beach or Kite Beach.

Bozo Beach and the extension, Goleta Beach (Kitesurf, Windsurf, SUP, Bodyboard)
Heading North-West from Cabarete, Bozo Beach offers quite a lot of space and has a few kite schools, but the shore break can be quite challenging for beginners and even advanced riders. You have choppy water and there is a reef about 1 km out, which has some nice breaking waves. In the afternoons you can also see bodyboarders in the shore break.

Kite Beach (Kitesurf, SUP)
North-West from Bozo Beach you can find my favorite kite spot – even if it can get quite crowded here. You have choppy water and some nice waves out at the reef. Especially during the winter, the waves can get quite big and no matter if you're using these perfect waves rolling in as a big kicker to pull some freestyle tricks or to ride those waves on a strapless board, you will have the time of your life. Kite Beach can get quite crowded, they always send in the students at the Point, the top of the bay, so just be aware that close to the shore you will find a lot of beginners.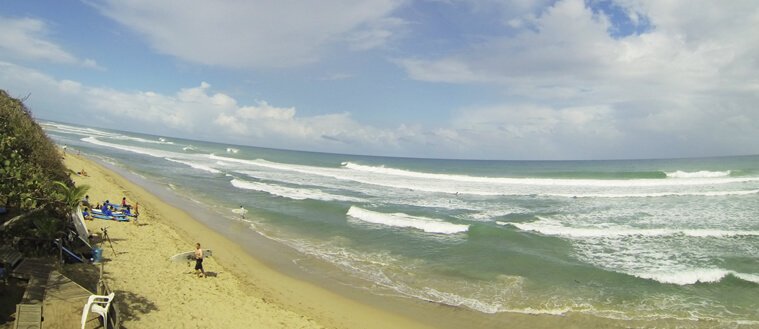 Encuentro (Surf)
About 4 km North-West from Cabarete you will find Encuentro, which is the beautiful surf spot where everyone is heading in the morning, while the sun is rising. Last time I have visited, in February 2016, I was told that it is now forbidden for kitesurfer to kite there. But you can still do the downwinder from Kite Beach to Encuentro and get out there. The beach in Encuentro is tiny, so you need to have someone there to land your kite.
La Boca (Kitesurf)
About 7 km South-West of Cabarete you can find La Boca, a tiny flatwater lagoon, which is the river mouth leading into the sea. The lagoon is beautiful but not suited for beginners as the trees are very close. Make sure to come as soon as the wind's up as it it already quite crowded when you have like 7 people on the lagoon. But luckily almost nobody makes the effort to drive "all the way" up there.
Other spots in driving distance
Las Terrenas
A 3-hour-drive from Cabarete and you arrive at the crystal-clear flatwater spot in Las Terrenas. The wind is lighter here than in Cabarete, but the scenery is stunning and I would say, just for the drive there it's already worth it! There are more swimmers than kitesurfers here on the beach and the town has a very relaxed atmosphere.
Buen Hombre
If you drive around 3 – 4 hours to Buen Hombre, you can catch some stronger winds – at least a few knots –  than in Cabarete. The wind usually starts a bit later than in Cabarete but then blows stronger and you have some flatwater to practice your new tricks.
This is how your typical day in Cabarete could look like:
Morning yoga with the sparkly Molly (you will practice with a lot of expats and locals on a terrace overlooking the ocean) or if you are an early riser a sunrise surf at Encuentro beach
Either coffee and Belgian waffles at Vagamundo or healthy Smoothies and breakfast at Fresh Fresh
walking back on the beach from Cabarete to Kite Beach
Chilling in the shadow and slowly watching the wind pick up
Going for a kite session
Getting a quick bite in-between sessions at Kite Club (waiting times can be quite long so make sure you order the minute you get out of the water 😉 ) Try their freshly squeezed Chinola (Passion Fruit Juice) and Salads – or their famous Fish Tacos.
Time for another kite session – if you didn't get too caught up in making new friends/enjoying the happy hour at one of the bars on kite beach
Dinner time in Cabarete – for local vibes (and a bit further ride) try Ali's Surfcamp (the Churrasco and Baby Lobster are highly recommended 😉 ) or for a bit more touristy but super yummy vibe try the famous shrimps (or lobster, depending on the season) at Papi's, where you can dip your toes in the sand while enjoying this buttery seafood goodness (it's his signature sauce – heavy but very yummy).
Go for some happy hour drinks and wait until the dancing starts around 11pm
Where to stay
If you ask me, I would always book an accommodation at Kite Beach, I simply love it, that I have my kite stuff in my room and just pack it all out when the wind is up. I stayed at Kite Beach Inn the last couple of times, because it's one of the cheapest options to stay on kite beach.
However, I think that Kite Beach hotel, where I also used to live, has the most beautiful apartments and the best atmosphere. Always check airbnb or kite-bnb though, some private owners rent their apartments and sometimes you can get a better deal there!
Kite Beach to me is also the perfect starting point, as you're right in the middle between Encuentro to go surf in the mornings and Cabarete to go eat and party.
If you're more on a tight budget, you will find cheaper options in Cabarete and if you're to lazy to carry your stuff back and forth you can rent a storage box on Kite Beach.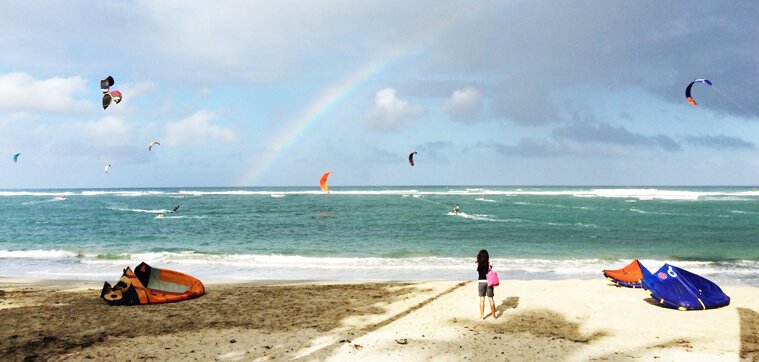 Where to eat
On kitebeach
Food options at and around Kite Beach:
Kite Club Cafe: I loooove the Surfer's Salad which is a mixed salad with Cranberries, Walnuts and Feta and you can order extra chicken with that. Their signature dish is the fish tacos which consist of a soft and a crunchy shell and tasty fish with Avocado. They have also divine chocolate cake and other sweet stuff, just try the whole menu.
Vitamin D Cafe delicious and healthy food with quite the view
Kite Beach Hotel restaurant
La Mesa Taina Bar is on the property of Extreme Hotel. They have a good chef serving Asian food and Sushi but also all the traditional Dominican foods. A good place to hide from the wind for your kite breaks.
Make sure to try the food of the Dominican grandmother right across the street from Kite Beach Inn. She is cooking quite typical Dominican food like chicken, yuca, veggies, eggplant salad and rice or pasta. Sometimes she also has spareribs or fresh fish.
In Cabarete
You have quite a lot of food options and I will just name a few, my favorite ones ?
La Parilla de Luis: the local version! When you enter the Callejón, just after a few meters on the right side. Super delcious chicken and sometimes spareribs with fried plantains, rice and salad. The homemade marinara is so gooood! Super cheap and a popular local option.
Yamazato: super good sushi and salads, quite authentic Japanese food as they have a Japanese chef. I ate there uncountable times, my favorite is the Tuna Tataki, Papaya Salad and the Yamazato Style Rice Paper Spring Roll. Food can sometimes take quite long if it's crowded but it's definitely worth the wait. Sometimes you even see them carrying in the freshly caught tuna you will then have in your sushi. You can find it on the Ocean Dream Plaza.
Gordito's: fresh, healthy and cheap Mexican food, super delicious and fast, if you're very hungry! They have Tacos, Burritos to even Bowls with different options of meat and fish. Yummy and perfect if you're on a tight budget! This places is right next to Yamazato, so in case you can't decide beforehand, just drive there and see what looks better for you ? Take a look what your food will be like here. You can find it on the Ocean Dream Plaza.
Cafe Claro: this was pretty much my Sunday Brunch Place. Amazing healthy and fresh food and great atmosphere at that place! Lots of veggie, vegan and slow food dishes. When you drive towards Janet's from Cabarete center it's a few meters down the road on the left.
Fresh Fresh: this is food heaven for everyone who loves to eat healthy & delicious food! The cafe and restaurant are also really comfy to chill out there! Take a look what your food will be like here. My favorite is the Salad "Out of Africa", the Shrimp Tacos and the Yuca Fritters (plus Green Smoothie). You can also get awesome local products like natural beauty products or local organic foods and treats in here, all made by different Cabarete locals and expats. I can recommend Kazz's Natural Tropical Deodorant for instance 😉 In Cabarete center.
Ali's Surfcamp: a bit hidden, but this is one of the many gems in Cabarete. You can't have been to Cabarete and not been to Ali's Surfcamp to eat 😉 Try the Churrasco or the Baby Lobster (during Lobster Season). Both are amazing but if I would have to decide I would go for the Churrasco (they have obviously plenty of other dishes but those two are my outstanding favorites) Take a look what your food will be like here.
Vagamundo Coffee & Waffles: Fancy some waffles, tons of different coffee choices or a Green Tea Matcha Latte? Beautiful space with yummy waffles (also the salty ones!) and Smoothie Bowls if you want to go for a healthy choice. Nice atmosphere in there, beautifully designed space with wifi as well. You can find it just across La Rosa.
Cabarete Coffee Company: local Organic Coffee and the best chocolate brownies in town, besides other crazy delicious and healthy stuff! Half way inbetween Cabarete and Kite Beach.
Belgium Bakery: I'm a total coffee addict and this is where I get a proper Latte Macchiato and good sweets. If you need something sweet, go for the Passion Fruit Cheesecake! When you walk out from Cabarete towards Kite Beach, it's on the left side.
No-Wind-Activities
For the sporty ones:
Surfing at Encuentro: definitely worth it, even if you know the wind will be blowing. The morning light at Encuentro is magical! Surf schools open at sunrise. Make sure to come early because it's the most magical light in the morning. Sometimes I just go there to watch the surfers as well. Definitely worth seeing! Get all the detailed infos and a great infographic as an overview here.
SUP-boarding at Kite Beach, Bozo Beach or Cabarete
Yoga I'll just name my 2 favorite teachers, there are a lot more in Cabarete which you can find in this guide.
1. The yoga space at Casa Feliz with Molly and Shayna: Molly is a happy, giggly and super positive teacher. She does kind of an Ashtanga-inspired Vinyasa Yoga. Shayna is teaching a more calm but always beautiful practice, I can totally recommend both of them. You can see the yoga schedule here and the directions to the Yoga Space here. If you stay longer make sure to join the Yoga Cabarete facebook group for updates and special classes or free meditations.
2. Mira Yoga at Natura Cabana: Close to Encuentro. Tino is one of the most amazing yoga teachers I've come across and he teaches classical Hatha Yoga and the yoga loft at Natura Cabana is incredibly beautiful as well, stay there for dinner, the food is amazing.
Rogue Fitness: e.g. Kickboxing classes, Crossfit or TRX. Check out the schedule.
Kaiceitos Circus: you can join the circus school, check out this site for more infos.
Surf Fitness or Aqua Fitness: Audrey teaches HIIT and Aqua Fitness to get your body ready for those surf and kitesurf sessions in Millennium, which is on Bozo beach. More infos here.
SUP Yoga: Audrey teaches SUP Yoga. Meeting point is at Vela in Cabarete and after a short Yoga warmup on the beach you paddle a bit out to the point, where you then practice Yoga on the SUP board.
Other activities/excursions
Local Shopping: go into town and visit one of the surf shops or markets with handmade local goodies, like the Cabarete Night Market on Sunday night from 4–10 pm in LAX or the Cabarete Arts & Crafts Bazaar every Monday from 5.30 pm–10 in Mojito. Or try Art Sea Pixies for handmade jewelry, bikinis and beachwear designed by the creative Cabaretians.
27 waterfalls: do a tour through the 27 waterfalls and jump or slide down one after the other with your guide. Really fun and took me quite some courage to jump off some of those (but there are also always easier ways to get down if you're afraid) Fun tour! More here.

Snorkel/Scuba Dive: only 15 minutes from Cabarete, in Sosua, you have flat, crystal-clear turquoise water for some snorkeling or scuba diving!

Whale watching in Samana from January until March: even if you can sometimes be lucky and see some whales right in Cabarete, you have the best chances if you make the effort to drive 3 hours to Samana. Which is btw one of the most beautiful roads I have driven on, surrounded by palm trees and beautiful ocean view. Samana is really worth to take a look at and if you're up for a little adventure, spend some nights in a scenic treehouse in Las Galeras. Also, if you stay a few more days, you can always head to Las Terrenas close by if the wind should pick up to kite. The wind is a bit lighter there than in Cabarete but the spot is beautiful and more flat that in Cabarete. More about it here.
The Unconventional Guide to Cabarete: you can also check out the Unconventional Guide to Cabarete, which shows some low budget and tipical things to do in Cabarete.
Fun for free: If you're on a very tight budget, here are 9 free things to do in Cabarete.

Photo Credit: Jan Vogt
Good to know
Learning Kitesurfing in Cabarete
Cabarete is definitely not the easiest spot to learn kitesurfing: crowded, choppy, deep water. However, I also learned it there and loved it, it is THE place to feel how passionate people are about the sport! If I were you, I would choose a school on Kite Beach because the shore break on Bozo Beach is really nasty, especially if you're a beginner and during the winter months with the huge swell. Good schools on Kite Beach are Big Willy's Kite School, dare2fly and Kite Club.
If you finished your beginner's course but still feel insecure about going into the water alone, you can get "Supervision", so one of the Kite Assistans is always watching out for you while you're on the water. The best is to just ask the kite school you took lessons at if they have a supervisor available. Totally recommendable!
The Kite Rescue System in Cabarete
There are no rescue boats in Cabarete. However, there is an extremely well functioning (works 100 percent of the time), what I call, "Dominican rescue". Young kids and teenagers who kitesurf extremely well will rescue you within seconds when you have a problem. You simply release your kite completely, they get it with one hand and ride with the other hand back on the bar to the beach. The next second they get your board and then lastly you will get pulled out by holding on to their harnesses. I had a lot of kitesurfing troubles where I had to be rescued and they really see you within seconds, even when you're out on the reef. Just make sure to give them a good tip after, otherwise the rescue might take much longer next time 😉
Money
ATM's charge you 195 Pesos (around 4 Euros) for every withdrawal and you can take up to 12.000 or 10.000 Dominican Peso per withdrawal (depends on the bank). There have been some problems with copied cards so just be a bit careful, never happened to me though!
I would recommend taking cash and changing it at Caribe Express at the Plaza Media Luna (across Millennium resort) where you usually get the best exchange rate. Make sure to bring your passport since you need it for changing. For other exchange options to change money in Cabarete check
this link
.
Supermarkets
Public transport
I usually just take a motoconcho when I go from Kite Beach to Cabarete, which costs around 50 Dominican Pesos during the day time and double price during the night per person. You can also use the Gua Guas (kind of local busses) or Carritos (also public cars) if you have more luggage or want to go further, e.g. to Sosua or Puerto Plata. There is a really good article that describes the public transport in detail.
Car Rental
I have made good experiences with
Easyrider Cabarete
owned by Joseph, a Bavarian guy who lives in Cabarete since 16 years. He has also super good advice if you want to do a road trip around the island, which we did. If you're coming at a time where there is a lot of holidays (Christmas, Carneval, Easter etc) make sure to book in advance.
More insider knowledge about Cabarete
Digital Nomad Guide to Cabarete
Digital Nomad life in Cabarete
While Cabarete is not (yet 😉 ) a digital nomad hotspot, I have the feeling that it is getting more and more onto the radar of active digital nomads since it offers a great lifestyle, cheap living prices and decent internet. Check out the facebook group Cabarete Digital Nomads if you're planning to come there as well as this Digital Nomad Guide to Cabarete.
Coworking Cafes
You can get a cheap SIM and basically work from any cafe/restaurant using your phone as a hotspot since wifi is often fluctuating depending on the number of customers. I really enjoyed working from Vagamundo Cafe & Waffles if it wasn't too crowded. If you want super yummy healthy homemade food, fast wifi and a great vibe check out Vitamin D Cafe at Kite Beach. If you have your own mobile hotspot or don't depend on fast wifi then Fresh Fresh has amazing food as well a super nice vibe.
Coworking Space
A new Coworking Space Co Cab opened in 2018 (finally!) with 100mbps internet, open from 8 am til 6 pm every day. They offer different hourly, weekly and monthly rates.
---
You already know when your next trip will be and are about to pack your bags?
Check out this article to get some great packing hacks on the best way to pack and travel with kite luggage.
Wondering why I have that much time to travel around and kite?
Trust me, it was a long way to get there, so if you're interested you can either read the whole story on why I threw my whole life around to kitesurf more or the short version in the about me section 🙂
Merken
Merken