There is no other person that could write this post better than me – as I was always the one falling into a deep depression when coming back home. Wanting to spend my days in bed, just watching kite movies all day. Without ever getting back out into the bad, grey, sad city life. Don't laugh, I'm serious!
My friends dread this day: whenever I tell them I booked the next kite holiday – since they know I will come back and totally fall apart. AGAIN. So I kind of became an expert on how to lessen this pain. I've tried literally EVERYTHING so here is an extensive list with lot of different approaches on how to fight the nasty post holiday blues.
[Some of the links in this article are affiliate links. This means that if you decide to purchase some of these resources, I earn a small commission at no additional cost for you. I only recommend selected products that I'm convinced about and that I would buy (or already did buy) myself.]
1. Don't cry because it's over, smile because it happened
Keep on daydreaming from your holidays and soak up the kite vibes a bit longer. Be happy that you even had the chance to make all those experiences. Dwell in those memories and keep them alive for as long as you can.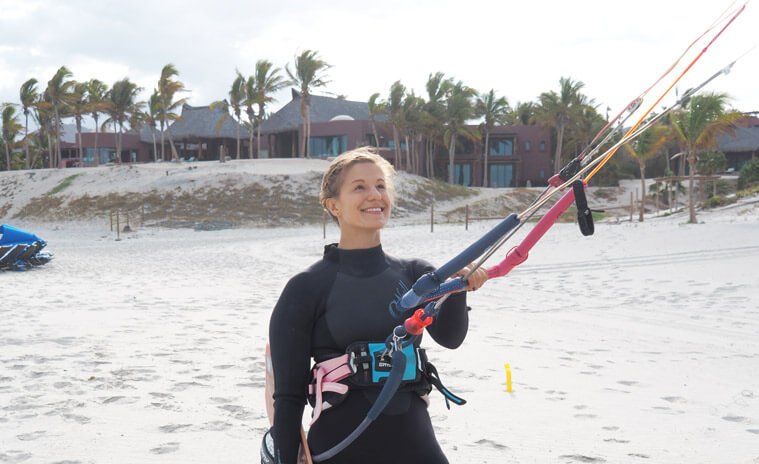 Photo Credit: kitetiger
2. Plan the next adventure right away
This one is crucial: book the next holiday! Having a new trip to look forward to is the best medicine – even if it's still half a year ahead.
Or just take off for a long weekend at some kite destination close by to soothe the pain. Research as long as you like (btw have you checked out my spot guides already or the post on the best kitesurf adventures?). Daydream about all the great destinations you could go to! And then, most importantly, book one of them!
3. Groove yourself back into the holiday vibe – with the right tunes and soul food/drinks
Just been to Cabarete, DR? Look for some Bachata or Reaggeton and groove your way into the day. And that music works best if combined with the typical Dominican Cuba Libre (a.k.a. lots of rum with a dash of Coca Cola).
Missing the daily Acai Bowls you had in Brazil? Or longing for the post-kite-coconut? You can easily get Acai/Coconuts online or in the bigger stores and make your own Acai bowl! Or check those Asian/exotic markets for special fruits and coconuts.

4. Bring a bit of adventure in your life back home with your good old friends
No matter how awesome the people are you meet – your friends back home are irreplaceable and if you've been gone for a longer time you'll probably have missed them a lot. Use that time back home to see them again and before you fall back into that holiday routine: do one of the things you were always talking about doing on the weekend but then work/family/life got into the way.
You're still fresh from your holiday, out of the everyday work-eat-sleep routine and now is the time to go for those things.
Like going to the mountains for a day trip to chase some powder together?
You always said you would try wakeboarding but never found the time?
You always wanted to do a bar tour with all the new bars in your neighborhood you didn't know yet?
That persian restaurant you always wanted to try? Make a reservation now!
5. Be a stormrider – in your dreams
How to fall asleep thinking about kitesurfing and waking up thinking about kitesurfing again? Pretty simple: have your travel inspiration by your (bed) side like the The World Kitesurf Guide or the Tricktionary. Always. If you get hit by the travel blues, start flipping through it and dream about all those adventures that you're still going to experience.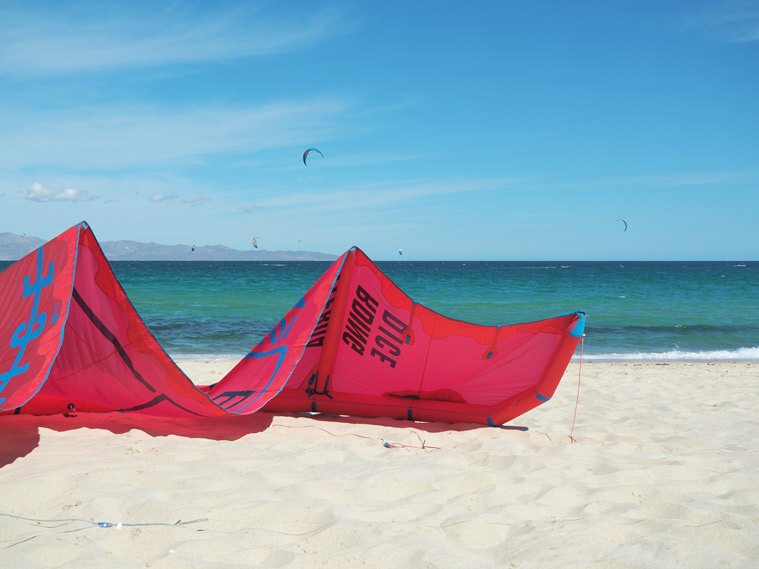 Photo Credit: kitetiger
6. Look for other adrenaline-boosting sports
Best case they are boardsports-related as well: snowboarding, landkiting, wakeboarding, surfing, longboarding…
Start researching as well, ask around. There are probably quite some activities and facilities you didn't know about. Look for facebook groups (e.g. Surfers Munich) or create your own if you don't find any. Do adrenaline-boosting activities like for instance:
longboarding/skating/landkiting
snowboarding
river surfing (in Munich we have 3 river waves!) or surf on an artificial wave (so much fun, I tried it here in Munich as you can see in the pic below)
go wakeboarding/wakesurfing
do any kind of sport that lets you move outside like mountainbiking, climbing, hiking, outdoor yoga, SUP yoga (they have it on a lot of lakes in the city as well). Just try something new!
7. Watch as many kitemovies as you can
This is an instant recipe for me. Sometimes I couldn't get myself out of bed without watching a kite movie first. Same for going to bed ? Here is a selection of my personal top 5 kite movies that I could watch again and again. Or if you need that extra adrenaline kick check out the best coldwater kite movies.
8. Visit surf shops/cafes and soak up the atmosphere
If you're landlocked, there are most probably no kite surf shops around. BUT for instance in Munich you can find some nice cafes with a surfer vibe e.g. Arts'n'Boards or Santo Loco. Look around for local surf shops and surf cafes. You have no idea how many landlocked surfers there are in your city ?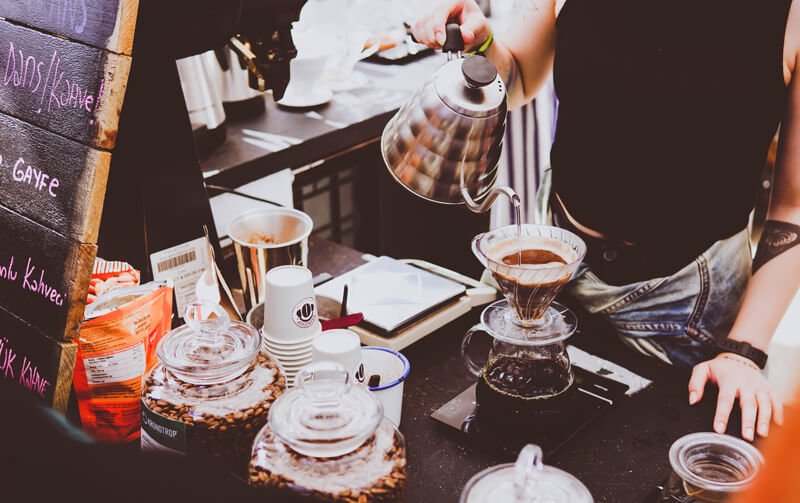 9. Wear the surf vibe, be the surf vibe!
Although I'm no fan of consuming and buying stuff just to feel better – life just does feel a lot lighter if you're wearing a piece of stoke that reminds you of wind in your hair and salt on your lips. Check out your favorite kite/surf store in town or online or check out some of the Wake Up Stoked Apparel.
Or – preparation is king – my tip is buying something during your kite holiday that you find in the surf shop that you're at on vacation. Afterwards every time you wear/see it, it reminds you of that crazy adventures you had there. If I flip through my wardrobe, I can connect almost every piece to the trip I did, best memory ever.

10. Read kitesurf blogs and kite magazines
Just because you're not on the beach doesn't mean you can't live and soak up every bit of knowledge about kitesurfing. Keep close to the kitesurf spirit by reading kite blogs and kite magazines. Follow your favorite pro riders on their Social Media Accounts.
Btw are you already following me on Facebook and Instagram for your daily dose of salty inspiration?
11. Stay fit so that you can hit the water in the next holiday even harder
Keep your level of fitness with anything that puts a smile on your face and makes you sweat.
Whatever it is that makes you happy but keep your body as strong as it was during the holiday. Plus working out makes you happy as well – even if it is not kiteboarding! Also check my post on Surf Workouts for which you don't need any equipment and can do anywhere.
You miss the heat and like Yoga? How about trying Bikram Yoga?
Do you want to sweat with other landlocked kiters? Research online, there might be surf specific workouts in your city as well! Or ask around in facebook groups who are for your city/state, somebody might now something you don't.
Do you like being at the fresh air and pushing your boundaries? How about an outdoor bootcamp?
Want to practice your balancing muscles? Functional Trainings or anything training your balance are an ideal practice for standing on your kiteboard later.
Miss the water? How about an intense one-hour-swim? There is nothing like that feeling of everything going silent when you're underwater.
Miss that South American music? How about trying Zumba or taking Reggaeton dance lessons – it will beam you right back into the holiday mood.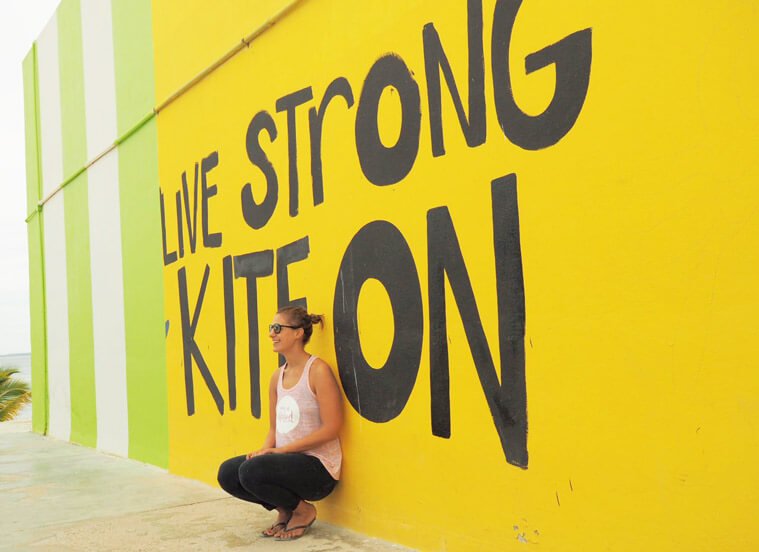 Photo Credit: kitetiger
12. Get an extensive blood test done (especially of your Vitamin D levels)
Invest a bit of money and get an extensive blood test done. And yes, I'm talking especially about those Vitamin D levels! The sun you get during your kitesurf holiday will certainly not be enough to raise those Vitamin D levels, if you live in e.g. Germany. 90 percent of all tested persons in a German study had a Vitamin D deficiency. Low Vitamin D levels can even result in depression and other diseases.
To put it short: high Vitamin D levels will make you happier, more resilient and you'll be more likely to have that feeling of flow in your work life and sports. Get it tested! Such a small thing can make such a big difference.
(Lucky enough I have a functional medicine doctor as my mom to tell me all of this stuff – so if you're ever in Munich check out my mom's high end practice for functional medicine and sports medicine to get yourself tuned for happiness)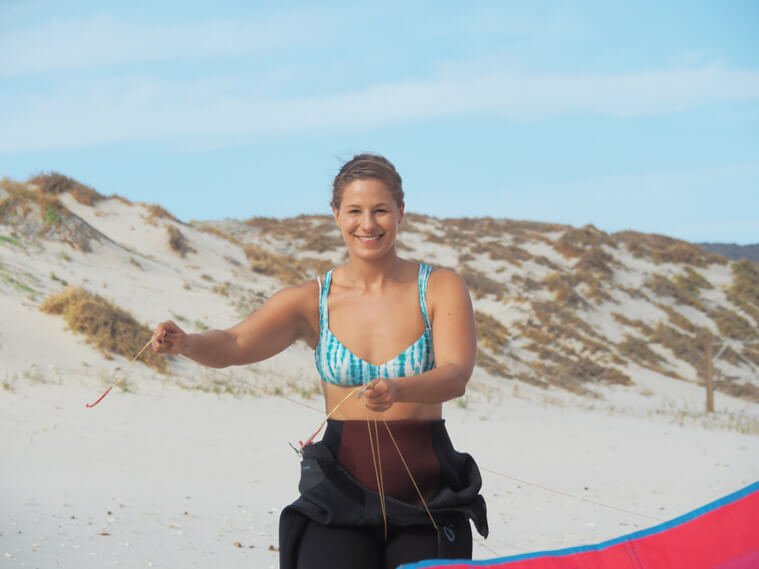 Photo Credit: kitetiger
13. Keep those kite memories alive and all over your place
Flip through your old kite photos from last holiday, print them as posters or even make a photo book out of it. I know it's old school and a lot of work but I did it once and I simply love flipping through that photo book – it's a whole different story than having your images get lost on your hard drive in the digital nirvana.
14. Make your home more kite-friendly
Spice up your home with little details that make you smile – like a "stay salty" cup or a poster of your last jump in that paradise environment. Or how about storing your kite gear in a beautiful way, where you can see it and get all excited every time you walk by that kiteboard-rack with all of your toys?
15. Stay in touch with the people you met during your kite holiday
Often enough, those nice contacts get lost. Just text those kite buddies you met during your last holiday – who knows, you might end up at the same spot again!

16. Set goals for your next kite surf holiday
Think about what tricks you want to learn and watch as many different instructional videos as you can find. You have the time now – not on your holiday when you want to make the most out of every windy minute and all those beautiful sunsets!
17. Ultimately: create a life you don't need vacation from
"Instead of wondering when your next vacation is, maybe you ought to set up a life you don't need to escape from." – Seth Godin
If the post-holiday depression is just a tiny bit as bad as mine always was: think about changing something in your life.
Why is it that you're longing so heavily for that kitesurf holiday?
Create inner happiness that doesn't depend on outer factors. I know it sounds stupid coming from my side but at the end of the day you can be happy anywhere to a certain extent if you appreciate what you have and cultivate the habits that you enjoy during your holidays: being grateful every morning for whatever reason, healthy food, fresh air while being outdoors in nature a lot, likeminded people that surround you.
Are you landlocked and maybe want to move closer to the ocean to be able to have some weekend sessions? Move closer to the ocean or a lake if it has good wind! There are lots of cities which are close enough for spontaneous sessions in Europe!
Do you just love exploring new countries and would like to travel more often to foreign places? Ask for more holidays (which is what I did so instead of a pay raise I got one month more holidays on top of the ones I already had). Or take a sabbath month/year to explore all those places. Or use your break inbetween jobs strategically and take a 3-month break before you start your new work.
Do you love that feeling of being fit and out in the fresh air? Just find a new sport you love at home. Bike or longboard to work. Or start running daily before work. This is what I did even though I absolutely despised running before that. It took me 3 weeks to even enjoy it the tiniest bit but since then I just went every morning before work and it changed a lot for me!
Do you just want to work closer to the ocean? Maybe just try to relocate with the same job you have close to a kite spot. Or become a remote worker so that you can work anywhere the wind blows. Or change to a 4-day-workweek if you already live close to the ocean and just spend one day a week kitesurfing!
You don't know what you really want? Well then take time to explore it. And shape your life accordingly. Nowadays we have the luxury to design our lives the way we want to!
---
> So what are your tactics to survive the everyday life after a great kite holiday?
I'd love to know about your little tricks that make "life after" easier 😉
> Ready to escape to a warm spot far away?
> Are you wondering what my answer was to the last headline in this article?
Well, it's a pretty detailed one but the title already spoils it a bit: Kitesurf around the world – why I left my old life for it. If you want the short version of it, check out this short and inspiring video What Wake Up Stoked is all about.