Pros & Cons for kitesurfing in Prasonisi on Rhodes in Greece
+ flatwater with offshore wind and wind waves with onshore wind in one spot
+ you can stay right at the spot (limited accommodation, book ahead)
+ you'll get the strongest wind on Rhodes island since there is a Venturi Effect
– it gets crowded quickly on the flatwater side, no rescue
– the spot is a bit remote, at the end of the island, a car is recommended

General Infos for kitesurfing in Prasonisi, Rhodes (best wind/when to go, water temperature and spot condition)
Best wind/when to go to Prasonisi, Rhodes
July, August (June, September are good as well)
Kite sizes for Prasonisi, Rhodes
in July and August mainly 9, you'll sometimes need your 11 or bigger kite. I've used the 7 only twice in two weeks so if you can take only two kites I'd go for 9 and 11 (check the forecast before, also depends on your weight of course)
Water temperature/what to wear in Prasonisi, Rhodes
Long Wetsuit in June September, Shorty in July, August
Spot condition Prasonisi, Rhodes
On one side you have perfect flatwater with offshore wind and further out it's a little choppy, on the other side you have choppy water and wind waves
Beginner-friendly for kitesurfers and those who want to learn?
There are a few kite schools there but it can get very crowded on the flatwater side. If you just became an independent kitesurfer you can try the onshore wave side but it might be a bit tricky for you to get out. If you don't take lessons there is no rescue boat on the flatwater side so be careful.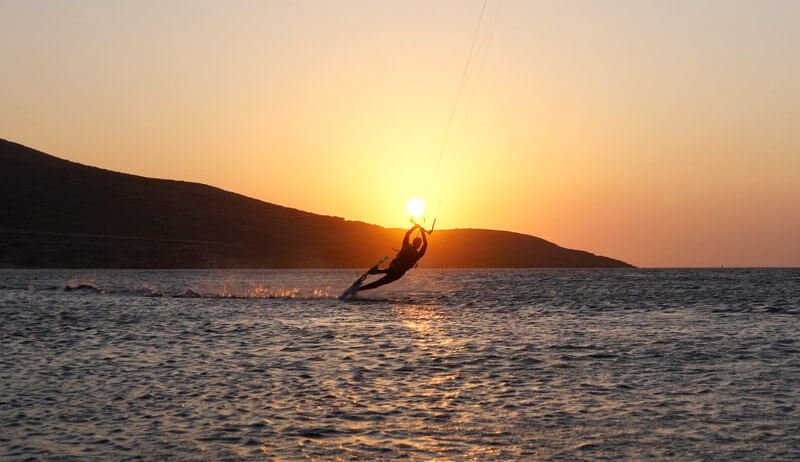 How to get to Prasonisi, Rhodes, Greece
You'll fly to Rhodes airport, there are lots of direct flights and good connections from Germany. I'd recommend getting a rental car since the island has a lot to offer and if you stay longer than 5 days it makes sense to explore the island, especially on no wind days.
Spot details for Prasonisi, Rhodes
On the left side, you have a beautiful flat water spot with offshore wind. There are a lot of windsurfers here so kitesurfers are restricted to the right side of the bay – although they don't really like individual kitesurfers here (there is a sign with no kite and no kite rescue) and there are mostly schools teaching here. I've had some great sessions in the early mornings or for sunset, for the rest of the day it's almost impossible to ride here with all the students. The schools are not really friendly and don't really like to help you launch or land your kite.
The right side with onshore wind and waves can get super nice for wave riders. This spot is more filled with progressed kitesurfers since the beginners don't make it out. The waves and chop build nice ramps to jump off of. Unfortunately, you sometimes kite here with a lot of algae close to shore and some plastic trash floating in the water 😞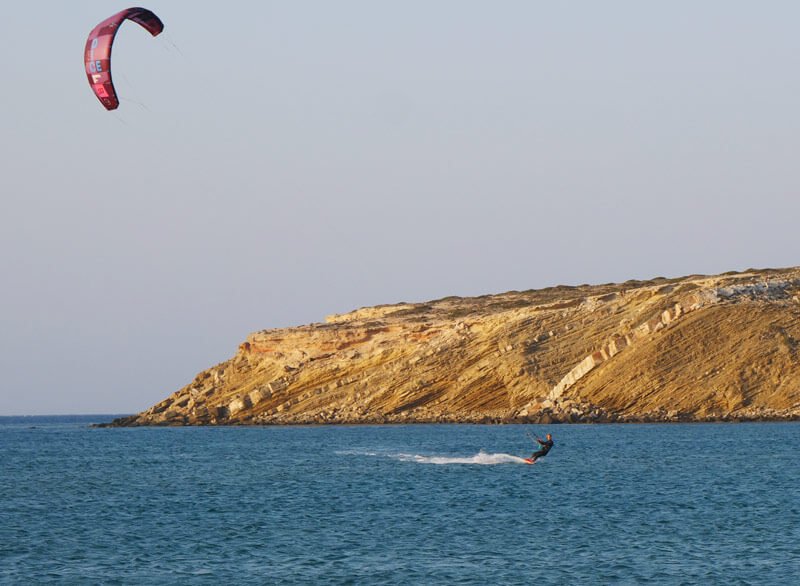 A typical windy day in Prasonisi, Rhodes
We were there in August and the wind usually was pretty strong in the very early morning from 6 – 7.30/8, then would drop a little bit and then pick up again around 12 or the latest 3/4 pm. It would blow until sunrise, getting a bit weaker again after the sunsets. On the less windy days, you can still hope for an evening session if the forecast showed more wind in the evening, we've often had sessions were only 7-8 knots were forecasted. On a proper windy day you can almost kite all day long.
Other kitesurf spots on Rhodes
Frankly, Prasonisi is my favorite on Rhodes because it is simply unique and the wind is the strongest on the island – but it is also the most remote one and not really suited if you want to do anything other than kite or have non-kiting company.
For the German-speaking readers check out this video which features most of the spots – for the non-German speaking readers: the first few seconds of the video are all shot in Prasonisi (until second 10).
PGlmcmFtZSBsb2FkaW5nPSJsYXp5IiBzcmM9Imh0dHBzOi8vd3d3LnlvdXR1YmUtbm9jb29raWUuY29tL2VtYmVkLzFaaVp2SlVoYjNVIiB3aWR0aD0iNTYwIiBoZWlnaHQ9IjMxNSIgZnJhbWVib3JkZXI9IjAiIGFsbG93ZnVsbHNjcmVlbj0iYWxsb3dmdWxsc2NyZWVuIj48L2lmcmFtZT4=
How to read the wind forecast /Infos on real-time wind
You could always add some knots on the forecast, meaning that even if the forecast was only 7 – 8 knots you could usually kite on your 11m kite so it had around 14 – 15 knots.
There is a live wind meter (it was from wind guru but is currently offline, google it to find out if it's back online) and usually you could add around 4-5 knots on the wind it showed, so with 14 knots forecasted I could easily go on my 9m kite.
The atmosphere at the kite spot Prasonisi, Greece
It's an atmosphere where people come, kite and go, hanging out in the two main restaurants at the spot which are super touristy due to the people who come here for a swim and have a look at the beach. There is nothing much happening except for the two supermarkets at night, where all the kite teachers and people staying longer gather, chat and have a drink. It's not really a spot for solo travelers I guess, I always came here more with people and enjoyed my time this way.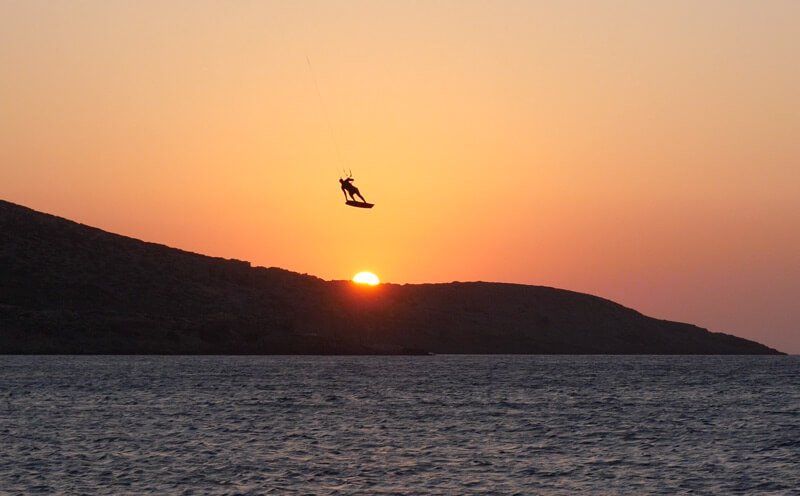 Where to stay in Prasonisi, Rhodes
In Prasonisi itself, accommodation is very limited.
Oasis
and
Kedros
both offer accommodation with breakfast and dinner only, the rooms are not very modern but ok. 
Zanetos
seems to be a bit more modern from the rooms I saw and has a bit nicer atmosphere, they are accommodation only, so you can cook yourself and be more independent. All hotels get booked out pretty quickly, so plan ahead.
You can also stay in the next village in Kattavia, which is a 10-min drive from Prasonisi
. If you would like to rent a whole hose
this one looks pretty rad
. As I once arrived very spontaneously the only available room left was in
Club Prasonisi
, which has basic but spacious rooms, they are a bit older but the overall vibe is nice and the breakfast is really really great!
Where to eat in Prasonisi, Rhodes
In Prasonisi
both Oasis and Lighthouse have decent food which is a bit pricey.
If you have a car I'd definitely recommend going to the Colonia San Marco
 (15 min drive from Prasonisi) which is run by a family and has fresh, homemade food at really good prices. Go for the fresh Aloe Juice or Orange-Lemon juice, the Special Omelet, homemade fries and Greek Salad, the frozen joghurt (homemade, best ever!) or their chocolate cake. It's a super cute atmosphere there. Otherwise there are many
more restaurants in Kattavia.
The supermarkets have a good selection for being so remote but also higher prices so if you stay for a long time or plan to cook more I'd go to one of the bigger supermarkets when driving from the airport to Prasonisi.
No-Wind-Activities
If you're staying right at the spot and have no car
, there is nothing much to do 😉 You can go for a swim, run, snorkel, SUP or walk up the hill to the Lighthouse – which is great for sunset. Or you do a
beach cleanup
, there is loads of trash being carried to the wave side every year.
If you have a car, there is a lot to explore! Like the village of Lindos, its surrounding cliffs you can jump off of (see image below), Rhodes town which is super cute and tons of beautiful beaches.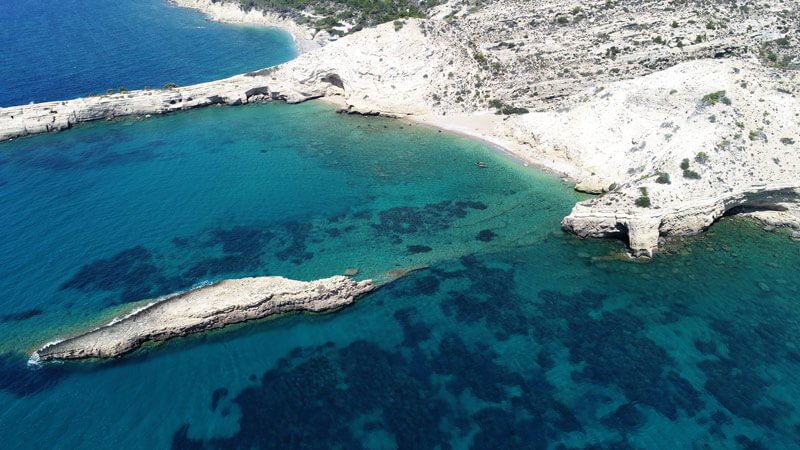 Digital Nomad factor in Prasonisi
You can work pretty well with your Sim card as a mobile hotspot, I used Cosmote and it worked well – except in the room. The wifi from the hotels is pretty unstable, I wouldn't rely on it.
If you have a car I can recommend Cafe San Marco which is only a 15-minute drive, the wifi is fast, they have tons of plugs and the atmosphere is great and very relaxed. I used to work from there every day.
But you'll probably be the only Digital Nomad working there 😉