To put it really shortly right away: I'd recommend this spot to solo traveling kitesurf beginners who don't really mind the crowds and want to soak up some Greek island vibes including nightlife. The iconic white-blue houses and laid-back island life give this special touch to a kitesurf holiday in Paros.
Pros & Cons for kitesurfing in Pounda on Paros, Greece
+ greek island life at its best
+ lots of restaurants, bars, shops short drive away in Naoussa, Antiparos or Parikia
+ good for beginners
+ ideal for families and exploring the island thanks to activities
– very very crowded on the water
– very choppy and gusty with stronger wind, impossible to progress
– car/scooter recommended if you want to explore the island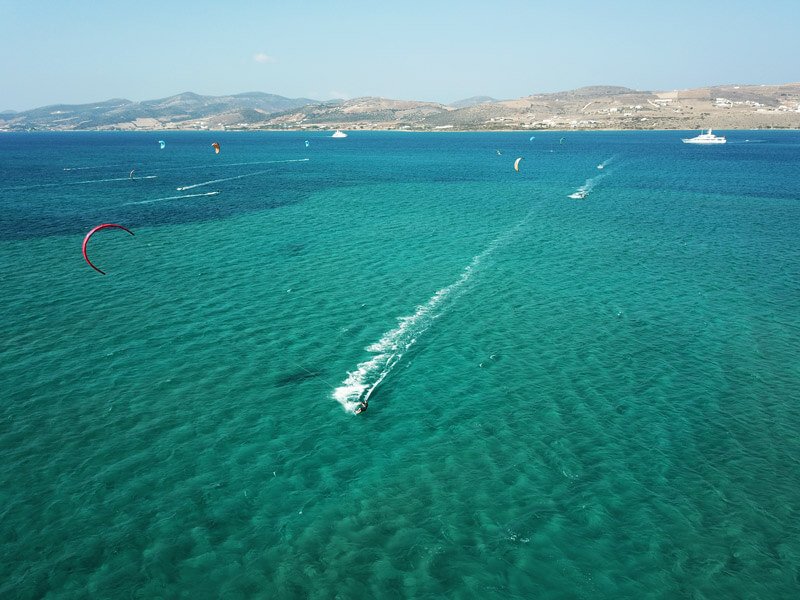 I've had this image of Paros as the perfect combination of kitesurfing and lifestyle. And while it is a great island to explore, party and eat out – I wouldn't really recommend it for kitesurfing unless you are a beginner or looove very choppy water and a crowded spot – disclaimer: I came in August which is high high season. If you do prefer to have a lot of parties, restaurants and shops close by and are willing to compromise a bit on kitesurfing, it is the perfect combination! That's my very personal conclusion for the spot but I met loads of friends, who are kitesurfers, and love the spot and vibe and keep coming back here, so you can see that this spot has "something".
General Infos for kitesurfing in Pounta, Paros (best wind/when to go, water temperature and spot condition)
Best wind/when to go: summer, best wind in July and August (June, September work as well)
Water temperature: Long Wetsuit in June September, Shorty in July, August
Spot Condition: depending on where you kite you can have flatwater, choppy, little waves
Beginner-friendly for kitesurfers and those who want to learn?
The spot itself is good for learning kitesurfing (except for the crowds). If you're a beginner who just learned to kite I would be a bit careful with the launching/landing since it's tricky and get in touch with one of the kite schools beforehand.

How to get to Paros, Greece
There are direct flights to Paros from some destinations. Depending on where you're flying from and when – you can find cheap prices or very expensive ones. If you're coming from Germany it is usually way cheaper to fly to Mykonos and take the ferry from there to Paros.
Another option is to fly to Athens and take the ferry from there to Paros, which is about 4 hours and makes you save on the fees for sports luggage – since Aegean Airlines, for instance, charges the (sports) luggage for each part of the flight and you'd pay twice with a spot in Athens.
Getting from Pounda, Paros to Antiparos
I will mention various restaurants and activities in Paros and Antiparos – the ferry runs every 45 minutes (find the ferry schedule
here
) from Pounda, Paros to Antiparos and the other way round, so you can easily hop in between islands for a dinner or a yoga session. It takes around 10 minutes to cross from Pounda, Paros to Antiparos.
Kitesurfing in Pounda, Paros
I've used all my kite sizes from 7 to 12 in Paros as well as learned foil boarding so the wind is ranging in a pretty big area. If you do have one, bring a light wind kite and foil board as well. We had an unlucky month (Mid-July until Mid-August) but more than half of the time the wind was only strong enough for foiling – then again there are years with wind almost every day.
There are two big kitesurf schools in Pounda, Paros:
Both schools also have SUP'S and beginner as well as advanced foil boards for the low wind days – I've learned to foil here.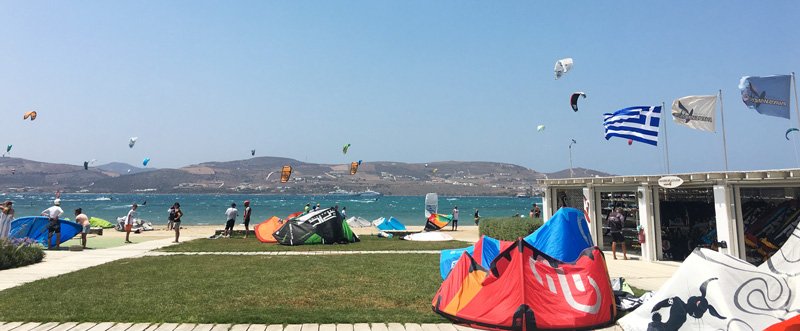 The spot gets super crowded in high season, most of the kitesurfers are beginners or kite students so if you want some "space" go more upwind or downwind of the schools.
Downwinder options from Pounda, Paros
You can also do a downwinder to the Blue Lagoon which has super nice colors of the water (if it's not crowded with boats who come there for a swim) and arrange it with the kite school so they pick you up.
Other kitesurf spots on Paros
Kitesurf Spot Lagkeri, Paros
After a bit of a bumpy road, you'll arrive at probably the most remote spot of the island. Onshore wind and nice waves with more wind make this spot special, however it was often less wind there than Pounda when we came. Since the wind is onshore and the bay is quite small it gets crowded already with 5 kiters. It's your best option on the island if you're looking for waves in the summer.
Kitesurf Spot Tsoukalia, Paros
Very choppy (yes even choppier than Pounda) and very gusty. You'll see some windsurfers here but I can't really recommend it for kitesurfing. However, if you're with your family and kids and are willing to compromise, there is a really beautiful and laid back restaurant and hotel right at the spot. We just had food and relaxed there and it was a really nice atmosphere.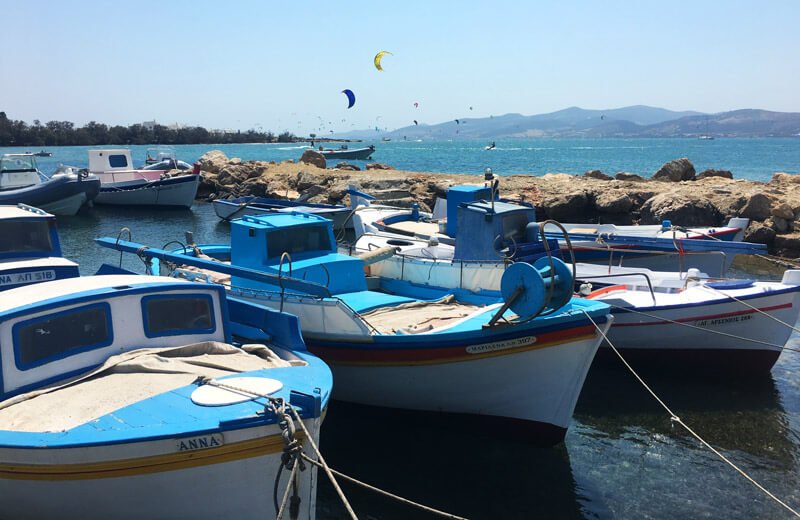 Where to stay in and around Pounda, Paros
If you want to stay close to Pounda you can check out Holiday Sun, which is the nicest but also a bit pricier hotel in the area. Otherwise, you will find apartments close by on booking or airbnb. Make sure to book early since everything is getting booked out quite fast.
Where to eat on Paros and Antiparos
The island has so many good restaurants and options that it's hard to pick a few. So this is just a small highlight of the ones I went to and really liked:
Restaurants Antiparos
Restaurants Paroikia
Restaurants Naoussa
Supermarkets on Paros and Antiparos
There are tons of supermarkets and mini markets around the island, if you're staying close to Pounda the biggest one with the best prices close by is
Market In
 or take the ferry over to Antiparos to one of their supermarkets (sometimes their veggies and fruits are much better and they have a bigger selection). For organic groceries and veggies/fruits I can recommend the drive to
Bioshop
.
If you're close to Naoussa definitely check out
Harma
 they have a big selection of coffee, dried fruits without added sugar and homemade granolas and sweets.

No-wind activities in Paros/Antiparos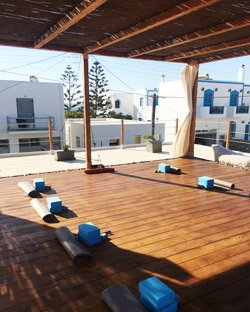 ---
Looking for another kitesurf spot in Greece?
Check out these Greek kite spots that I wrote about:
---
In need for more kite spot inspiration?
Find a complete list of all my kitesurf spot guides here or my favorite kitesurf spots here.