//

Where two seas meet

This is video was filmed at one of my most favorite kitesurf spots ever: in Prassonissi, Rhodes in Greece. The scenery is epic. When you arrive you can see the Mediterranean Sea on the left, with flatwater and offshore wind, and the Aegean Sea on the right, with onshore wind and nice waves, which meet at this exact spot. That's why I included it was well in my Top 10 kitesurf spots.
//

Kitesurf your heart out

This was summer 2015. When I had just decided to throw my whole life around for kitesurfing. I had one week of holidays and I literally kitesurfed my heart out. My happy place! This is what came out of it.

During this same holiday, I was brainstorming a name for my blog. It took me ages and lots of discussions over tons of Tzatziki and Chicken Souvlaki with my kitesurf addicted family. In the end, the choice fell for… tadaaa.. Wake Up Stoked.

Click on the button below to load the content of YouTube.
Load content

PGlmcmFtZSB3aWR0aD0iMTIwMCIgaGVpZ2h0PSI2NzUiIHNyYz0iaHR0cHM6Ly93d3cueW91dHViZS1ub2Nvb2tpZS5jb20vZW1iZWQvV3l2Y2hsTy1BMEU/ZmVhdHVyZT1vZW1iZWQiIGZyYW1lYm9yZGVyPSIwIiBhbGxvd2Z1bGxzY3JlZW4+PC9pZnJhbWU+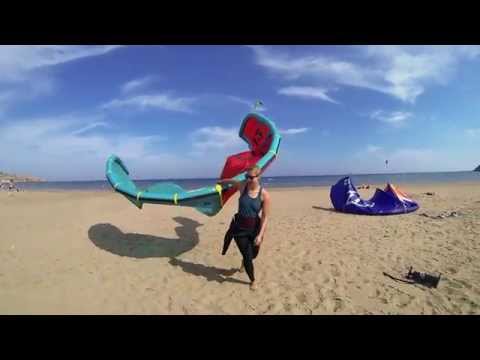 P.S. Make sure to watch from minute 2.20 on, it's my favourite part! You will see what I have been up to with my brother!
Video Edit by the most amazing cutter and best friend you could ever have: Cora Szabo