No matter if you are looking for a gift for your partner, family member or friend – you'll find something for anyone in this awesome, useful and practical present guide.
[This article may cointain Affiliate links. This means that if you decide to purchase some of these resources, I earn a small commission at no additional cost for you. I only recommend selected products that I'm convinced about and that I would buy (or already did buy) myself. This is helping me to keep investing as much time and passion as I do for this blog] 
Surf gift idea No. 1: (Kite-)Surf Map as a lightweight towel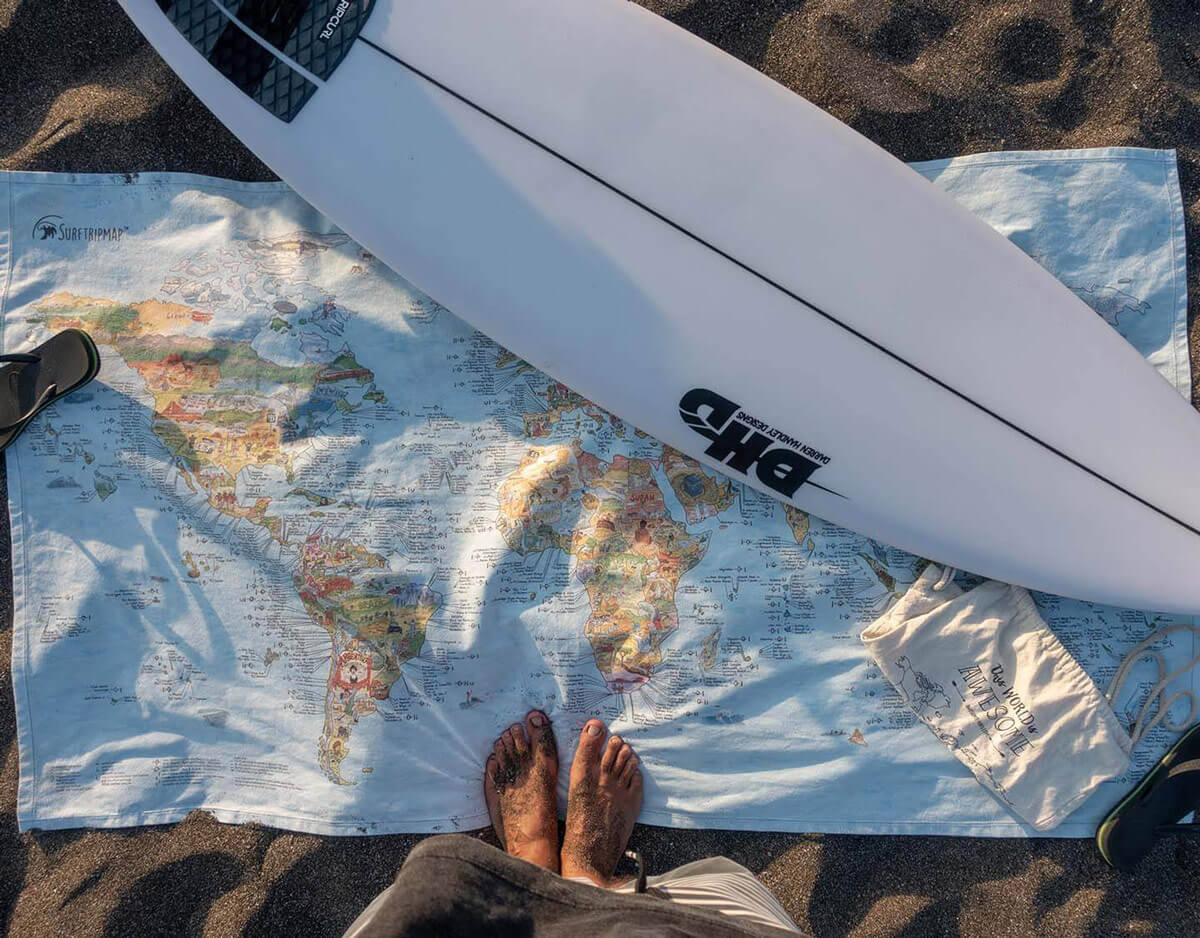 Maybe you have heard of the Surf Maps and Kitesurf Maps already – but did you know that they have the surf map as a lightweight, quick-dry towel? This way whomever you gift it too always has the inspirational bucket-list towel with all the surf spots worldwide with them wherever they go.
Surf Towel | Kitesurf Towel
> Get 10% off on all items when using code "WAKEUPSTOKED" at checkout
---
Surf gift idea No. 2: Eco-friendly, reef-friendly Sunscreen and Skin Products

We all love the sun and ocean and playing in it all day every day so the best way to keep that going is to protect our skin as well as our playground. My personal favorite is the zinc sticks as you don't get your hands dirty if you want to quickly want to apply something before hitting the water but they also have "normal" mineral sunscreen and different after sun products to take care of your skin after spending all day on the water.
> Get 10% off by clicking this link and using the promo code "miriam&suntribe" at checkout.
---
Surf gift idea No. 3: ocean-themed home accessoires
No matter how far away you are from the ocean and surf, this way you still live that daily dose of vitamin sea.
Kite Eat Sleep Repeat Mug | Stay Wild Ocean Child Pillow | Kite Eat Sleep Repeat Mug

---
Surf gift idea No. 4: motivational poster for surfers and kitesurfers
Get inspired every day to live your best life – on and off the water. Get the inspirational surf manifesto here.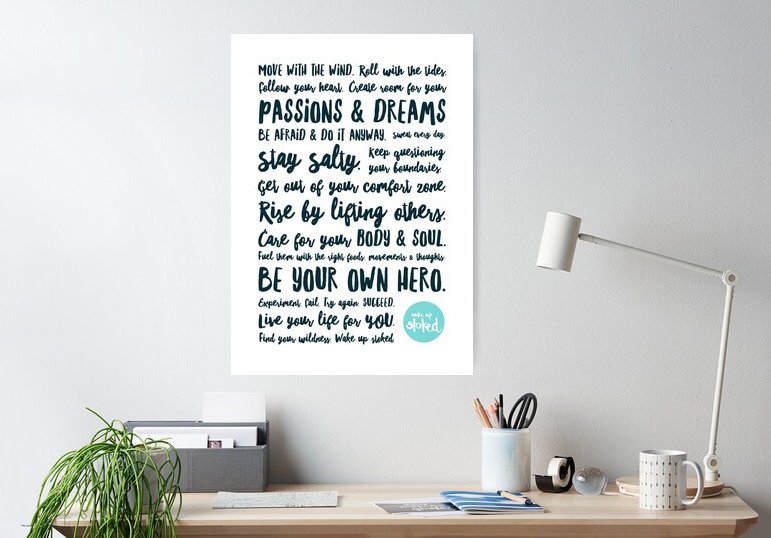 ---
Surf gift idea No. 5: surf poncho

There is nothing like cuddling into your surf poncho after a long session out there (or changing your wetsuit with ease). I love the fluffy ones from Vivida with beautiful prints (image on the left) and have used mine for years now. They have a lot of different patterns and prints and frankly if you want something for the colder temperatures or have enough space in your luggage I would always go for them. (Get 10% off when using the discount code "WAKEUPSTOKED10")
Lightweight Microfibre Surf Poncho for traveling
If your luggage and weight is very limited and/or you are flying to a warmer kite spot you can consider getting a lightweight one that is made out of this microfibre material that the travel towels also have – which is of course not as comfy but packs much smaller. I have a lightweight one from ION and really like it (there are various models just make sure it is the one from lightweight material as they has the regular ponchos as well).
---
Surf gift idea No. 6: Wetsuit Shampoo
Maybe not the sexiest surf gift but definitely the one that everyone needs: wetsuit shampoo! Whether you pee in your wetsuit or don't (I think we all do), whether you forgot your wetsuit wet in the car/dry bag for a day or it dries to slowly and starts smelling or whether you just want your wetsuit to stay fresh and nicely smelling – wetsuit shampoo is the solution.
---
Surf gift idea No. 7: waterproof Key Holder
If the gift is for someone who is going to the spot by car (or has an electric key for their apartment), get them a waterproof key holder. [Just a word of warning: I know those car key lock boxes that you lock to your car are also widely popular, however (depending on where you live and use them) I have witnessed several times where people's entire cars were stolen here in Cape Town as they are easy to break. So I'd personally recommend to get the key holder, even if it's a bit more annoying to take it with you onto the water.] Get it here: Aquapac Keymaster 
---
Surf gift idea No. 8: Surf Ears for people with sensitive ears or anyone spending a lot of time in the water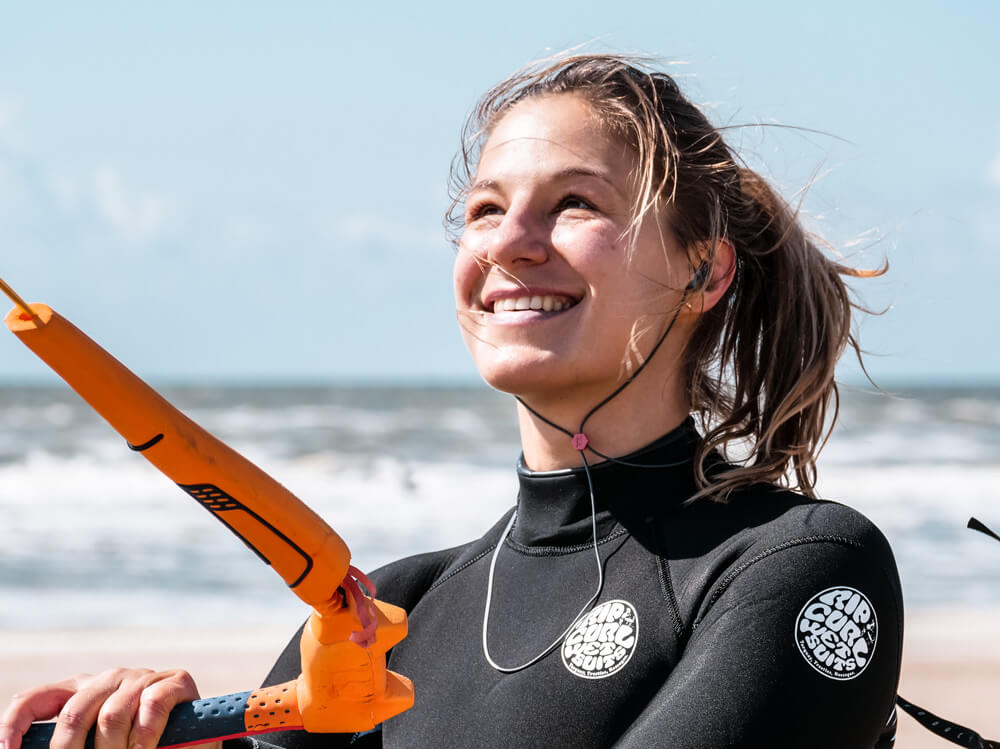 Basically anyone that surf or kitesurf a lot should get some ear protection. I only got mine after many ear infections but should have gotten it earlier to prevent Surfer's Ear.

There are various brands out there to prevent Sufer's Ear and protect sensitive ears :
Off the shelf surf ears: Surf Ears and Wavy Ocean – I have tried used both, I like that the Surf Ears live a little more sound in whereas the wavy ocean cut off quite a lot of sound. Design-wise I prefer the wavy ocean ones 🙂 
Custom-made surf ears: IARS
After using the Surf Ears and for a while, I finally decided to get custom-made surf ear plugs from IARS to really get the perfect fit.
---
Surf gift idea No. 9: Changing Mat
If you are not living straight at the surf spot and/or prefer taking off your wetsuit right after your session, this is very useful to keep your wetsuit and feet as clean as possible. Plus you can use the wetsuit changing mat also as a dry bag so you don't get your whole car sandy. Also works great after swimming or any water-related activity where you change before you get into the car.
---
Surf gift idea No. 10: Waterproof Car Seat Cover
This is more if you are with your own car doing a road trip and don't want to change – gift a carseat cover. No salty stains on your car seat and no sitting down having forgotten that you wetted the car seat with your wetsuit before 😂
---
Additional gift idea: surf-proof bikini

---