[ADVERTISEMENT / PR TRIP] This is a sponsored post in cooperation with Ibiza Cruise Experience. This article was written by me and all opinions are 100% mine. 
UPDATE 2020: unfortunately the Ibiza Cruise Experience doesn't operate anymore.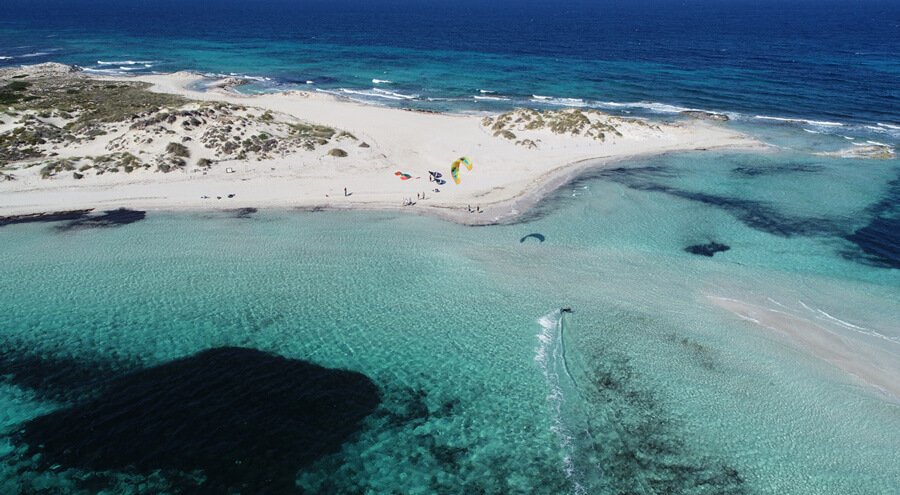 Ibiza the party island and nature paradise
While – to me – Ibiza only rang a bell beforehand as a crazy party island, we were surprised with quite a different side and stunning nature. The first day we did an island tour with Javier and he showed us the hidden treasures of the island – which is so much more than just partying and is a colorful mix of a small local community, hippie markets, healthy lifestyle/spirituals/yogis as well as the obligatory party crowd. Life on the boat makes this trip so special as you experience the calm, beautiful vibes and crystal-clear turquoise waters in between Ibiza and Formentera and can still experience Ibiza or Formentera life if you feel like it.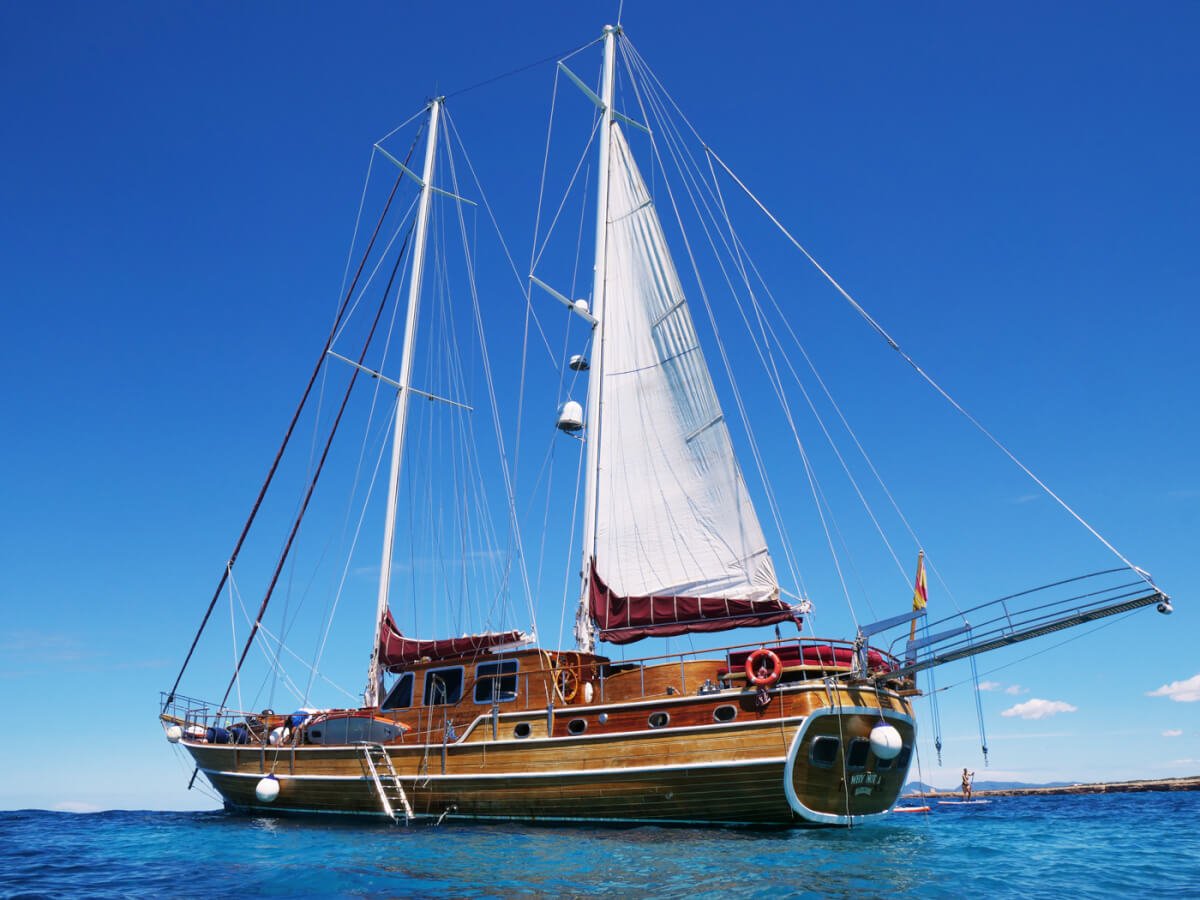 The beautiful wooden yacht of the Ibiza Cruise Experience
The 24-m-long luxury wooden yacht has 5 en-suite cabins which offers accommodation for up to 9 people (2 king beds, 1 double bed, 1 twin bed and 1 single cabin). The sailboat is quite spacious and you have three spaces to relax, either on the inside or on the front or back outside. As it is forbidden to kitesurf from most of the beaches in Ibiza and Formentera in the windy months (all summer long), the best way to experience the kite spots is by boat. The boat is always anchored in more quiet waters and you will be taken to the kite spot and windy places by a smaller speed boat.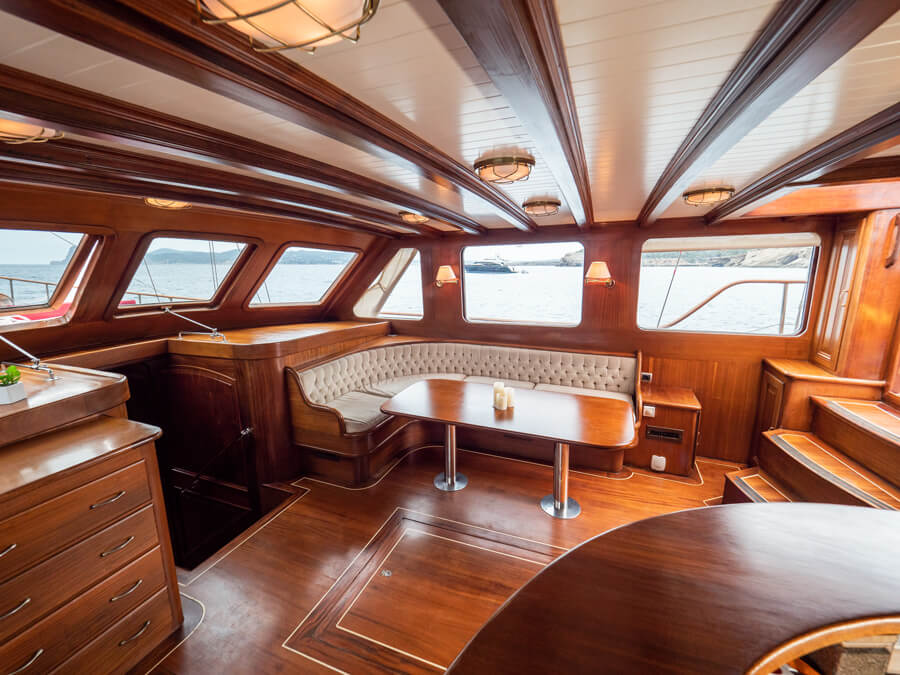 The team behind the Ibiza Cruise Experience
The main team running the cruise are Javier, his girlfriend Jo and David – besides the lovely crew on board. Getting to meet them was a huge pleasure as they are so passionate and stoked about the whole project. Jo does all the guest relations and is one of the kindest persons ever, she will probably welcome you as soon as you land. David is in charge of all the water activities and you probably won't even make it a minute without laughing with him, he is one of the funniest, outgoing and most stoked persons I've seen. Javier is more active behind the scenes but made a great tour guide and showed us the hidden local treasures/places on Ibiza and Formentera and let us experience life behind the tourism.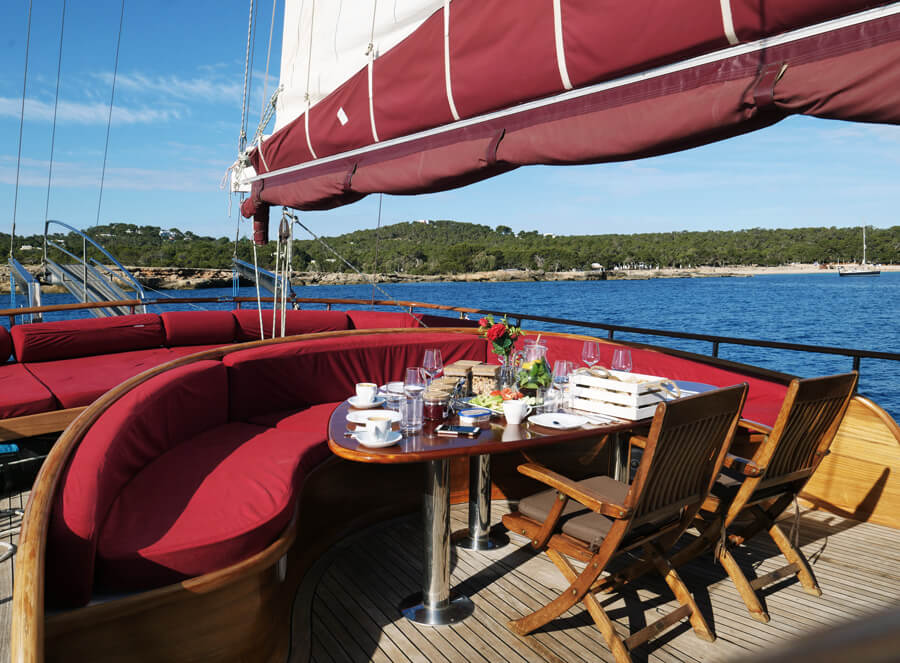 Life on board of the Ibiza Cruise Experience
The whole crew on the Ibiza Cruise was super nice and chilled, the atmosphere was great! The kite cruise is running from May until October. May and October are the bit calmer months, the other months are pretty busy on Ibiza so make sure to book ahead.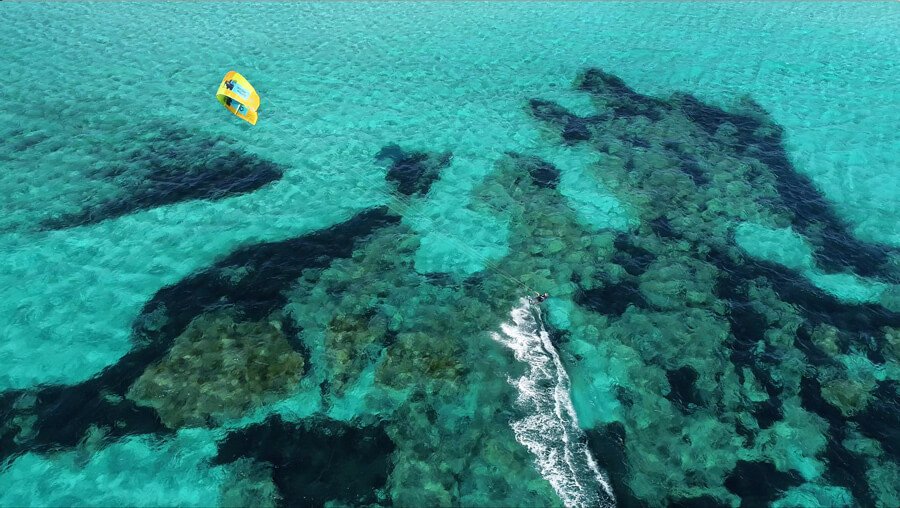 Kitesurfing in/around Ibiza and Formentera
So here comes the tricky part – and the one which makes the Ibiza Cruise quite unique: you are only allowed to kite on Ibiza and Formentera in the offseason. During the summer months, you are not allowed to kite from the beach, which is why David will take you to the windiest spot on the ocean by boat. You will launch/land from there. The beautiful thing is that you are all on your own, no crowd!
On the photos we were kiting in Espalmador which works with East wind (offshore and flatwater) or West Wind (side on which we had on the day we took the photos).
PHA+PGlmcmFtZSBsb2FkaW5nPSJsYXp5IiBzcmM9Imh0dHBzOi8vd3d3LnlvdXR1YmUtbm9jb29raWUuY29tL2VtYmVkL0g5M1pPRC1mNjlBIiB3aWR0aD0iNTYwIiBoZWlnaHQ9IjMxNSIgZnJhbWVib3JkZXI9IjAiIGFsbG93ZnVsbHNjcmVlbj0iYWxsb3dmdWxsc2NyZWVuIj48L2lmcmFtZT48L3A+
General Infos about kitesurfing in Ibiza and Formentera
Which kite sizes do you need for Ibiza and Formentera?
You will mostly use bigger sizes like 11-13m – or you can go/learn hydrofoiling and use smaller kite sizes.
Kitesurf equipment on the boat
David is teaching on Slingshot equipment, for experienced kitesurfers they are planning some light wind kites of Ozone and F-one. The rental of kite equipment is included in the price but make sure to check beforehand what they have and how many kitesurfers will be on board with you.
Is it suited for learning kitesurfing/kitesurf beginners?
Yes and no. The wind is pretty stable and not too strong – at the same time the wind probability is not the highest in Ibiza (which means you'll probably only take a few lessons) so I wouldn't say it is the ideal spot to learn kitesurfing, even though you can still do it of course. If you are planning to do so it is better to come in the summer months when you have the thermal wind on almost a daily basis and stay for at least a week.
Best time to kitesurf in Ibiza
From June until August you will have the thermal winds on almost a daily basis. May, September, October you will still have some wind (not thermal) but not as regularly as in the summer months. As kitesurfing is forbidden from May – October on Ibiza you can only access the spots via boat. David will take care of that for you and pick the spot according to the wind conditions.
A typical windy day in Ibiza during summer
The wind is usually weak/not there in the morning and is picking up throughout the day, creating very relaxed conditions to kite in the afternoons.
How to read the wind forecast in Ibiza
The thermal SE wind isn't shown in the wind forecast apps  – so if you have a SE direction with even only 5 knots during the summer months, you will probably get a good windy day with around 15 knots.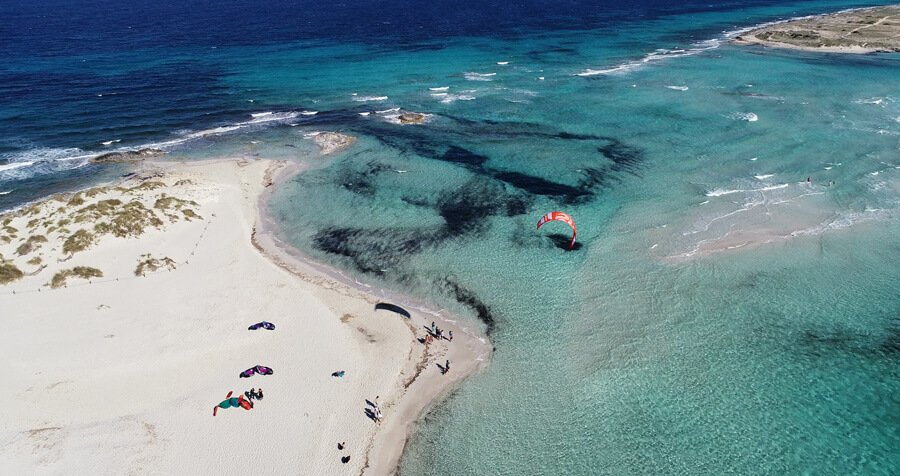 The kitesurf spots in and around Ibiza/Formentera
Espalmador
Espalmador island (on the photos) is close to Formentera. Works with East wind (offshore and flat) or West Wind (a bit choppy but still quite flat). A rescue boat is always with you. You can launch/land from the beach. You will probably kite here if you come in May or June if the wind direction is good.
Cala Martina
Cala Martina is in the Northwest of Ibiza and works with SouthWest wind. It is not allowed to kite here from May – October as it's a busy beach, you can launch from the boat.
Cala Conta and Es Vedra
From end of June/July on you kite in between those to spots on the ocean as the wind is best here, launching from the boat.
Escavallet
David uses the spot for the first teaching lessons on land with onshore wind (SouthEast or East) but again you're not officially allowed to kite here in summer. It is not a thermal spot so windguru is pretty accurate for wind speed.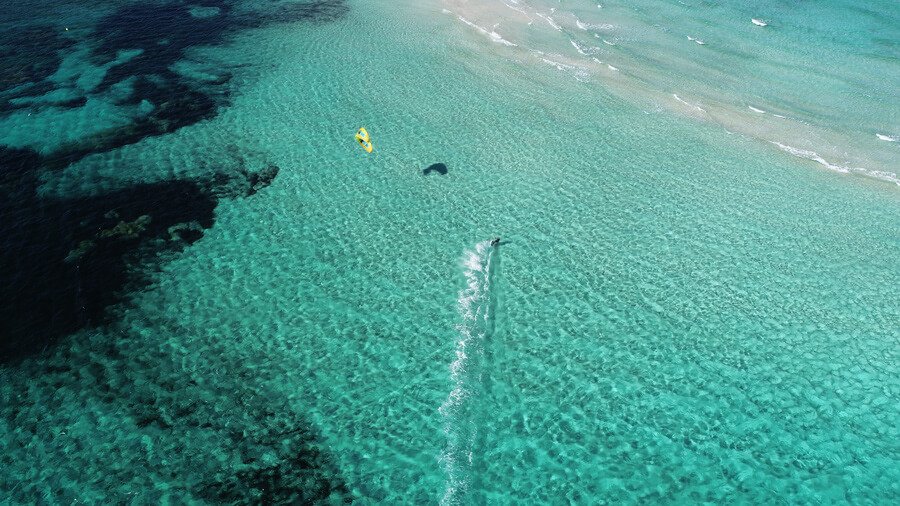 My experience with kitesurfing on the Ibiza Cruise
As we were lucky enough to be the first guests to enjoy this beautiful cruise – we also came during a time where David and the whole team was still setting up everything. So in a week we only had one kitesurfing day (even though it could have been 3 or 4 sessions) as the whole team was busy setting everything up, picking things up by boat – which usually would be the boat to go kiting. Talking to the team they said that the plan is to have the boat (and David as your kite guide) always with you at all times so that you can make the most of the wind you have.
Activities on and off board
While Ibiza can be windy it's not the windiest destination ever – we had 1 session in a week. Next to having a kite school/rental with a hydrofoil David offers a bunch of watersports activities: wakeboard behind the boat, go snorkel, go SUPing. Upon request they can also arrange diving, fly board, jets and (what we tried) the Electric Hydrofoil). Surfing is also possible in Cala Nova or Aguas Blancas.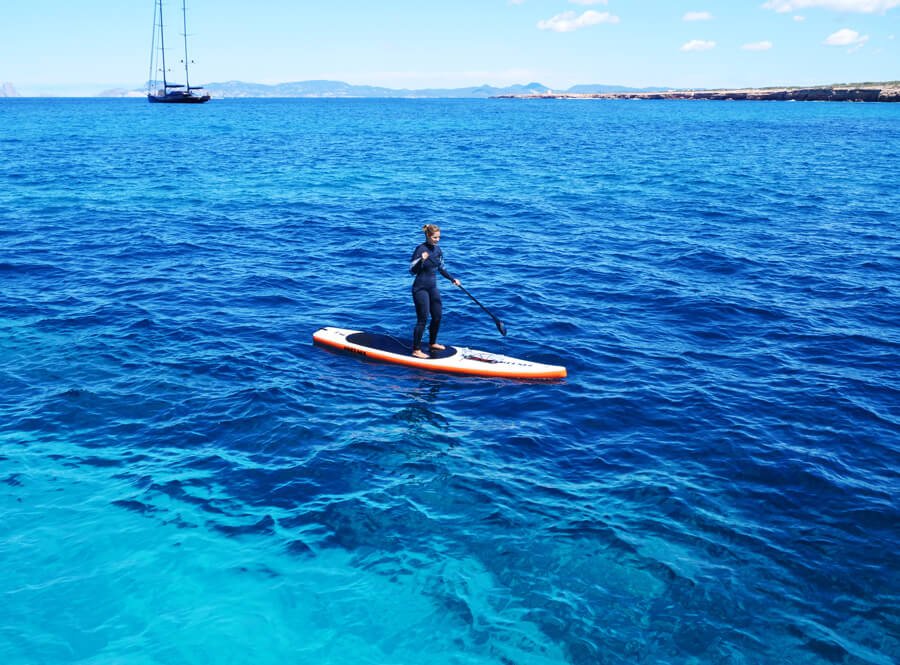 For the non-kiteboarding company
If you are worried about being in a shaky boat on a windy spot – don't be 😉 The yacht will always park in a calm bay and you will take the small boat to the spot, so that also non-kiteboarding company can enjoy themselves in calm conditions.
The food on the Ibiza Cruise Experience
Having good, healthy, organic and especially locally sourced food is the highest priority here on board. Whether it' the olive oil that comes from a small local organic company or the fruits and veggies or the gluten-free bread that comes from one special baker – every ingredient is sourced from the best option possible. I've never seen anyone putting so much love into the details as the whole team has.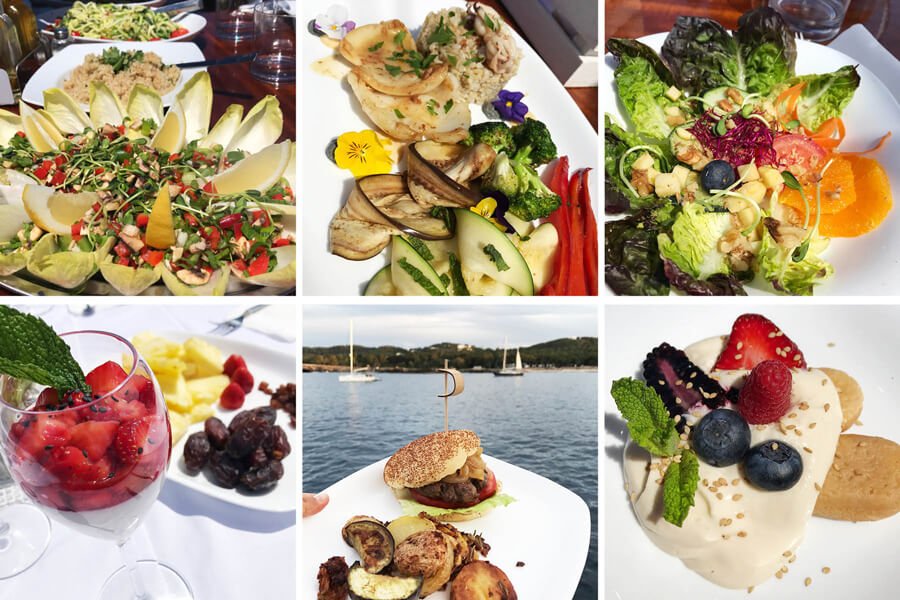 Food as Fuel
The chef on board creates super yummy cuisine and adapts the meals to the activities. On a windy day where you'll hit the water after lunch you'll get a lighter meal with veggies and proteins, in the evenings after a long session you'll get some warm soups and e.g. pasta. There was always a lot of fresh, yummy seafood included which I absolutely loved.
Food intolerances/dietary restrictions
If you have any food intolerances (e.g. gluten-free or vegan) the chef will adapt.
Special wishes upon request
Even onboard you can wish what you're craving – as I'm a juice lover I often asked for fresh-pressed green juices which they prepared for me – which to me honestly is a priceless luxury. If you have anything you love and can't live without – let them know in advance and the cook might prepare it for you if it fits into the schedule.
All in all, as a food lover my expectations were very much superceeded by the amazing dishes that Mela created every day.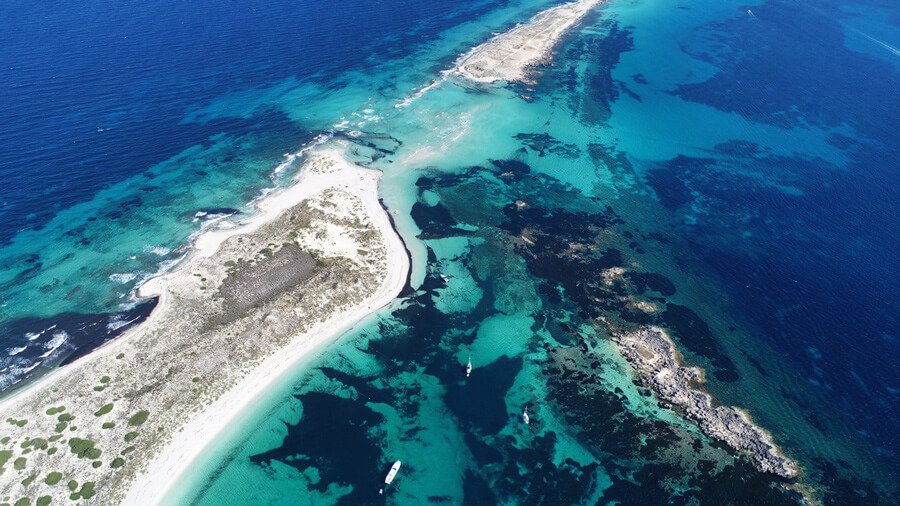 Who is this Ibiza Cruise Experience suited for?
Anyone who loves being on the ocean in a beautiful luxury wooden yacht in turquoise waters, who loves chilling on the sundeck, snorkeling, SUPing and is enjoying incredibly good food – or for the extra adrenaline kick some Flyboarding, Wakeboarding, Electric Hydrofoiling etc. Kitesurfers will enjoy this cruise if they like lighter wind or are (or want to learn) hydrofoiling. It is not suited for kitesurfers who want to kite all day every day as the wind won't probably be there on a daily basis and not all day long. Since the boat is anchored in very calm, windless bays (and the smaller boat will take you out to kitesurf to the windy areas) it is also ideal for couples where one partner doesn't kitesurf.