This is a Guest Post by Eva Krul from Outbound Kitetravel
Some of the best kitesurfers have been born and raised in The Netherlands.
Even though kite-conditions may not look that appealing to a lot of us – think: mostly grey skies, loads of messy-wave spots, rainy storms and grey-blueish waters, The Netherlands still definitely is a rough diamond with a lot to offer.
In this article, you'll find all the info and three very cool kitesurf spots. Find out how, where and when to travel and where to go for some proper no-wind fun and day trips.
Pros & Cons for kitesurfing in The Netherlands
+ loads of spots along the coastline
+ escape the crowds: there is always a spot along the coastline, where you can share the spot just with your friends and maybe a few seals;
+ spots for any wind direction and any kite level available either on the lake (IJsselmeer or Markermeer) on the North Sea. 
+ accommodations available on the spot
–
you'll like having a car to get to the spots since most of the spots are not suitable for any wind direction and directions change even though westerly directions are most common. 
–
some spots on the lake tend to get very crowded during high season (May-Sept)
–
cold water
(you always need a wetsuit/shorty)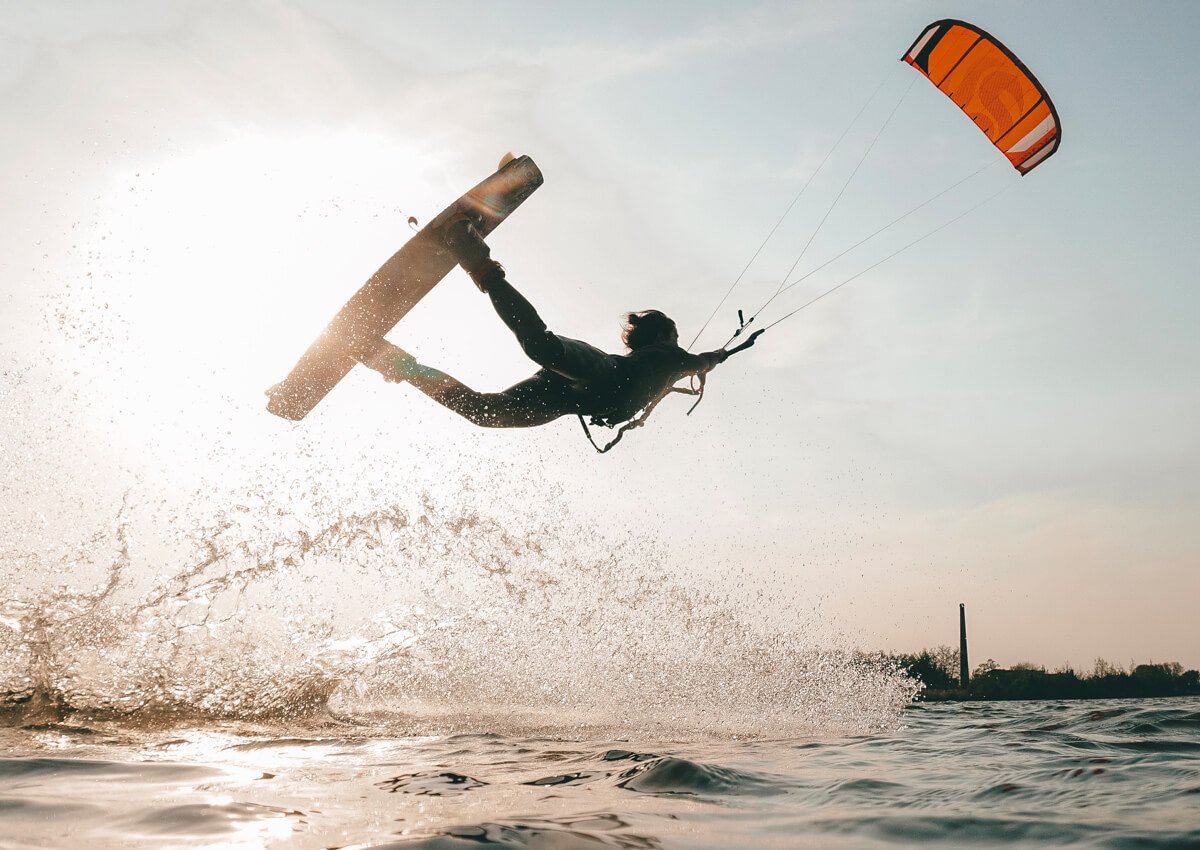 General Infos for kitesurfing in The Netherlands  (Wind and Water Condition)
The best wind/when to go kitesurfing in The Netherlands:
You'll be enjoying the best winds in autumn and winter. Yes, it's colder but the constant 25+ knots SW (stormy) weather which you may love just as much as I do, is much more common during that time of the year.
Locals will tell you that the sessions in May are great. The restaurants and bars being rebuilt on the beach and a large number of kitesurfers wake up from hibernation to enjoy the crisp spring-sessions with a cup of hot cocoa or a cold beer afterward.
Not very common but all the more fun are the hot summer evenings when the sea-breeze effect kicks in on the lakes. Sunset sessions in shorty wetsuits on flat waters; what more could you ask for?!
Last but not least are those epic fall/ winter storms!
When 30+ knots SW reaches the Dutch coast, beaches become the stage of daredevils and potential future
kings (and queens) of the air
.
Water Condition: (messy) waves, flat and choppy.
Beginner-friendly?
The Netherlands are not very well known for having the ideal
beginner
hub to learn to kitesurf. But if you learn kiting here you can kite anywhere. With "here" I'm referring mainly to the North Sea spots. The waves and current don't make it ideal, to say the least. But it's all the more fun and challenging.
Spots on the lakes are more beginner-friendly, but keep in mind that those spots can get very crowded in spring and summer.
How to get to The Netherlands and the kite spots
You can fly to Amsterdam airport which is most centrally located. From here trains go very often towards other cities on or close to the beach. You could also fly to Rotterdam or hop on the international railway to get to the lowlands.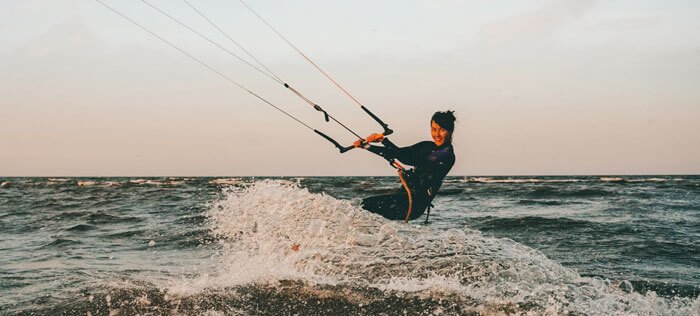 How to get around and to the kite spots
I'd go for a rental car since you always need to drive to the spots. If you'd prefer to travel in a more sustainable way, the bus and train connections are pretty awesome (yet, expensive).
Main wind-direction in The Netherlands
The most common wind direction is West. Mostly with some South in it.
This means practically the whole coastline is your playground! Loads of kitesurf spots have facilities on or near the spot such as car parking, restaurants and toilets. But there are also spots where there aren't any facilities – at least not year-round. You can find yourself enjoying a session on a deserted spot with big kickers and untouched nature during an autumn storm (and yes – this is something I'd really recommend!).
---
The 3 best kitesurf spots in The Netherlands
1. Kitesurf Spot: Zandvoort aan Zee
wind: SW – N
level: (Slightly) advanced
good for: Freeride, Wave.
NOTE: mind the zones. We'd recommend the activity beach on the south side (navigate to strandpaviljoen 'de Zilvermeeuw').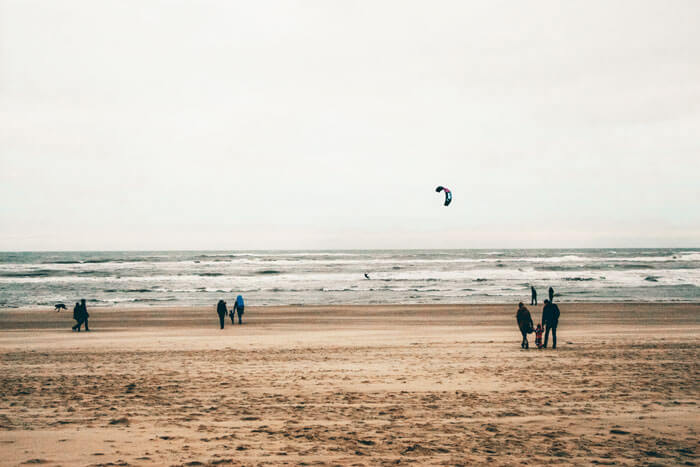 When a lot of kitesurfers tend to go to the lake, Schellinkhout (a flatwater but oh so crowded kite spot that works best with SW), or Wijk aan Zee (crowded but sociable NorthSea spot) Zandvoort aan Zee never really gets really crowded. Winds are steady, the locals are helpful and nice and there are no real dangers such as (hidden) rocks or other obstacles. Do pay attention to the rip currents which can easily be identified by the waves/chop.
Food: Tijn Akersloot offers healthy and good food on the beach with your feet in the sand.
Party: Rapa Nui and the Spot have good parties every so often.
No wind: Try the walking trails in the dunes. Mountain biking is also a good pastime. When there are waves, taking a surf lesson or renting a surfboard is of course fun, you can do this at Surfana surfschool and the Spot. SUP boards are also for rent.
Daytrips: The little city of Zandvoort aan Zee has a direct train to Amsterdam central station!
If you go, make sure to visit "North" area, the NDSM wharf is pretty rad to wander around on a no-wind day.
---
2. Kitesurf Spot: Medemblik 
wind:
 NNW – SE 
level:
 All
good for:
 Freeride,  Freestyle
NOTE:
Mind the zones
 and the period of the year in which kitesurfing is allowed (April 1st – October 1st)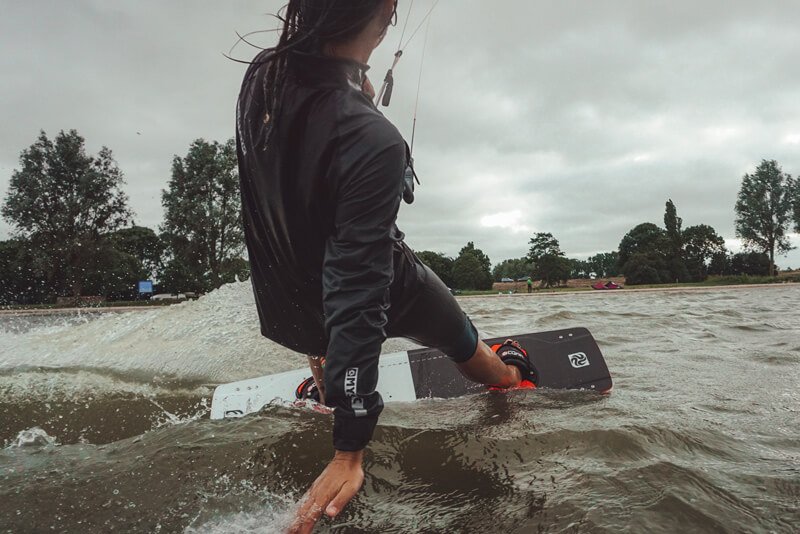 Water is usually somewhat choppy and the beach from where can be launched and landed is fairly small. Still, this is one of the best places to ride that works with Easterly winds. The water remains shallow for quite some time, a bit of a bummer are the shells on the bottom so shoes can be recommended for beginners. Put your navigation on Oosterdijk 8, Medemblik. You can park for free in the parking lot and there is always enough space here.
Food: Because parking is free and there is a forest/nature reserve right next to the spot, taking food with you is a good idea. Light the BBQ and enjoy all the greenery and the view of the kitesurfers during your lunch or dinner.  You could also go out for food, to Strandpaviljoen de Zoete Zee for example.
Where to stay: Stay on one of the campsites just a stone's throw from the kitesurf spot such as Lode61 and Camping Zuiderzee.
Daytrips & no-wind activities: Medemblik is located in the polder with all kinds of small villages that are nice to explore by bike. Medemblik itself is a harbor town with a beautiful old castle to visit, castle Radboud. The city of Hoorn is close by and has picturesque shopping streets and nice restaurants.
---
3. Kitesurf Spot: Strand Horst
wind: NE – S
level: All
good for: Freeride,  Freestyle
NOTE: mind the zones, it can get very crowded. Facilities are available in spring/summer.
Water is usually somewhat choppy. NE winds provide flat water and stable winds. Summer months can bring along thermal winds, often not displayed in wind forecast apps. Great weather conditions often occur in spring and (late) summer. Summer months will most likely be busy at this spot. The starting and landing zone is pretty crowded (bins, poles, trees).
Food: Have lunch on the spot at the restaurant. They also do superb BBQ nights (why parties).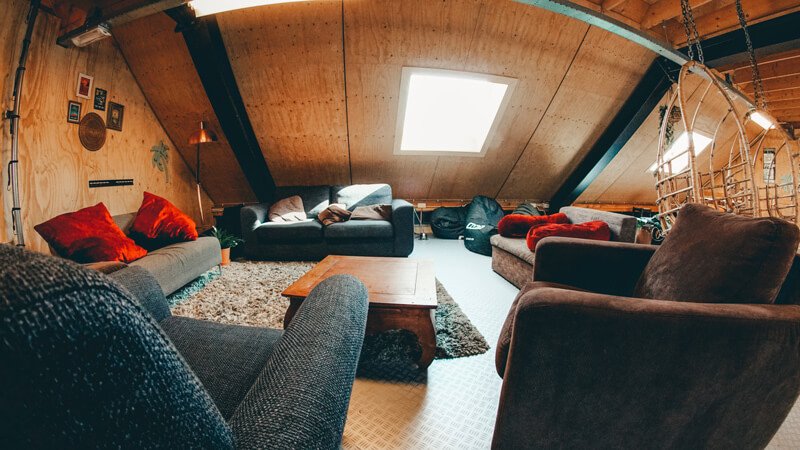 Where to stay:
 Stay on the spot in
this nice accommodation
, mainly suitable for groups or families.The rooms have either single beds or bunk beds and bathrooms. A common room is available for playing games, watching movies or having drinks.
No wind: Try one of the other activities, offered on the spot! SUP, hiking, boating or just relaxing.
Daytrips: Make sure to make a day trip to the city of Harderwijk. Visit an old windmill, do a walking tour through the city or have drinks at the city beach. Also, the "dolphinarium" amusement park is located here. Fun for the kids. Last but not least, make sure to have a lay-day in the SPA (Zwaluwhoeve) which is just a stones-throw from Harderwijk.
---
---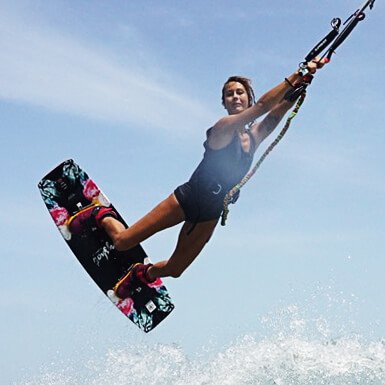 This guest post is written by Eva Krul. Together with her husband Ferry, she runs the kitesurf travel agency Outbound Kitetravel. Both are passionate kitesurfers from The Netherlands who love to share their experiences and help their clients book the ultimate kitesurf holiday – whether you are a pro or a beginner!