How I got to know Marie.
Sometimes you just meet people that are so open-minded, it immediately clicks. I met Marie when I had lunch during the GKA world tour stop in Dakhla, Morocco – and she just joined me for a lunch right before her next heat.
In the next couple of days we always bumped into each other again and one evening we joined her going into town – she found us a car to hitchhike with, showed us the Moroccon markets, helped us translate (we didn't speak French) and simply astonished me as a person with her easy way of going and living.
About Marie.
The more I got to know her, the more I was astonished by her way of combining kitesurfing, competing at competitions since 6 years, working two half-time jobs while being a mom and wife. Marie is competing around 5 times a year – all of that while rocking her normal life back home, which to me make her a true power woman.
She also had the guts and courage to compete with three other woman at the GKA world tour for strapless kitesurfing and freestyle – against the guys since there was one woman missing to make it to an own girls competition.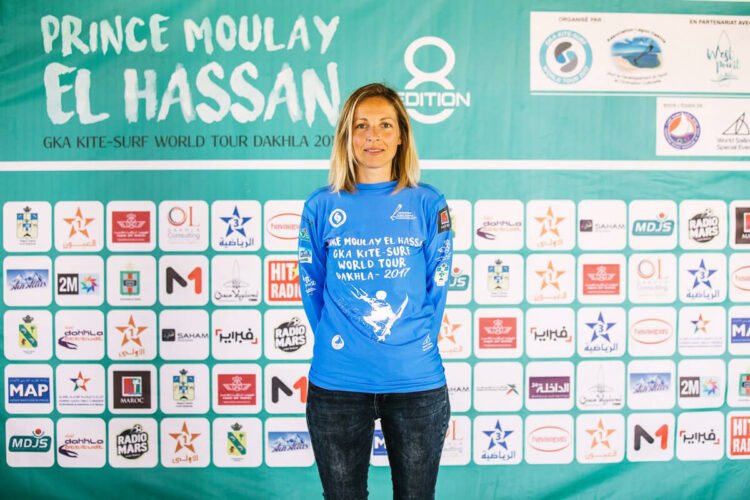 1) Could you tell me a bit what your life is like – as a part-time dental assistant, part-time marketing manager at Zeeko Kites while being a mom and wife? How do you manage to combine all those roles while still competing?
Marie: I have a very full and fulfilled life and always work a lot. I don't have much time for myself, to go competing or on a trip, so it's like getting a breath of fresh air in my life, I really need it. It's not easy as I would love to train and travel more to improve my surf and have a better level but sometimes you just have to be happy with the life you have. I couldn't make all this without the support of my husband and daughter – they help me so much.
2) How do you keep your kitesurf-work-balance and still get enough time on the water while working at the same time?
Marie: Zeeko (the kitesurf brand that Marie is working for as a marketeer – Editor's note) is a well growing brand and I have so much work to do that I'm really busy. But what I love about my job is, that if there is very good conditions during office time, I can just manage my time independently – go on the water when it's windy and work later.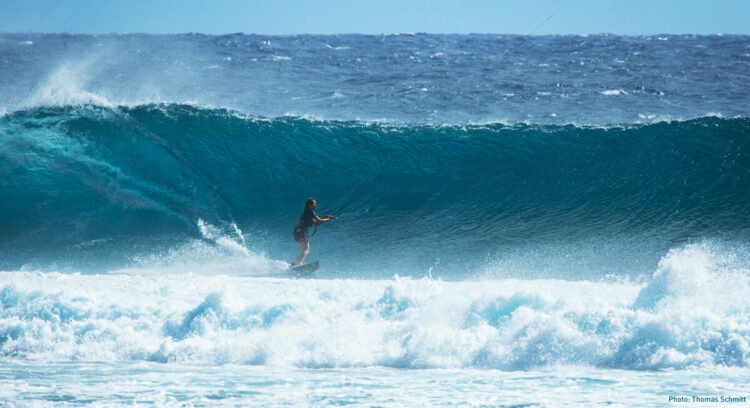 Photo Credit: Thomas Schmitt
3) How and when did you start with strapless kitesurfing and what drew you towards it in the first place?
Marie: I started kitesurfing in 2006 with Freestyle, not at a professional level though. Then I became a mum and jumping after the pregnancy was not really possible. So my husband just gave me a waveriding board – and I started falling in love with waveriding! That was in 2008. Back then I saw a lot of videos of really inspiring guys like Ben Wilson, Mitu Monteiro… My world has not been about surfing previously – but riding a wave with a kite introduced me into this feeling and I really love it!
4) Do you have any advice for people getting into strapless kitesurfing?
Marie: Don't try to ride with it like a twin tip, be smooth on your board and try to feel the wave like a surfer would do in order to understand how to ride it. Watch the famous wave riders to understand placements and how to move your kite while riding the wave.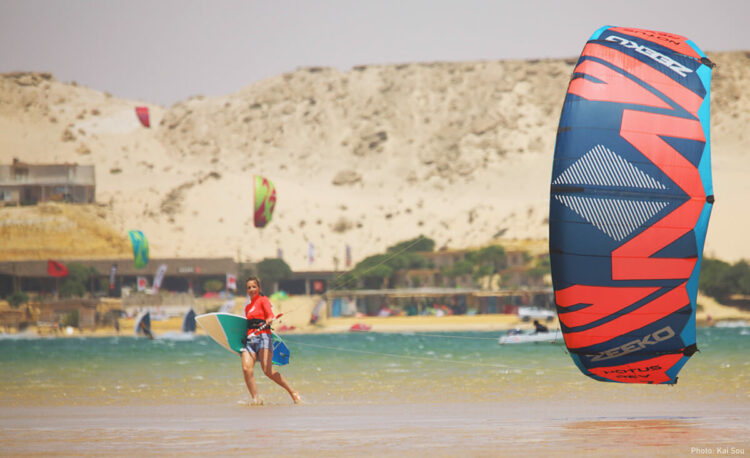 Photo Credit: Kai Sou
5) What's the best spots in the whole wide world to learn strapless kitesurfing?
Marie: I was lucky to try many spots around the world but the best was definitely Mauritius.
6) Could you tell me a bit about Mauritius as a kitesurfing spot, you mentioned it has great conditions for any kind of kite surf level?
Marie: You have so many great conditions for all kinds of levels on the same spot: Le Morne. It has many wave breakes (beginner wave, medium  level, advanced – One Eye) and you also have a safety boat in case you get in trouble. Be sure you get well informed about the spot before you go to the water because this heaven can be hell if you make mistakes.
My advice is: every time you go to a new wave spot, ask the locals about dangers, rocks, reef, the wind… this way you'll always have a fun and trip.
7) If you could change anything regarding the kitesurfing world and lifestyle – what would it be?
Marie: Changing the image of women! We have so many shredding girls who deserve to be better known – but despite that you always see bikinis pictures!! Sometimes it is quite unfair in girls competition, it goes like: "The waves are small and the wind is light so let's launch the girls first , so the guys have  the big waves session afterwards!" Or the huge difference in price money for men and women is crazy.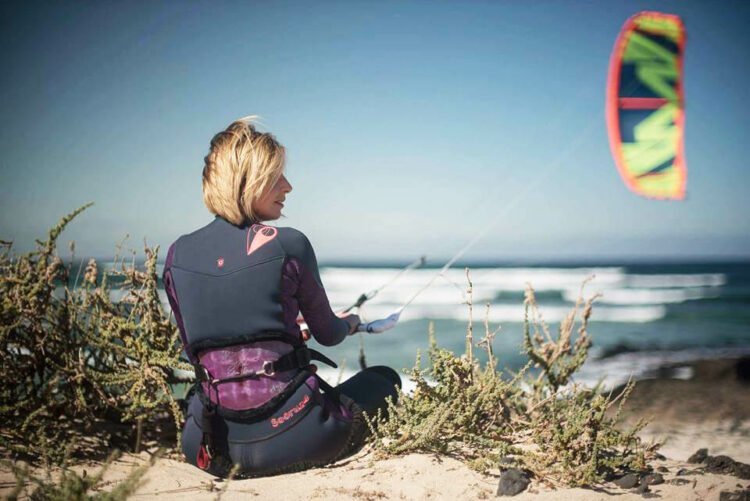 8) What do you predict for the future of female strapless kitesurfing? In which direction would you like this area to evolve?
Marie: I have been competing for 7 years now and I thought that competition in the world cups would change a lot the way girls are shown. I really hope the new generation of girls and women will be able to do it.
9) Do you have a tip for girls for their everyday kitesurf life?
Marie: Sunscreen has always been a big problem to me: my eyes burnt when falling in the water, ingredients damaging the nature inside of the sunscreen, looking completely white and pale when applying a high sun protection… I found a solution to all those problems this with Jeewin sunscreens sticks. It ecologically friendly, it doesn't sting in the eyes and you have different types of skin colors.
My secret tip about those sun sticks: choose a color that is the closest to your skin color and apply it like a foundation, same as you would apply make up over your whole face. Apply a thin layer and then spread it with your fingers. Then take a darker skin stick and apply it on different parts of your face (like on the cheeks, same as you would use Rouge) to have a natural looking face.
Find out more about Maire Gautron on her facebook page.
---
> Do you want more inspiration on strapless freestyle kitesurfing?